Thomas Burnett Jr.
by Sarah from Sycamore Jr. High
What do you think gives a person the title of a hero? To some it's someone who has saved lives, overcome a physical illness, or survived in harsh conditions. I think anyone who has positively affected a number of lives can be considered a hero. There were many heroes on September 11, 2001, from people helping others out of the buildings to the search dogs who located people buried in the rubble that used to be the Twin Towers. At the same time, my hero Thomas Burnett, Jr. was doing something totally different while still gaining the title of a hero.
Thomas Burnett was one of the passengers on Flight 93. He lived in San Ramon, California and was born in 1963 and died in 2001. Thomas was the senior vice president and the operating officer of Thoratec Corp, a company that made devices for people suffering from heart failure. This man made an impact on thousands of lives including the ones he saved. Thomas was the one who organized the plan to take back Flight 93 from the terrorists.
During the hijacking, Thomas called his wife Deena four times. In the last call he said, " I know we're going to die. There's three of us who are going to do something about it." Their plan succeeded. They got the plane back from the terrorists and avoided the destined target by crashing the plane into the ground in a field located in Pennsylvania. Flight 93 was headed for either the White House or other important building, so in stopping the terrorists they saved many lives and save many others even more grief on 9/11. Thomas had a later flight scheduled but flew home earlier so he could be with his family. Thomas was a devoted and caring father of three girls, a four-year old and two five-year old twins. He was cautious in all of his traveling. He always insisted on him and his wife taking separate planes so an accident wouldn't leave the children parentless.
Thomas Burnett, Jr., and the other three on Flight 93 proved to be considered T. A. Barrons "on the spot heroes." They can be classified as on the spot heroes because they didn't have much time to figure out what they were going to do about their situation, but many lives depended on their decision. He also could be considered a "hero within" because he had to find courage within himself to be able to stand up to the terrorists to take back the plane. He also needed courage to take in the fact that they were going to die since he even stated in one of his calls that he knew they were going to die, and he still thought about making the best out of it to save other lives. So I think he can be considered either one of those types of heroes.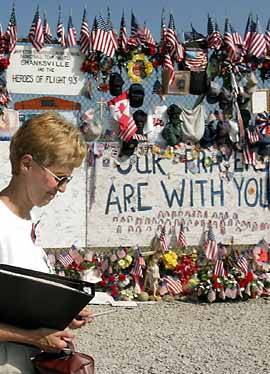 So now when you think of heroes, think of both the people who help during disasters and those who prevent disasters. Thomas Burnett, Jr. was only one man but he ended up positively affecting millions of lives by preventing an even larger disaster on 9/11. That's exactly why Thomas is my hero. Also from now on when you think of 9/11 make sure you remember Thomas and the other passengers on Flight 93 as heroes.
Page created on 10/30/2005 8:48:51 AM
Last edited 10/30/2005 8:48:51 AM