by
Amanda Molinaro from Irvine
I am a reporter for The MY HERO Project. On Thanksgiving evening, CNN aired the two-hour special CNN Heroes, a tribute to everyday heroes making a difference. I was fortunate to be present at the event, and to watch each of these heroes talk about their work. The night was truly inspiring and uplifting:
The program CNN Heroes shines a spotlight on people who make a difference in the world and who help promote positive change through activism. All of the heroes featured by CNN are remarkable individuals who are dedicated to helping others. Nearly 9000 submissions to nominate heroes for the 2009 Hero of the Year were submitted to CNN. During the 7 weeks of online voting, more than 2.75 million votes were cast to choose the top 10 CNN Heroes.
The 2009 Top Ten CNN Heroes included:
-Efren Peñaflorida, who offers Filipino youth an alternative to gang membership through education.

-Brad Blauser, who distributes wheelchairs to disabled children in Iraq

-Roy Foster, a former addict who gives veterans a second chance through his shelter in Palm Beach, Florida.

-Doc Hendley, who raises funds at wine tasting events to provide clean drinking water to third world countries.

-Andrea Ivory, who teams up with other volunteers in Florida to educate women in low income communities about breast health through the Florida Breast Health Initiative.

-Betty Makoni from the Girl Child Network helps to save young girls from sexual abuse in Zimbabwe.

-Jorge Munoz, a bus driver from Queens, New York, who delivers meals to the homeless in Jackson Heights, New York, 365 days a year.

-Budi Soehardi who, with his wife, Peggy, started the Roslin Orphanage in Kupang, Indonesia and takes care of 47 children in addition to their three biological children.

-Derrick Tabb, who offers a refuge and music lessons to young teens in New Orleans.

-Jordan Thomas, who lost both of his legs in a boating accident and started an organization that raises money to give prosthetics to children who cannot afford them.
Over 3000 people were present at the special event to watch as CNN announced the CNN Hero of the Year. CNN's Anderson Cooper hosted the event and introduced each of the 10 heroes. The audience viewed a short film detailing the work of each hero and the struggles they faced as they worked to help those in need. At the end of each film the hero was called on stage to receive their CNN Hero Award of $25,000, to help further their work. The heroes spoke in voices filled with emotion, thanking all those who had helped them, and the heroes in their lives who had inspired them. They offered heartfelt thanks to those who had nominated and voted for them, and passionately pledged to use the $25,000 award to reach out and help an even greater number of people in need.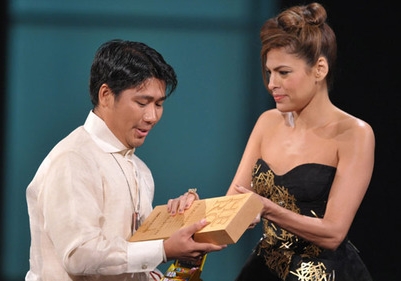 When Anderson Cooper announced that Efren Peñaflorida had been chosen as the Hero of the Year, Peñaflorida rose to accept the award of an additional $100,000. With tears in his eyes, he spoke of all he could now accomplish and of the children in need that he would be able to help. He thanked his family, his mentor, and concluded his speech by encouraging others to be the change that they wished to see in the world.
Being in the presence of such selfless people, who have dedicated their life to helping others, was a humbling and inspirational experience. It was especially encouraging to see a TV network put so much work and effort into honoring everyday people working to make a positive difference, as opposed to the violence and hatred that the media so often focuses on. Being in an audience of this event had special significance for me, as this event encompasses the mission of The MY HERO Project. It was uplifting to see that others understand the necessity of emphasizing those working to change the world through activism. All of the heroes featured by CNN are remarkable individuals who are devoted to helping others. Their positive examples will serve to remind us of the power and potential we each have to make the world a better place.
Page created on 12/11/2009 12:00:00 AM
Last edited 12/11/2009 12:00:00 AM