Clara Barton
by
Saige from Riley
Who was Clara Barton? Born on December 25, 1821 in Oxford, Massachusetts Clara Barton was soon to become a very successful woman. She helped save many lives, not only when she was still living but also after she passed away on April 12, 1912. Starting as a teacher and soon starting her own school, many people knew Clara Barton was soon to be very successful. When the Civil War broke out she was one of the first nurses to sign up as she knew it was the right job for her. The many great things Clara Barton discovered in her lifetime still live on. Her bravery and commitment to help save lives soon paid off as she later founded the American Red Cross. Clara Barton was a hero because she was a teacher, a nurse during the Civil War, and found the American Red Cross.
Clarissa Harlowe Barton, spent most of her time helping others. She first found her calling when her younger brother David became seriously ill after a barn-raising accident for two years. This helped Clara get over an acute shyness and helped start her medical career. Later after her brother was well again she became a teacher at the age of 18. She later opened a free public school in New Jersey. Her next job was working in the U.S. Patent Office as a clerk. She was working in Washington D.C. when the Civil War broke out in 1861. She left her job to go help wounded soldiers not knowing what she was soon to become.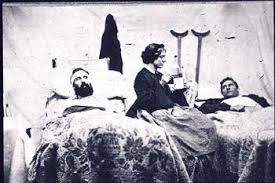 During the Civil War Clara helped the soldiers in any way she could. At the beginning of the war she collected and distributed supplies for the Union Army. Not satisfied with her role of just handing out supplies, she moved on to be a freelance nurse. She soon became known as "the Angel of the Battlefield." Not only did she save soldiers lives she fed them and she spoke to them. Soldiers said that Clara "soothed them" with her clear low voice. Throughout the Civil War she was at all the major battles in Maryland, Virginia, and South Carolina. After the end of the war in 1865 she helped locate missing soldiers, find and mark graves, and testified in Congress.
In 1869 Barton traveled to Europe to regain her health. While she was in Switzerland, she learned about the Red Cross organization that was established in Geneva in 1864. Soon when she returned to America she worked on establishing an American Branch. The American Red Cross was founded in 1881. Barton served as the first president and the leader. Being the leader Barton oversaw assistance and relief work for the victims of disasters. She later resigned from the American Red Cross in 1904 after claims of financial mismanagement.
Clara Barton changed many lives in the past and still currently is with her help and the American Red Cross. To me that makes her a hero, for her bravery and commitment. Clara Barton is my hero because she was a successful teacher, a freelance nurse in the Civil War, and saved many lives by establishing the American Red Cross.
Page created on 9/24/2015 12:00:00 AM
Last edited 9/24/2015 12:00:00 AM
The beliefs, viewpoints and opinions expressed in this hero submission on the website are those of the author and do not necessarily reflect the beliefs, viewpoints and opinions of The MY HERO Project and its staff.

Bibliography
Stiehm, Jamie. "Compassion Under Fire." New York Times. 2015.
Stiehm, Jamie. "Compassion Under Fire." New York Times. 2015.