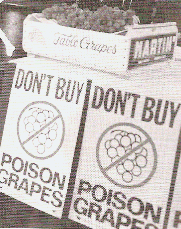 Cesar Chavez is best known for leading a grape strike to call attention to the problems of farm workers. In 1962 he founded a group to help migrant farm workers, the National Farm Workers Association, later to become the United Farm Workers or UFW. When the grape boycott failed he led a peaceful march 300 miles from Delano, California to Sacramento. This march started with 75 people and grew to 5,000 people after three weeks (Matthews, 2003, p.6 & 9). During the tail end of the march, Cesar and the NFWA signed its first contract with the growers, giving the workers better wages. This was the first successful agricultural strike in U.S. history (Krull, 2003, p.43). The flying black eagles began to be printed on grape boxes from the companies that offered contracts, and much of the public learned to avoid the others. Cesar also helped Mexican Americans register to vote or to get citizenship papers or work permits. This was done after working in the fields all day. Cesar continued to work for better conditions for farm workers until his death in 1993, including a ban on five pesticides used on grapes that were linked to cancer, birth defects, and other illnesses (Zannos, 1999, p.28). He won many fights for migrants, such as the banning of the short-handled hoe, the cause of permanent back injury to thousands of workers.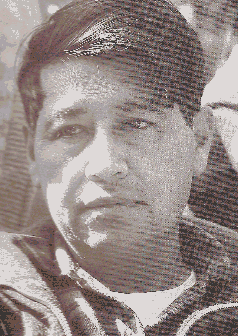 Cesar Chavez was born in 1927 near Yuma, Arizona, where the family farmed more than 100 acres and operated a grocery store (Zannos, 1999, p.6). As a result of the Great Depression the farm was sold for taxes when Cesar was 12 years old (Zannos, 1999, p.9). The family was forced into migrant farm work in Arizona and California. He attended 35 different schools, because the family was forced to move three to four times a year (Krull, 2003, p.13). He quit school after the eighth grade in order to work and make money. At 17 he joined the navy. He learned keen discipline in the service that served him well in his future. After his military service he married Helen Fabela.
Cesar's mother taught her children to take care of the poor and that fighting was wrong (Zannos, 1999, p.6&7). "Chavez credited his mother's teachings as a chief influence. He also took strength from his religious faith, his Mexican heritage, and his heroes – Saint Francis of Assisi; Dr. Martin Luther King Jr., leader of the African American civil rights movement; and Mahatma Gandhi, who led the nonviolent fight for India's independence from Great Britain. Chavez's wife, Helen, provided indispensable help, as did his eight children, other family members, and loyal coworkers" (Krull, 2003, p.44).
In the United State's short history we have had long periods in which we ignored the plight of the African American slave and then that of the tenant farmer. Today it is the migrant farm worker who we overlook. Cesar Chavez has brought their issues to the attention of the public and has improved their pay and working conditions. Still much could be done. Cesar is a true hero to his people. My family raises beef and crops for their own use and it represents a great deal of hard, back-breaking labor, but none of us work 12 to 14 hours daily in the garden. Food is still very inexpensive in our country. Until we are willing to pay the true cost of food production, migrants will labor for low wages. In short, we are responsible in part for their working conditions.
Cesar Chavez represents the Citizenship pillar of character. He organized the Mexican American migrants, registering them to vote, in order to give them a political voice. Cesar worked within the law to organize farm labor. His fight for the banning of pesticides, using nonviolent means, was environmentally sound as well. Cesar also represents the Fairness pillar of character by pushing for fair labor practices for migrants in the field. His entire life has been about fairness to his people.
Page created on 9/2/2008 12:00:00 AM
Last edited 9/2/2008 12:00:00 AM
Bibliography
Krull, Kathleen. Harvesting Hope The Story of Cesar Chavez. New York: Harcourt, Inc., 2003.
Matthews, J. L.. Cesar Chavez Fighter in the Fields. Mankato, MN: Capstone Curriculum Publishing, 2003.
Zannos, Susan. Cesar Chavez A Real-Life Reader Biography. Childs, MD1999.