"I''m not an American hero. I''m a person who loves children."- Clara McBride Hale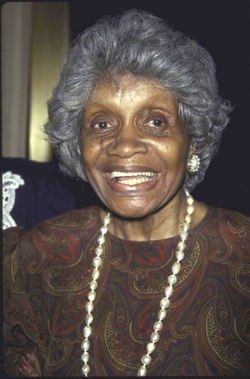 "Until I die, I'm going to keep doing. My people need me. They need somebody that's not taking from them and is giving them something" (Clara Hale). Passion was incorporated in everything Hale did, from her family to her job. Clara McBride Hale was born on April 1st of 1905 in Philadelphia. Being born into a family of five kids, her being the youngest, she never got much attention. Her father was murdered when she was still a baby, and her mother passed away during her teenage years. As soon as her mother died she abruptly dropped high school, married Thomas Hale, and then moved to New York City to part with her hometown for good. Just a few years following, they had children. Thomas later died a tragic death, leaving Clara to support the three children on her own. A hero is someone who is willing to go out of their way and sacrifice for the better of others. Somebody who altruistically gives up their own desires and comfort to serve others is unquestionably considered a hero. Selfless love is what serves as a shining light in our world today and can be scarce, which makes it so extraordinary to find in a person. Clara Hale is a woman everyone should revere. She is admirable because of her ability to turn an awful situation into something beautiful, her desire to go out of her way for others, and her longing to make others the best they can be.
Clara Hale experienced immense quantities of tragedies in her lifetime, but managed to turn disasters in her life into inspiration. This lead to the momentous organization she founded, known as "The Hale House". At a juvenile age, she had already been forced to cope with all of the tragedy that can come upon one's life: "Her father was murdered when she was a child, and her mother died when Clara was sixteen. She left high school without graduating..." (Laz). The tribulations Clara came along when she was so young are usually the type that most would renounce at. Instead, she stood up to these and overcame the many obstacles in her life. Clara Hale serves as evidence that no matter what trials you are put through, there is a way to make something remarkable out of it: "The conflicts of financially supporting and physically caring for three young children spurred Hale to begin caring for children in her home. She became a licensed foster parent.Between 1941 and 1968, she reared more than forty foster children." (Laz). Clara admitted that the dire times she went through motivated her to do better. The problems she faced in her life turned her towards a life of persistent ameliorating other people's lives. Overall, Clara demonstrates an astonishing amount of strength to entirely use the dreadfulness in her life for good.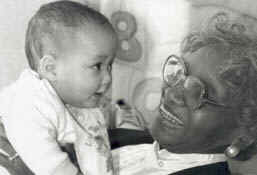 The way Clara Hale put herself out there to serve others is beyond belief because of the way she sacrificed her entire life to reach out to others. Hale never failed to bring in any child, no matter how much trouble they caused her; she denied nobody: "Initially, she began to care for children who were wards of the city. She was paid two dollars a week per child. All of her foster children, black and white, pursued a college education." (Gale). Hale made a point of reaching out to all corners of society; she took in any child despite race, background, or family. Every minute of every day for her was spent feeding, caring, and loving all of her foster children, no matter the circumstances. Clara enthusiastically helped anyone in need. No matter what situation they were under, she was never reluctant to support them: "Lorraine Hale had encountered the young mother and her baby in dire circumstances and had sent the pair to Clara Hale for help. Hale took the tiny baby girl and nursed her through drug withdrawals" (Gale) Even during her elderly age, Clara never ceased her good works. Hale took her time and effort and used it for the sake of a baby in need. The type of children Clara dealt with are often associated with danger and trouble, but she stopped at nothing to aid these babies in need. Hale made many sacrifices in her life such as money, time, and safety in order to serve many families under unfortunate circumstances.
Hale made each and every child that passed through her doors feel important and exceptional in their own way, no matter where they came from. The children that she mothered were typically very ill and needier than most people think: "It is difficult to comprehend the unexpected sense of love and commitment that must have driven Hale to suffer with these babies...Some had become addicted to heroin in the womb. The babies often suffered from shaking fits and shivering and would scratch at their own bodies making themselves bleed." (Gale 2). The children and babies Hale dealt with were evidently overwhelmingly sick and more of a nuisance than most other kids. Hale overcame the many problems these babies faced and looked past their endangered health to care for them. She believed there was more to taking care of children than just keeping them fed and well-slept, they needed to be cared for and feel important: "Explaining her approach to the children, she said: 'We hold them and touch them. They love you to tell them how great they are, how good they are.They're happy, and they turn out well.'" (Lambert). Hale gave more to her kids than many others get from their own families; she made certain they felt treasured and cherished. The love she had for these kids was ceaseless and immeasurable because of her strong aspiration and passion. She longed to make each and every child that passed through her doors proud of themselves. Each child that has lived in the Hale house was not only taught to survive, but to really live and become an important person through care and kindness.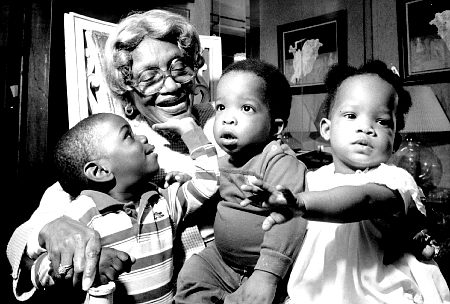 Clara Hale is an incredible example of a character of determination and passion for her desire to support others in need. Striving to make others the best they can be, Clara always put others ahead of herself. She served as a savior to many families and children who found themselves in her care. These children learned to love who they are as a person and to make a difference in the world by not let anything stand in their way. They not only received momentary care in the Hale House, but they walked away with lifetime lessons that they'd never forget. It takes a great amount of power to have this type of impact on people, and that's a capability Clara Hale possessed. Everything she accomplished in her lifetime is miraculous at the least. Through Clara's story and accomplishments, I was taught that even on my worst days I can be responsible for great feats that would brighten up the world for me and others. Instead of letting the dreadful times get you down, a better choice would be to take lessons from them just as Hale did. Each and every person was put on this planet for a reason and they should all feel important and loved regardless of their race, family, or where they come from. The story of Clara Hale and " The Hale House" have inspired me to be that ray of light amidst the darkness in people's life. Just a small act of benevolence can go a long way in people's lives. Clara Hale's story teaches us all that whether we come from a broken family, or born into an encouraging environment, we are important and someone needs us. We all deserve kindness and respect and we should show others that as well. Just showing someone we care can make a big difference in their life. Determination and passion drove Clara to be that beacon of light in someone's dark world, and we should all do the same.

Works Cited
Hale's papers are privately held. See Darlene Clark Hine, ed., Black Women in America (1993); Jessie Carney Smith, ed.,

Notable Black Women (1992); and Herschel Johnson, "Healing Baby 'Junkies' with Love," Encyclopedia of World

Biography, 2nd ed. Vol. 20. Detroit: Gale, 2004. 166-168 Gale Virtual Reference Library, Web, 11 Apr. 2012.
"Hale, Clara" (1905-1992)." Dictionary of Women Worldwide: 25,00 Women Through the Ages. Ed. Anne Commire and

Deborah Klezmer, Vol 1, Detroit: Yorkin Publications, 2007. 810. Gale Virtual Reference Library, Web, 11 Apr. 2012.
Lambert, Bruce. "Clara Hale, Founder of Home For Addicted Babies, Dies at 87." The New York Times, 19 Dec. 1992. Web.
9 Apr. 2012.

Page created on 5/31/2012 12:00:00 AM
Last edited 11/30/2019 9:26:15 PM
Related Links
The Hale House
- was founded in 1969 and since then has grown into a largely popular organization that helps change lives.
The Daily News
- has mentioned Hale several times in many of their articles.
The New York Times
- has also dedicated several articles to Clara Hale.