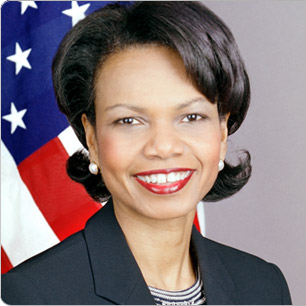 Condoleezza Rice
Michael Faulkner once said, "The man who removes a mountain begins by carrying away small stones." As former Secretary of State and National security advisor, Condoleezza Rice has done exactly that. Born in 1954 in the heavily racially segregated city of Birmingham, Alabama, to parents who were both educators, Rice has achieved greatly in life. While teaching at Stanford University, she won the Water J. Gores Award for Excellence in Teaching in 1984 and the 1993 School of Humanities and Sciences Dean's Award for Distinguished Teaching. As Stanford's first female African-American and youngest Provost (administrator), Rice later also became the first female national security advisor and the first female African-American Secretary of State. She was raised with the notion that the sky was the limit and that if she could believe it, she could achieve it no matter what other people told her. Rice, a persistent hard worker, pioneer in many fields, humanitarian, and winner of countless accomplishments and awards has contributed greatly to the world. She is my hero, not only for her notable achievements, but also for her strong moral values. She rose above the crowd despite racial injustice, worked tirelessly to promote peace and democracy between nations, and also paved the way for generations to come showing us that anything can be accomplished with determination and hard work regardless of race or gender. With her perseverance and hard work, she hasn't let anything interfere with her success.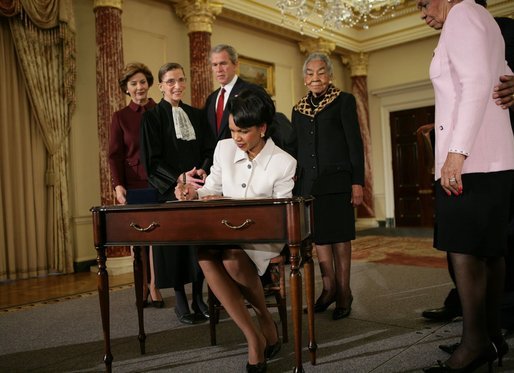 Rice's constant drive to promote harmony, democracy, and strengthen ties between nations has made her a hero because she has demonstrated traits of goodness and peace. When she became National Security Advisor in 2001, "Rice worked long days in the months afterward to shape U.S. foreign policy." Rice also worked to "create a new policy for dealing with longtime Iraqi leader Saddam Hussein (1937-2006). Quick to act, Condoleezza Rice daringly reshaped our foreign policy by putting America needs over her own. Even though she was new on the job and could have just sat there belligerent and whining, she demonstrated strict discipline, took the initiative, and got to work. In a time when most people panicked, she quickly realized that significant things had to be accomplished to further the safety of America. Later in her tenure as Secretary of State, "Condoleezza Rice, held meetings with North Korea's foreign minister in 2007, urging him to accept new measures to verify the dismantling of the Stalinist state's nuclear weapons program." Her persistence and relentless attitude for justice to be served, has helped strengthen ties between the two countries and has made the world a more secure place. With an exceptional work ethic and commitment to go the additional mile, she has worked tirelessly to further peace and goodness around the world. Seeking to achieve the greater good, she has definitely succeeded.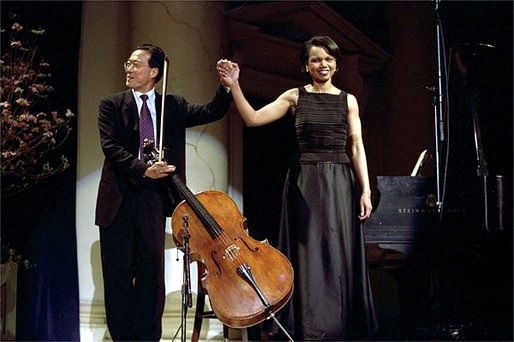 Rice's hard work ethic, determination to stand up for her own values and no-nonsense attitude towards life are traits that have shaped who she is today. When she was younger, Rice remembers the "various times in which she suffered discrimination on account of her race, which included being relegated to a storage room at a department store instead of a regular dressing room, being barred from going to the circus or the local amusement park, being denied hotel rooms, and even being given bad food at restaurants. Rice herself said of the segregation era: 'Those terrible events burned into my consciousness. I missed many days at my segregated school because of the frequent bomb threats.'" Her audacity and willingness to stand up for her beliefs even in tough times showed that she was able to overcome the racism and hostility against her. Even though people may have judged her by her the color of her skin, she would never take no for an answer, believing in the "notion that there were no real limits on what she could do with her life--if she could set her mind on it, she could achieve it." Rice recalled in an interview with Oprah that "in addition to long hours spent practicing the piano, she also took French and Spanish lessons after school, later [becoming] a competitive figure skater", and that "my whole community was determined not to let their children's horizons be limited by growing up in segregated Birmingham." Showing Self Discipline, Rice was determined to not let segregation and racism deter her. Instead of letting the world get to her, she pressed on and was determined for a higher education and ultimately a better life. After years of hard work and sacrifice, Condoleezza Rice became the "first African-American female national security advisor in U.S. history in January 2001 and the first ever female African-American national Secretary of State in U.S. history in January 2005. As a faculty member at Stanford University, she was the youngest provost in the institution's 110-year history and the first African American to hold the position." Despite many people telling her she could not do certain things because of her race, Rice's determination and grit is a true testimony to hard work paying off. Not only did she prove to people that she could accomplish anything, but she exceeded the limits that society had pressed against her.
Fredrick Douglass once said, "If there is no struggle, there is no progress." Through all the struggles and adversity Condoleezza Rice has had to overcome, she has come out a stronger and better person. As she once stated, "My parents were anxious to give me a head start in life, perhaps a little too anxious … but somehow they raised their little girl in Jim Crow Alabama to believe that even if she couldn't have a hamburger at the Woolworth's lunch counter, she could be President of the United States," Paving the road for others, being the first National Security Advisor and Secretary of State of her race and gender is an inspiration because it shows that with hard work, anything is possible. She is a testament to many Americans today, epitomizing the saying that hard work always pays off. As an African American, "Rice has experienced the occasional racial snub. She recalled one occasion when she asked to see some of the nicer jewelry in a store, and the saleswoman mumbled a rude remark under her breath." Replying to the woman's remark, she said: "'Let's get one thing clear. If you could afford anything in here, you wouldn't be behind this counter. So I strongly suggest you do your job. She has learned to have patience, commitment, and strong willpower to push forward; all the qualities of a good hero/heroine. In all the steps of her life, she has had people that have told her that she could never do it. She has had to climb the highest peaks and cross the deepest oceans, but in the end, she rose above and pulled through. And that is why I think she is a true hero.
Page created on 8/3/2013 9:11:38 PM
Last edited 9/12/2018 7:28:30 PM
Extra Info
http://www.state.gov/outofdate/bios/41252.htm, http://www.forbes.com/lists/2008/11/biz_powerwomen08_Condoleezza-Rice_MTNG.html, http://fsi.stanford.edu/people/condoleezzarice/