Clarence Thomas
by
Megan from Eden Prairie
Clarence Thomas is a man who works hard as a Justice on the U.S. Supreme Court. He has had a hard time getting there though. Just like most other black Americans that have tried to stand out and make a difference, the road was rough, but the reward was well worth it. Having that sense of accomplishment and triumph is about the most rewarding prize there is to any success. Clarence Thomas definitely encountered success! He is a very complex person with an interesting life and childhood. His early on hard-times eventually paid off.
Clarence Thomas was born in Pin Point, Georgia, on June 23rd, 1948. Thomas is currently 62 years old and still living. He was married to Kathy Ambush from 1971-1984. From 1987 to the present, he has been married to Virginia Lamp. His only child is Jamal Adeen Thomas. Clarence Thomas's religion is Roman Catholicism. Clarence was born as just Clarence Thomas and it is not known if he even had a middle name. Thomas is currently working as the Associate Justice of the Supreme Court. George H. W. Bush nominated him to this position. His life includes way more than just being on the U.S. Supreme Court Team though. He was the second of three children born to M.C. Thomas, a farm worker, and Leona Williams, a domestic worker. They were both descendants of slaves and the family spoke Gullah as a first language. Thomas' dad walked out when he was 2 and his mom worked very hard but was still paid only pennies a day sometimes. After a house fire left the family homeless, Thomas and his brother were taken to their grandma's house in Savannah, Georgia. As you can see, Clarence had a hard life as a kid and times then were very different.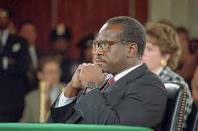 Clarence was educated at the College of the Holy Cross and at Yale Law School. In 1974 he was appointed as an Assistant Attorney General in Missouri. He later practiced law there in the private sector. In 1979 he became a legislative assistant to Missouri Senator John Danforth. In 1981 he was appointed Assistant Secretary for Civil Rights at the U.S. Department of Education. President Ronald Reagan appointed Clarence Thomas in 1982 to the Equal Employment Opportunity Commission and he served in that position until 1990. During the time when President George H. W. Bush was in office, Bush nominated Thomas to take a seat on the U.S. Court of Appeals for the District of Columbia Circuit. "On July 1st, 1991, after one year and four months of service on the D.C. Circuit Court of Appeals, Thomas was again nominated by George Bush to fill Thurgood Marshall's seat on the U.S. Supreme Court."
It was a close call to get the spot though because he was accused of sexually commenting on attorney Anita Hill. But he was confirmed into office with a vote of 52-48. After joining the court, Thomas has been "seeking to uphold what he sees as the original meaning of the U.S. Constitution. He is generally viewed as among the most conservative members of the Court. Thomas has often approached federalism issues in a way that limits power of the federal government and expands power of state and local governments. At the same time, Thomas's opinions have generally supported a strong executive branch within the federal government." (http://en.wikipedia.org/wiki/Clarence_Thomas)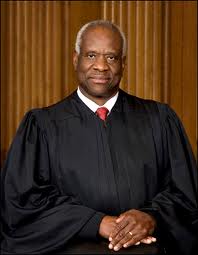 Clarence Thomas is a hero in my mind because he is a very successful person. He managed to earn a seat on the U.S. Supreme Court! He had a hard life as a child but it paid off. He showed determinism to get to where he is and he never gave up. Clarence Thomas is the second African American ever to be a part of the U.S. Supreme Court. He is second to Thurgood Marshall. Thomas is important to me because he works to keep things fair and shows people that blacks are perfectly capable of doing everything whites do. Equality and justice are important to me because without them, the world wouldn't function, as we've learned from history. Clarence Thomas, being one of the first Supreme Court Justices, showed me that anything is possible if you believe and work hard.
Page created on 8/3/2013 8:45:08 PM
Last edited 11/11/2018 6:18:22 PM
The beliefs, viewpoints and opinions expressed in this hero submission on the website are those of the author and do not necessarily reflect the beliefs, viewpoints and opinions of The MY HERO Project and its staff.