To me, a hero is someone who does something for another person without getting anything back, someone who does something for love and not because he has to do it, someone who cares for others. Jorge Campos has been my hero since I started playing soccer; he is my hero because he is optimistic and because he is a great soccer player. He was born on October 15th, 1966 in Acapulco, Mexico. He grew up on his grandparent's ranch. He had a favorite horse and he often rode it to the beach where he would take along a surfboard and a soccer ball. Now he is one of the most notable Mexican Soccer player as a goalkeeper. He was also a particularly good attacker, making him a special and an interesting player for Mexico.
He discovered the power that football soccer [could have in his life]. He never wanted to be goalkeeper; his goal was to be the best forward, but his older brothers said that Jorge had more talent as a goalkeeper. Eventually, he became a favorite player for kids and fanatics of football soccer.

I admire him because he came from a poor family where his parents educated him with honor, confidence, and strength. They showed him the importance of always showing respect to others and of being proud of "what he is and not what others say." Jorge was smart as a kid. He always knew how to answer to his elders. He was not like other kids were at that age; he never asked for something he wouldn't need and every time he asked for something of his parents and they didn't have what he needed, he never asked for it again. He was the seventh of eight children in the family and like other children, he always had a dream to play with the "seleccion Mexicana." He knew that he had the strength to do it but he also knew there would be many obstacles during the journey. It would be hard to get there but he never gave up, he always thought positively, always reached towards a goal, and he always fought for what he wanted until he reached his dream.
He started to play at the age of fifteen with UNAM (University National Autonomous of Mexico), and with his efforts, he became a forward player for the "tri",(the Mexican national team). Campos scored 35 goals for the team in the first season, alone. Campos started to play for Mexico in the 1994 and 1998 World Cups and had compiled 129 caps for his country. After that, he became known as one of the best goalies in Mexico's history.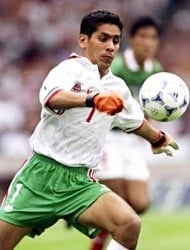 In 1996 he played in the "All Star Game of the F.I.F.A."(Federation International of Football Association). He was one of the best during that time, and the most colorful goalie in the soccer league. His style of play was as wild as the neon jerseys he always wears. When he was named one of the stars in the championship his reputation was soaring, but he never turned his back towards his fans; he always has time for those who need him, he always helps people that need help. He created a soccer school for children of different ages. He created it to encourage the kids in something they like. The only requirement is just that, to join, you have to really want to learn how to play soccer and have a goal in your life. You don't have to pay money if you don't have it, as long as you are interested in the program, they'll help you with it.
Jorge reached his goal but he didn't want to stop there, and after playing for many years for the Mexican selection his new goal was to be the head of the team and to be the representative for it. Later on, after he got retired from the game, he became the assistant coach to head coach Ricardo La Volpe of the Mexican national team in 2004. Now he is helping the head coach and his goal is to make the Mexican selection one of the best teams ever. I think he'll do it becuase I have faith in him and because he has experience on the strategy of the ball.

I chose Campos as my hero because he is not greedy with his money, he always worked hard at everything that he did, he never gave up, he is not an arrogant person, and the most important reason is that he created a school (Jorge Campos Goal Keeper Soccer School) to help children and encourage them to get involved in sports. This is especially important for poor people because he, himself, understands how someone must feel when they don't have enough resources to accomplish what they want. Many people want their kids to play good soccer but sometimes they don't have the resources to help them, and that's why Jorge's school is there to help those people. As Jorge, himself, always says: "first is school, and then the game."
Page created on 6/23/2005 12:00:00 AM
Last edited 1/6/2017 11:51:03 PM