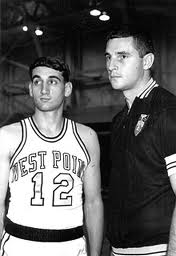 Most people that know the name Mike Krzyzewski think of basketball and how he is one of the greatest coaches ever. There is much more to him than basketball though. Mike was raised on the north side of Chicago. He was born on February 13, 1947. As a child he and his older brother weren't rich or poor. His mother Emily was a late night cleaning lady and his father Bill was an elevator operator. Through his childhood Mike always kept a strong faith in God. His mother and father influenced him on keeping his faith. As he grew, he kept his faith and went to play basketball at Army. He was lucky enough to play under one of the greatest coaches ever named Bob Knight. Right after this he married a woman named Carroll Marsh. During this he also coached at a military academy in Belvoir, Virginia. After a few years there he met back up with his old coach Bob Knight. Bob Knight moved on to coach at Indiana University at this time. In 1980 Mike was named the Head coach of the Duke University Blue Devils.
As the Duke basketball Coach, Mike Krzyzewski was a very successful man. However, success didn't just come to him, his first few seasons at Duke weren't the best. As he worked at his coaching skills, he improved and so did his team. In 1988 Coach K's Blue Devils were ranked #1 in the country at the start of the 88-89 season. A few years later in 1991 he won his first national title with the Duke Blue Devils. They beat the Kansas Jayhawks 72-65. The next year he won the title again from a turnaround jumper from the free throw line by Christian Laettner to beat the Kentucky Wildcats by 1 point. The score was 104-103.
As the school and the popularity of Duke grew, so did Mike Krzyzewski's success as a Coach. Twenty six out of his thirty one years at Duke he had twenty plus wins in each season. As you know those wins can really add up. On November 17th, 2000 Vs Villanova Mike Krzyzewski came into this game with 499 wins in his career. When he left the gym he had won 500 games as a Duke Basketball coach. As his success kept growing people started to notice that he was very close to passing his old college coach and friend Bob Knight for most wins in a career. Bob Knight held the record for most career wins in NCAA history with 902 wins. At the end of the 2010-2011 season Coach K had exactly 900 wins in his pocket. Approaching the 2011-2012 season Mike couldn't say he wasn't feeling the pressure to pass Bob. After winning their first two games in 2011 Mike was sitting on 902 wins. He was only one win away from passing Bob Knight! Their next game was against a very talented Michigan St. team. Mike's team knew what was at stake at wanted get the win out of the way to just focus on the season rather than the record. Coming into this game they knew someone needed to step up and play well. The question was. Who? Andre Dawkins came into this game ripping the nets up. He scored twenty six points in this game and won the game for coach K 74-69.

After the game Mike walked across the court to Bob Knight to hug him and thank him for everything he had done for him. In an interview with Rece Davis he asked Mike Krzyzewski how it feels to have 903 wins. Mike responded with, "There is some relief, because it takes away from putting your own team together this year. It also puts too much pressure on those kids. However I know the significance of it, and to be the first one to be at 903 wins. Doing it in the presence of the guy who helped me the most who had 902 made it even better."
When talking about Mike Krzyzewski it's hard to say he isn't a hero. He has so much faith in his teams and never gives up on anything he does. He has been very successful with his life and still has time to achieve more. Mike never settles with what he has, he always wants more and always wants to achieve more. Mike once said "Once you win a National Championship, how do you do that again? How do you get the passion to do that again? We won it again right away, the next year. A lot of it had to do with
the fact that I didn't give myself an opportunity to enjoy the first one."
Basically he is saying after he won the first championship he started preparing for the next year to win it again. Mike Krzyzewski still coaches at Duke University and plans to stay there for a while. In a interview with Jay Bilas, Jay asks, "How do you feel when the subject comes up about how much longer are you going to coach?" Mike says, "The one this should not do is cheat the game, and the main way to cheat the game is when you stop wanting to prepare and right now I still really like to do this."
Work Cited
"Coach K On 903 Wins - ESPN Video - ESPN." ESPN: The Worldwide Leader In Sports. Web. 06 Jan. 2012. .
"Duke All Access - ESPN Video - ESPN." ESPN: The Worldwide Leader In Sports. Web. 06 Jan. 2012. .
"ESPN - Photos." ESPN: The Worldwide Leader In Sports. Web. 06 Jan. 2012. .
Hines-Brigger, Susan. "Mike Krzyzewski: Life Beyond the Rim - March 2006 Issue of St. Anthony Messenger MagazineOnline." American Catholic: Franciscan Media: Catholic News Magazine Books Videos. Web. 06 Jan. 2012. .
"Mike Krzyzewski Timeline | Timetoast Timelines." Create Timelines, Share Them on the Web | Timetoast Timelines. Web. 06 Jan. 2012. .
"Mike Krzyzewski Quotes - Page 2 - BrainyQuote." Famous Quotes at BrainyQuote. Web. 06 Jan. 2012.
Page created on 1/12/2012 1:53:20 PM
Last edited 1/6/2017 11:57:06 PM