Lincolnville, Maine it took a community to build a library
by David Hugh Smith
Correspondent of
The Christian Science Monitor

In an effort similar to an old-fashioned barn raising, scores of people from Lincolnville, Maine, contributed their materials, labor, and know-how to create a privately funded library.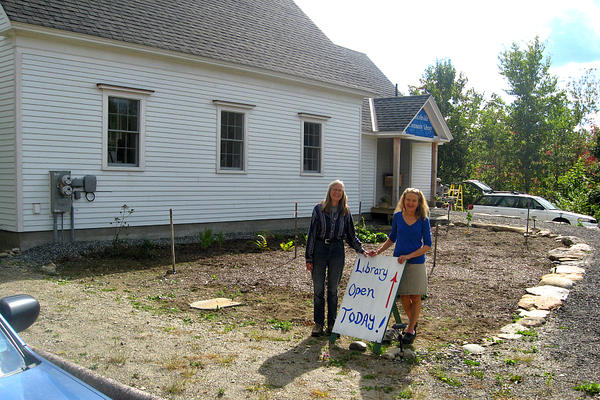 David Hugh Smith
On a cool late-October day 200 people in Lincolnville, Maine, joined in pulling a former schoolhouse along a wooden track across Route 52 and onto a new foundation. The building, built in 1849, had been moldering for years – a candidate for the wrecking ball.

That was two years ago. Today, this shell of a building is a beautiful new library for a town that has never before had a genuine public library.

In an effort similar to an old-fashioned barn raising, scores of people from this community of 2,100 people contributed their labor and know-how. Today, the shelves are filled with books. And computers access the internet and outside databases, dramatically leveraging the library's collection, and visitors enjoy comfortable and inviting furniture.

"It all grew out of an effort to revitalize the center of town," says Sheila Polson, one of Lincolnville Community Library's dedicated volunteers, who now is library director. "The [general] store had closed. We needed a community gathering place. [Among the] ideas we were throwing around, the library took off."

In modest Maine fashion, no one individual takes credit for what has been accomplished. The transformation of what had been an ugly plot of land in the tiny town center was a whole-community volunteer campaign involving retired carpenters, a plumber, an electrician, librarians, people organizing fundraisers, other people giving money ($208,000, including some outside grant money), and businesses contributing materials, including the library's red-birch floor.

The story begins several years ago when the town of Lincolnville, on the central Maine coast, approached Diane O'Brien, president of the Lincolnville Historical Society, to ask if her group might have a use for the old schoolhouse. A boat club owned it and wanted it removed.

"It was probably going to be destroyed," Ms. O'Brien says. "It was a hulk. It was two walls and a roof."

Meanwhile, across the street was a empty lot that for many years had hosted a gas station and auto repair shop.

"It needed some cleaning up," O'Brien says. "No one wanted this piece of land."

As the idea of creating a library unfolded, the historical society bought the building from the boat club for $1, then persuaded the town to let it lease the land across the street to provide a home for the old schoolhouse.

After the move, a crew of men rebuilt the building.

"They had retired and didn't have enough to do," O'Brien says. "A lot of them were carpenters. We were imagining a rough renovation. We didn't imagine this level of [quality.]"

The library opened for business last February.

Many in Lincolnville praise Jim and Cindy Dunham for helping guide and provide an engine for these efforts. The two are ardent environmentalists and educators. They retired in 2008 after many years leading a local 4-H camp.

After a short period of being, as Jim Dunham describes it, footloose and free of any responsibilities, they "started thinking about doing some things in the community."

Reflecting the Dunham's interests the library is strongly focused on education and sustainability. Rooftop solar panels, LED lighting, and super-insulated walls ensure that the bills from Central Maine Power are minimal. The solar panels, along with the library's renewable resource education programs, are supported by grant money.

What also distinguishes the Lincolnville library is that it is privately supported – it's entirely off the town's financial grid. According to Linda Lord, Maine's state librarian, only a handful of Maine's 258 officially recognized libraries aren't supported by public funds.

"We felt that that going to the town and saying we're going to do this library, and we need X dollars, and we want X number of employees wasn't a way to go," Mr. Dunham says.

"There isn't a one-size fits all solution to every problem," says Town Administrator David Kinney. "Sometimes there is only a government solution," but in this case the community itself provided a solution, he says.

"It brought the community together," he adds. "It's that hub in our community. People are meeting who wouldn't have met. People are becoming more involved."

Courtney Young, president of the American Library Association, is familiar with the Lincolnville project. "Libraries and the people who work at libraries are ... change agents," she says. "They are vital in terms of connecting people, of being a place for the community to come together."

The finishing touches are now being made to the library, including landscaping it with native species. But only beginning are efforts to build library participation through activities such as concerts, talks, and book discussion nights.

This library is much more than "a room full of books," says Kathleen Oliver, a retired librarian and treasurer of the Lincolnville library. Like all good libraries it will "connect people with what they need," she says.
Page created on 10/15/2014 12:00:00 AM
Last edited 1/5/2017 4:48:49 PM
The beliefs, viewpoints and opinions expressed in this hero submission on the website are those of the author and do not necessarily reflect the beliefs, viewpoints and opinions of The MY HERO Project and its staff.