While we may never find a real-life person who has been reconstructed with super human abilities like the Bionic Woman, or fly through the city in a red cape like Superman, we do encounter people who define the meaning of the word hero in the condensed, and perhaps most essential, version: they are extraordinarily courageous, compassionate, and use their energy to save the day for someone else. Dave Congdon is one of those people.
There's nothing super-human about Dave. At thirty-eight, he lives an ordinary life. A resident of Manchester, Connecticut, Dave wears a wedding ring on his finger, works in the kitchen of Manchester Hospital, runs (his long, lanky physique is admittedly an asset here), volunteers, and plays a variety of sports for Special Olympics. He is athletic and well-spoken--traits to be admired, of course, but not out of the ordinary. With the challenges that come with having an intellectual disability, you could say that Dave has overcome many of those quintessential obstacles that epic heroes have had to overcome (and he has done so quite admirably).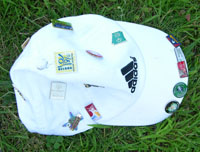 There's a twist to the fairytale, though. Every couple will encounter some kind of adversity as they work together to join their lives; however, Dave and Migdalia had to start by overcoming additional challenges. Both Dave and Migdalia have intellectual disabilities. And while Dave is white, Migdalia is black. Their mixed race marriage was one issue, as Migdalia's birth family, from whom she is essentially estranged, strongly disapproved. Living independently as husband and wife, Dave and Migdalia have an opportunity not usually afforded to those with intellectual disabilities.
"If you're disabled and capable of doing things on your own like we are, you're capable of being married. If you're not capable, I can see the point where it wouldn't be fit to get married. If you can take care of yourselves and do a lot of things, then you're okay," Dave explains. For this couple, love transcends all barriers, whether it's the limiting point of view on how people with intellectual disabilities should live their lives or the lines drawn by race and ethnicity. "There are some people that are old school and don't think that whites and blacks should get married, or Chinese and French should get married--but I'm all for it. I think that if two people love each other, it shouldn't matter what color they are. We all care and love the same way...I think that people should get past that barrier, and say it's okay to be with who you want to be with," Dave says.
"The best part I like about being married is being compatible. I think a lot of marriages are not compatible. We do sports together. I don't know how many husbands and wives do sports together. None that I know of." Sports--and Special Olympics--have played a valuable role in their lives and proved a strong cement for their relationship.
Dave has always been active in sports; however, when he was in middle and high school, it wasn't so easy for him to participate. "The coaches wouldn't let me on the (track & field) team because of my disability and my parents and I had to fight it. They said, 'Well, we'll see how you do. If you do all right we'll let you on the team.' I beat everybody on the team. And they were like, 'Well, you're not allowed on the team.' It was my first year out. My dad said, 'He beat everybody on the team. He deserves a shot.' So finally they let me on the team. It took a lot to get through it."
Dave stands out, though, because he makes life better for others. He is a fixer. He exudes both passion and compassion. He is passionate about life and the people in his life, in addition to his athletic pursuits, including Special Olympics and his goal to enter into his first Ironman competition in 2008--in Hawaii, perhaps the most challenging and prestigious swimming-cycling-running event in the world. "There are very few Special Olympics athletes who could run a marathon, let alone compete in a full triathlon that is challenging for anyone, but I have every bit of confidence that he'll be the one to pull it off. He has tremendous willpower and he is an amazing athlete," says Beau Doherty, President of Special Olympics Connecticut.
All the strength, courage, and tenacity that Dave puts into training also goes into his goodwill towards others. "Although Dave is confident and better than 98% of the athletes in Special Olympics, he's not cocky. He's just nice. He's always been that way," Doherty observes. With one caring arm, Dave has reached out to comfort children with cancer, dedicating a few hours each week to the children's cancer wing at Manchester Memorial Hospital. "I just love to see the kids having a good time. They need somebody as much as people in school or Special Olympics," Dave says. With the other arm, he has brought his wife, Migdalia, a new sense of purpose, happiness, and a future.
At one point in her life, Migdalia, now thirty-one, didn't have much to look forward to. "When she was growing up, she didn't see a future life," Dave confides. "Her (birth) family just seemed like they didn't care, like they didn't want to support her or anything. The state saw that, and that they weren't fit to take care of her, and they put her with a foster family. That was probably the best thing for her," says Dave as Migdalia chimes in about her foster mom, Betty: "She was very nice." While her foster parents gave her a foundation, Dave gave Migdalia the possibility of a bright future, and a safe place to overcome her shyness and find happiness in their relationship together.
"She's gotten a lot better," Dave says proudly. Migdalia has really come out of her shell, and she now has a part-time, paying job working in the mailroom of the Connecticut Department of Mental Retardation, where she used to volunteer. "We're family; we all help each other out. Some of my friends helped out, too. With help from all of us, we made it easier for her (to become her own person)."
Dave has learned what it takes to become independent. A year after his family moved from the area of Hershey, PA, to Connecticut, he moved out on his own. "I just wanted to get out and try it on my own. I'm the only one in my family who didn't go back home after they moved out. I waited until I knew I could do it." Having known Migdalia for the past thirteen years, Dave is sincere in his wish for Migdalia to feel the same about herself. Just spending a bit of time with Dave is enough to understand how he swept Migdalia off her feet.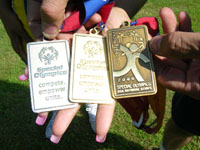 A love for sports came a little later in life for Migdalia, but with the support of Special Olympics and her husband, sports have given her a new outlet and space to grow. "My coach helps me train twice a week. (I've learned that) you need to practice every day until you get it down." All the sports in which she is involved are related to Special Olympics. She plays Unified Volleyball and snowshoes, in addition to track & field and softball. This summer, Migdalia came home from Special Olympics' first-ever National Games with two medals--a gold in 1500-meter, a silver in 800-meter speed walking--and Dave brought home a bronze in Unified Softball. The big event was one of a few for Dave--he ran in the marathon at the Special Olympics World Games in 1995--but it was her first time competing at a big event.
Standing on the medal podium is just one of life's events that Dave and Migdalia have shared together. After being married for eight years and still going strong, this couple does just about everything together--well mostly everything. Dave does most of the cooking, and if it's a crafting day for Migdalia, you can count Dave out, and count on Migdalia spending time with her mother-in-law. Activities and interests may come and go, but if one thing is definite, it is that this couple has many, many years of life and love to share. The evidence is in the way that Migdalia looks at Dave with a combination of admiration and love in her shy eyes; and it is reflected again in the way that Dave takes Migdalia's bronze-colored hand to comfort her and knows instinctively what she meant to say. "I never get tired of him," Migdalia says with a grin.