Doris Batcheller Humphrey was a dancer of the early twentieth century. Doris was born in Oak Park, Illinois, but grew up in Chicago. Her parents were, Horace Buckingham Humphrey and Julia Ellen Wells.
Early Life.
In 1913 she studied and taught dance. In 1917 she moved to California, and became a part of the "Denishawn School Of Dance And Related Arts". At Denishawn she taught, performed and learned choreography. Her dance creations were, Valse Caprice (Scarf Dance), Scherzo Waltz (Hoop Dance) and Soaring, which are still performed today. Doris toured around the world for two years, also followed by a successful career in the Vaudeville theatres.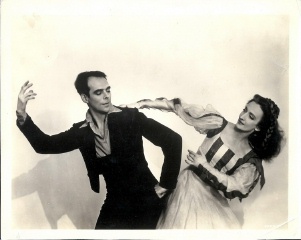 The Great Depression.
In 1928, she and Charles Weidman separated from Denishawn. They soon moved to New York city, to become figures of the modern dance movement. Her early choreography included, Water Study, Life Of The Bee, Two Ecstatic Themes, and The Shakers. Doris and Charles soon formed the Humphrey-Weidman Company. They toured the world, developed new styles, based on the current events and concerns. In the mid 1930's, Doris created, New Dance Trilogy, With My Red Fires, New Dance, and Theatre piece. Her last piece of dance she ever made was, Dawn In New York. She was fascinated in the flow movements, and developed a sense of the body's natural rhythms.
Legacy.
Shortly after Doris's death in 1958, her book The Art Of Making Dances was published. Her book shared her thoughts about the world of dance, and her observations. "Suddenly the dance," Doris said, 'the sleeping beauty, so long reclining in her dainty bed, had risen up with a devouring desire." Doris Humphrey's dances are still performed today. Her legacy still remains, and is growing stronger and stronger.
My thoughts.
Doris Humphrey is my hero. I see her as an inspiring person in so many ways to a lot of people, not just me. She has made me want to become just like her, achieving more than she achieved. If it wasn't for her, I wouldn't be who I am today. I am devoted to her, she is an important part of my life. Someone so special like that means a lot to me. Dancing is my life, and always will be.
Page created on 6/20/2009 12:00:00 AM
Last edited 1/4/2017 9:33:46 PM