Dwayne Johnson
by
Kevin from Roxboro
Great leadership, role model, and someone that you can talk to. All of these qualities define my brother, Dwayne Johnson. He was born in Durham, North Carolina and lived there for six years until his baby brother came. He then moved to the country that we call the Rock: Roxboro, North Carolina, to be exact. Dwayne calls this his new home for all of his friends are here. This is where he found his first loves and made lifelong bonds.
Dwayne has always found himself in roles of leadership since middle school. A group just starting out known as Men of Distinction (M.O.D.) got him involved. Dwayne credited this group to the development of his leadership skills. Before this group, Dwayne spent a lot of his time in a shell. Then when he became president of the group he soon burst out of that shell and disposed of it never to crawl into it again. He did a lot to help that group. He and that group soon became very involved in community service. Reading to young children, helping the lunch ladies, and cleaning up the campus. This was when Dwayne first became my hero.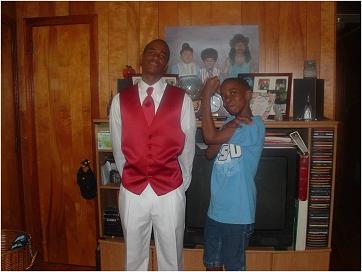 After the middle school era he got a leadership role at Person High School. He was nominated for president, but didn't want to compete with his friend, so he humbly accepted vice president. This shows that leadership is a characteristic, not a role, and that the role can be given to anybody, but the characteristic is given only to a certain few. That brings us to today.
Now Dwayne Johnson is sophomore class president of North Carolina Central University, an important HBCU and a prestigious college. Dwayne has done an excellent job. He's supervised and organized the building of New Baynes (cafeteria) and helped mobilize students for the election. He's also always been approachable. He's not one of the leaders everyone's afraid to ask questions to. When running for president, Dwayne stated,
"I am an open leader and can be approached about any problems or issues. I know of issues that I would like to help fix, but I am open to many other issues from other students. I am for the students while I consider the university's wants and needs first before considering my own."
Leadership has always come naturally to Dwayne, and I've always wanted to have that. Almost everything comes naturally for him. The girls, leadership, brains, and mental strength. I've wanted to be just like him, so I started watching and trying to model his ways. Dwayne once told me, "Follow in my footsteps. Just wear different shoes."
So I attempted to do just that. I did everything he did and on the way I learned things on my own. Dwayne made me who I am today. Smart, funny, cool, and clever. I started out modeling Dwayne, but I ended up creating a new me. I was just simply and greatly influenced by him. I owe him a lot. I owe him myself, and when hardships entered my life Dwayne picked me up and brushed me off. Then he gave advice. He said,
"Everything in life happens for a reason. Therefore live life not knowing what to expect but accepting what happens and while doing this continue to learn from your mistakes and then you will be on your way to success."
Well I do live life, and I am on my way to success because of my hero.
Page created on 7/20/2009 12:00:00 AM
Last edited 1/5/2017 10:43:26 PM
The beliefs, viewpoints and opinions expressed in this hero submission on the website are those of the author and do not necessarily reflect the beliefs, viewpoints and opinions of The MY HERO Project and its staff.