Do exactly what you want to do, and never let a thing stop you.
My Nana fights for Nurse's job quality and pay as other Nurses. She is a great, strong, and inspirational woman. She has the courage to speak about her rights all over Ontario. Readers, my hero is my Nana, Deborah Sophia Moroz.
My Nana was born in July. Her mother, Patricia Sitch (Grace) named her Deborah. Deborah was the youngest of three children: Yvonne, Jhonny, and Terrance. She lived with her family in Geralton, a town outside of Thunder Bay, ON. When she was three or four, her mother and father broke up. So, her father took Deborah. "I faintly remember meeting his new girlfriend," she said. But, her mom found her and took her back. I think that was an obstacle. After that, the family moved to O'Conner Township, a very small township outside of KekaBeka Falls (Half an hour outside of Thunder Bay). When she was around twenty, she was married to Curt Stowell. In 1976, Deborah had her first Child: Jolene Stowell, my mom. A few years down the road, along came her second and third children: Stacey and Tiffany. After she divorced Curt, Deborah moved into Kekabeka Falls.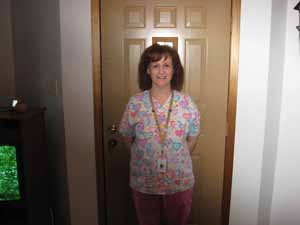 My Nana went to school in a school with limited teachers. In 6th Grade, her class went teacherless. So, a city teacher gave up her home with her husband and daughters to come teach in the middle of nowhere. My Nana was amazed by her determination and caring. One obstacle was having to go the Medical School when her kids were very young. I think she had a lot of integrity and determination to do that.
My Nana speaks all over Ontario about Nurses' rights and qualities and she stands up for all Nurses. She LOVES her job at the Hospital! While balancing work, her bear-like dog (Desi) and other tasks, she also just adores visiting her grandchildren, like me!!!
She has frequent visits to Toronto about her job at the board with her boyfriend, George. In fall of 2008, she appeared in the magazine, 'Nursing Journal'. It was introducing her as the new Representative of District 6 - RPNAO. I'm talking about how she had been a RPN for 20 Years and was extremely dedicated. I know that she was really proud of that.
My Nana shows a lot of traits, like courage for speaking up, caring for other people, respect or everyone, optimism for never giving in, integrity for doing the best she can with what she has, and responsibility for her job! I think the biggest trait she shows is courage, because she speaks up and isn't afraid of ANYTHING. She has never given in, and that's the most that I admire her for.
My hero influences me by showing a lot of character traits, being a good example, and always being up for anything - whether it's hiking or swimming with me! She has never let anything stop her. My Nana isn't a no-nonsense boring grandmother, she's a fun-loving, energetic, interesting, and for her age she's pretty darn cool. I don't want to be a doctor for humans, but I want MY future grandchildren to look at me like I look at her!
One time, she took me, my mom, and my brother to the Marriott Hotel in Toronto for three days. It was awesome! We went to the Princess of Whales Theater and saw 'Phantom of the Opera' LIVE! That's my Nana's favourite play. On the last day, we piled all of the pillows and covers on one bed, then jumped from the other bed onto the next! We landed right on our faces. In mid-air, we took pictures. We looked CRAZY!!!
In conclusion, My Nana is a great person; great enough to be my hero.
Page created on 5/4/2009 8:52:12 AM
Last edited 5/4/2009 8:52:12 AM