"The betterment of our society is not a job to be left to a few; it is a responsibility to be shared by all." -David Packard
Referred to by many as the "technological wonderland" and "cradle of technology," Silicon Valley is known as the birthplace of many advanced and diverse industrial companies. However, the famed region of central California originated from a simple garage on Addison Avenue, Palo Alto, California. As Guy Kawasaki once said in the documentary film Origins, "Two people in a garage with not many resources, can create the next big thing…HP was the inspiration, I think, for the entire [Silicon] valley." Kawasaki speaks of inspiration, but what is inspiration and its importance as a trait? Coupled with courageous actions and determination while making personal sacrifices in the process of contributing to the world, a hero emerges: David Packard.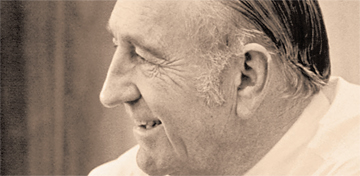 Born September 7, 1912 in Pueblo, Colorado, David Packard grew up in a rural suburb where he had ample space to explore nature and science. Encouraged by his parents, Packard began experimenting with his own ideas and projects he took an interest to, particularly those concerning mechanics, electronics and explosives. What interested him the most was radios; in addition to building his own radio station, he also became a skilled radio operator. In 1933, while studying at Stanford University, Packard's interest in radio engineering led to a personal invitation from Professor Fred Terman to take his radio engineering course. Little did he know Professor Terman's course would prove to be the push that would change Packard's life. Under Professor Terman's suggestion, Packard and his classmate, Bill Hewlett, created their own company, Hewlett-Packard.
As two graduates with minimal education on business, "…they started the company under $500 and a good idea. The genius was not…the perfect tools, but that they had a drive, energy and creativity" (Origins). Having courage and determination is one of the most basic requirements for one to qualify as a hero, and the start of HP highlighted these qualities in Packard. Although he did not have much to work with to start a new company, he did have the determination to try and make the best that he possibly could with his limited funds. Few people in this world have the drive necessary to follow through after starting a company, this truth made evident by the small number of distinguished businesses, such as Microsoft and Apple, who thrive upon their customers and supporters. To have the strength to push through the limitations of a tight budget, no supporters and no strings to pull in times of trouble, the motivation to keep going until success appears can be found so rarely that people able to start a company under such conditions are placed in high regard. In addition to showing the courage and resolve in starting a business, he also demonstrated similar qualities when it comes to setting goals and standards for his company. In 1948, during a CEO business meeting, the attendees were asked, "Who is the company responsible to?" (Origins) As all the other CEOs discussed ways to "maximize the profits" and "returning dollars to…shareholders" (Origins), Packard stood up and politely interrupted, "Actually, I disagree with all my elders. You also have an obligation to your customer, to your employees and to the community in which you operate. Our purpose of a company is not to make money. It makes money in order to be able to do what it's really all about and in our case, that's to make a contribution" (Origins). Despite the reactions his unique idea caused, Packard bravely presented his opinion. His idea of giving back to the customers, employees, community and environment presented itself as an unprecedented suggestion in the mid-1900s, and is still not universally practiced to this day. Many companies in the United States lack fairness and compassion towards their employees, treating them as a part of a machine: easily disposed of and replaced at the firm's own convenience, specifically exemplified in fast food stores and factories where severe injuries often occur. To stand up at a meeting of experienced CEOs and state that they should have more responsibilities to their employees and customers takes tremendous amounts of willpower. As a result of Packard's courage, HP's humanitarian method of treating their employees became known as "the HP way," a guideline for the company built upon the principles developed by the founders' determination and will to succeed.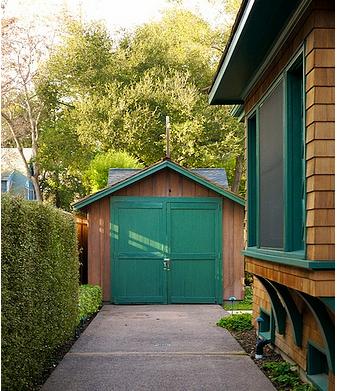 When Packard stood up for his own opinions at the meeting, not only did he display immense courage, but also risked sacrificing his reputation. In the business world, reputation and inner connections come hand-in-hand with success. By holding an opposing point of view in 1948 during the business meeting, Packard pioneered a new way of functioning, one that defied the strict hierarchy of companies, although it meant the CEO and managers may not get as high of a salary compared to other companies. He gave up his own reputation in order to bring out a better way to run a company so that more people would be able to benefit from the efforts they put into their jobs. Now, it is evident that Packard did not sacrifice his reputation in vain; many businesses began incorporating parts of the HP way into their own companies. In addition, Packard also sacrificed high profits for high quality, high performance and giving more back to all the resources the company used, including the employees and the surrounding environment. Shortly after the Great Depression, Packard created a "type of coverage that was virtually unknown" for his employees. Most companies at the time had little or no coverage for their workers if an accident happened to them. What Packard established was "…a program of catastrophic medical insurance to protect our employees and their families" (Origins). Many companies still do not offer such basic-sounding, yet extensive types of medical coverage for their employees for fear of going bankrupt or losing too much money. Packard did not just establish medical coverage, he and Hewlett founded something that only existed at certain companies, and available only to the high-ranked positions. "…[I]n essence it paid everyone a bonus, as a percentage of their base pay, should production exceed certain levels. General Radio's plan applied to engineers only. But Bill and I thought everyone at HP should be included" (Packard 57). Both benefits [the additional compensation an employee receives] meant that Packard and Hewlett sacrificed a part of their personal earnings, but in the process helped benefit multitudes of employees. Their sacrifices caused "HP [to] set the standard …it became…the icon of what business ought to be" (Origins).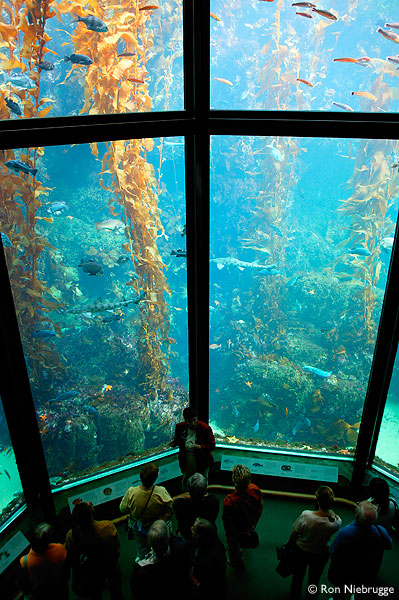 David Packard and Bill Hewlett both created foundations to assist those in greater need of help in addition to becoming the inspiration of Silicon Valley and businesses around the world. In 1964, Packard and his wife founded the David and Lucile Packard Foundation, one of the wealthiest funds in the world, to which he left most of his money to when he died [about $4 billion]. The "Packard Foundation… donates money to private, nonprofit organizations in the United States and other countries. The foundation's programs grant aid in the areas of science; conservation; population; children, families, and communities; the arts; and organizational effectiveness and philanthropy" ("Packard Foundation"). The organization helps "promote family planning in less developed countries. The children, families, and communities program assists families with health care and protection from violence" ("Packard Foundation"). The Packard Foundation is one that has positively impacted many countries and efforts to help preserve our world, evident through works such as promoting and advancing "family planning and reproductive health [and]…enhancing reproductive rights…by improving the quality and availability of safe abortion and/or post-abortion care" ("David and Lucile Packard Foundation") as well as ensuring the education of young children. In addition, the foundation also brings light to many non-profit organizations through projects that communicate activities to the public. Packard also established the Monterey Bay Aquarium Research Institute and donated a large sum of money to the aquarium itself. The aquarium positively impacts the environment and the people who visit in many ways. One of these ways is its efficient and unique infrastructure; it is virtually connected to the bay itself, the seawater pumped through to every exhibit, supporting organisms that cannot survive in an ordinary saltwater aquarium. As a result of the unique design, it does not damage the surrounding ecosystem nor does it pollute the bay because the waste seawater is returned to the environment. The aquarium also teaches its visitors how to choose the "right" kind of seafood so they do not unintentionally wreck the fragile ecosystem of the world even more. By creating these foundations, Packard contributed to the world in many different ways.
Tangible proof of Packard's compassion, contribution and sacrifice are shown through the lengthy list of honors, hall of fames and awards given to him, either personally or posthumously. Several awards that stand out the most include the IEEE Founders Medal, awards from the Franklin Institute, Heinz Medal, Sylvanus Thayer Award and the Presidential Medal of Freedom. Given to those who exhibit "outstanding contributions in leadership, planning, and administration of affairs" ("IEEE"), the IEEE Founders Medal was presented to Packard in 1973 along with his partner, Bill Hewlett. Their exceptional management of Hewlett-Packard instigated in Packard receiving awards from the Franklin Institute, rewarded to those who positively impact the world with "uncommon insight, skill, or creativity" ("Franklin Institute") in science. Besides receiving awards in the technological and business areas, Packard was awarded the Presidential Medal of Freedom, considered the highest civilian honor, recognizing those who have performed "exceptional meritorious service" ("NNDB Tracking the Entire World"), in 1988. By devoting time and thought not only to technology, but to humanitarian needs as well, Packard brought the people around him closer as a team.
In order to stay together as a whole, the world needs heroes—role models like David Packard who bring hope by motivation, courage, sacrifice and a positive attitude towards life. As former President Reagan said in a speech, "[An] accomplished businessman and skillful manager, noted philanthropist and public servant of the highest integrity -- David Packard has had a legendary life and career. Dedicated to furthering the pursuit of scientific, technological, and human progress, devoted to his country and the cause of keeping her strong in a dangerous world, David Packard has served the American people effectively, generously, and proudly" (Reagan). Packard clearly possessed all of these qualities; his philanthropic works are constantly impacting today's world. Without his advancements, who knows what the modern business field would look like. No doubt, if the principles of "the HP way" were taken away, there would be no Silicon Valley, no high quality performance; none of the companies that branched out from HP would exist. Packard concluded his book, The HP Way, saying, "The betterment of our society is not a job to be left to a few; it is a responsibility to be shared by all" (Packard 189), showing that everyone has to pull their own weight in order for something to work no matter how high an official or how lowly a worker. What makes Packard a hero is the use of his philosophy with all of his heart. Not many people, let alone a founder of an immense company, can accomplish that, creating a team composed of everyone on the planet, working in harmony, as it should be.