Dorothy Ferguson Key
by
Cassidy from Hodgeville, Saskatchewan, Canada
Everyone has something that they are passionate about, and when you are passionate about something, you genuinely try your best to achieve greatness. My passion is for baseball and softball, and I look up to many athletes that share that same passion. One person who is my hero is Dorothy B. Ferguson Key, also known as Dottie Key. She was one of the first women to play in the All-American Girls Professional Baseball League in 1945; she is also a Canadian. I would say that she is my hero because she was one of the women who really opened up the world of baseball to both genders. Before, she and almost three hundred other women, girls really, were not looked at as baseball players. In my opinion she is one of the most influential women in sports history, even though she influenced only a small portion of our world.
Dorothy Ferguson was born on February 17th, 1923 in Virden, Manitoba. From an early age, Dottie was very athletic and was involved in the world of speed skating and softball. When she was younger, her main focus was on speed skating, and she even was to take part in this event in the Olympics of 1940, but when the Olympics was cancelled due to WWII, she missed that opportunity. Soon after this was when she began to focus on her newfound interest: softball. Her professional debut was for the Rockford Peaches in 1945, and her last professional appearance was in 1954. Dorothy passed away on May 8th, 2003.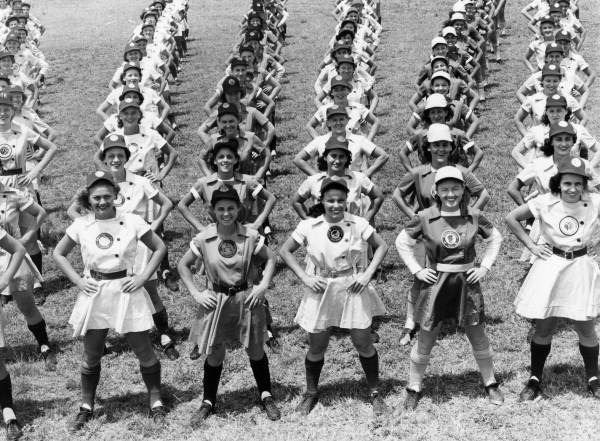 All American Girls Professional Baseball League membersFlorida Memory [CC0]
The AAGPBL was created when America was entering into World War II and the majority of men were away, and the game of baseball was still to be maintained in the public eye. Dottie was one of the fifty-seven girls that left Canada to be part of this monumental time in baseball history. Dottie began to play in this league in 1945 with the Rockford Peaches, where she continued to play for ten years, with the exception of the start of the 1946 season, before going back to the Peaches until the league eventually folded after twelve years. During her years with the Rockford Peaches, Dottie played mainly infield at second and third base, but later in her career she moved out to centerfield, where she made a positive impact. One of the things that Dottie was best known for was her speed. She averaged 46 stolen bases a season with a high of 91 in 1951; Dottie was a much-respected woman and player in this league.
Dottie lived in Virden, Manitoba, until she embarked on her professional baseball career in the United States. During this career she lived in Rockford, Illinois. One thing that really shows how much Dottie loved the game of baseball was that when Donald Key proposed, one of her conditions was that if they were to get married, she would still continue playing. After they were married in 1949, she continued playing for the Peaches as Dottie Key. In all of her years as a player in the AAGPBL, Dottie was very well known and accomplished in her career, including for her four championship wins, eight play-off appearances, and holding the record for most hits during the postseason. She is also featured in the Canadian Baseball Hall of Fame and Museum, Manitoba Softball Hall of Fame, National Women's Baseball Hall of Fame and the Women in Baseball - AAGPBL Permanent Display at the Baseball Hall of Fame and Museum.
Dottie Key is the woman I chose for my hero because she really has inspired me to follow my dreams in life. Although for a long time women were not seen as equals to men, especially in sports, Dottie is a good example of how with hard work and determination, you can achieve greatness in whatever you do; you just need to be willing to take a few chances. She may not have saved a life or marched for equality, but she shows many women and girls that we can do whatever we set our minds to.
Page created on 11/26/2013 12:19:30 PM
Last edited 2/16/2020 3:51:29 AM
The beliefs, viewpoints and opinions expressed in this hero submission on the website are those of the author and do not necessarily reflect the beliefs, viewpoints and opinions of The MY HERO Project and its staff.