Darrell Green
by
Parker from San Diego
Darrell Green is the only man to have ever won the NFL's fastest man award more than once, and he did it 4 times. Green accomplished extraordinary things in his life that compel me to do this assignment on him. He was born on February 15, 1960 in Houston, Texas. His superior athletic skills enabled him to be a star in track and football. He attended Texas A&M college where he caught the eye of NFL scouts. He was drafted into the NFL in 1983 and played all 20 season of his career with the Washington Redskins until he retired in 2003. After football, he realized he had a calling in life that involved more than just football, and he listened to that calling. I think a hero is someone who is born with talent, and puts that talent to good use helping others. This is exactly what Green did and is still doing today. That is why he is my hero.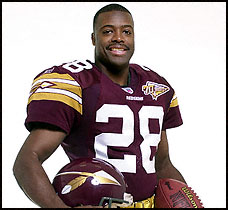 Darrell Green is a hero because he is generous with his wealth and uses it to help others. He decided to help underprivileged kids when he was driving home from a charity event one night. "Driving home that night, I reflected on the situation and was moved to tears. It dawned on me that I needed to do something more than go through the motions of charitable appearances. The next day I called a lawyer because I had no clue what I needed to do to establish a foundation. But from that day on, it became clear to me what I would do with my life."(Gale student resource center gold) Shortly thereafter, Green founded the Darrell Green Youth Life Foundation, or DGYLF. The organization opened a center to help underprivileged kids physically and mentally, like a YMCA, but more intensive. I think this was a great way for Green to put some of the wealth he acquired from the NFL to good use. He was named the Most Caring Athlete by the USA Today magazine 1997. That shows he knows how to think outside the box when it comes to being charitable. Green's active role in the community makes him a role model for all ages.
Darrell Green is not the typical NFL superstar you see today. He was a great football player who has never been involved in any unethical activities. Many athletes are flashy and involved in immoral activities outside of football, but Green is very humble and has devoted his life to Christianity. In the words of Michael Irvin, "He was the man by which we all measured ourselves. If you could have a great game against Darrell Green, it meant you were there ... He gets the job done. He almost makes you mad because he keeps getting the job done and getting the job done and does not say anything. You have to pump yourself up even extra when you play him because he will make a great play and help you up or might knock the ball down and then compliment you on running a great route. He used to make you pretty mad, but it is nothing short of incredible what he accomplished in this league." (Gale Student Resource Center Gold.) Green's hard work and great attitude got him to the NFL. He finished college and got a degree in something he would never need later on just because he didn't want to quit. Green is capable of quitting though. He quit the NFL when he was still physically fit to play, but with good reason. He was already set for life with the money he had earned, so he quit the NFL to put the money to use and spend more time with his wife and three kids.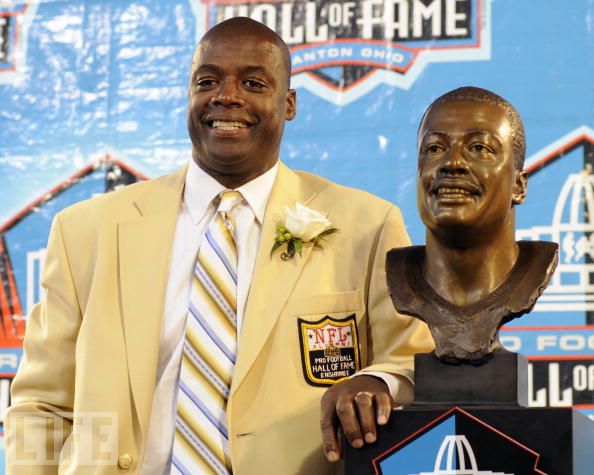 Green should be a role model to all the players in the NFL. There are many problems associated with big time football stars who think it's ok to drink and party and things of that nature. Millions of kids look up to NFL players as their role models because they want to be like them some day. They see their favorite players engaging in unethical behaviors, they're going to want to do it too. If all NFL players were like Darrell Green, the USA would be a much better place. Darrel is an inspiration to me because he loves football, pursues his dreams, and realizes that he has a higher purpose. Green continues to help underprivileged children today, opening more learning centers as the years progress. He is slowly making the world a better place, and that is why Darrell Green is my hero.
Hoffman, Melody K. "Ex-teammates become classmates: Redskins' Monk, Green to join Football Hall of Fame." Jet 25 Feb. 2008: 50+. Gale Student Resources In Context. Web. 24 Apr. 2011.
"For the Record." Sports Illustrated 6 June 2005: 20. Gale Student Resources In Context. Web. 24 Apr. 2011.
Horton, Gary. "What's wrong with these guys?" The Sporting News 22 Nov. 1999: 23. Gale Student Resources In Context. Web. 24 Apr. 2011.
Page created on 4/26/2011 12:00:00 AM
Last edited 1/6/2017 11:44:56 PM
The beliefs, viewpoints and opinions expressed in this hero submission on the website are those of the author and do not necessarily reflect the beliefs, viewpoints and opinions of The MY HERO Project and its staff.