by
Catherine from Villeurbanne
"Compassion and tolerance are not a sign of weakness, but a sign of strength." The 14th Dalai Lama
First of all, I would like to say that I don't really have any idol or people that I consider as a hero or anything like that, as I think that no one is "perfect" enough to claim the title. Nevertheless, there are a lot of people that I respect and admire for their important deeds, and their strong will and perseverance, but what impresses me the most is the faith that they have in everything they're doing in order to defend their causes and rights.
Among them, one person has caught my attention, particularly for his ideas and what he symbolizes: The Dalai Lama.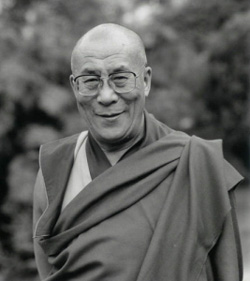 "The fourteenth and current Dalai Lama, Tenzin Gyatso, was born in 1935. The fifth of nine children of a farming family in the Tibetan province of Amdo, he was proclaimed the reincarnation of the thirteenth Dalai Lama at the age of three. On November 17, 1950, at the age of fifteen, he was enthroned as Tibet's Head of State and most important political ruler, while Tibet faced occupation by the forces of the People's Republic of China. After the Tibetan resistance movement in 1959, Tenzin Gyatso fled to India, where he was active in establishing the government of Tibet in exile and preserving Tibetan culture and education among the thousands of refugees who accompanied him. 'His Holiness' is the first Dalai Lama to travel to the West, where he has helped to spread Buddhism and to publicise the cause of Free Tibet. In 1989, he was awarded the Nobel Peace Prize. He was also awarded numerous other prizes like the most recent which was on May 28, 2005, when he received the Christmas Humphrey's Award from the Buddhist Society in the United Kingdom."
So I decided to write about The 14th Dalai Lama because, in addition to his exciting mystical aspect, The Dalai Lamas are considered by the Tibetans as the manifestations of the Bodhisattva of Compassion, who choose to reincarnate to serve the people. Although we don't speak or hear much about him, what he's doing deserves to be talked about.
Indeed, he has devoted a major part of his life to carrying a message of peace and tolerance around the world for four decades now. And for this reson, I think he's as important as any peace icon, if not more! Moreover, it's also important to note that he represents a universal role model as his commitment has enlisted the support of groups as diverse as Amnesty International and Hollywood celebrities such as Harrison Ford, which proves very well the "global" admiration that he inspires.
I also appreciate all the strength and the will that he shows not only in his "peaceful war" (using non-violent ways and noted as a public speaker of peace), but also in his political and social roles. To me, the fact that he had to assume all the political power at 16 and, at the same time, all the responsibilities which had been assigned to him as the "Head of the State and Government of Tibet" is very impressive, especially so since his exile. However, what impresses me the most is the number of people who have followed him in his exile after the occupation of Tibet by China (Indeed, according to the article, "Dalai Lama Considers Ending Exile & Return To Tibet" from Global Village News, September 29th, 2003, about 80,000 Tibetan refugees followed His Holiness into exile, and today, there are more than 120,000 Tibetans in exile!), which is undeniable evidence of his charisma. Furthermore, in addition to his fight for peace, he has also travelled all around the world to defend and seek international help in order to end the destruction of Tibet and his culture (6,000 temples and the deaths of at least one million Tibetans) because of the Chinese occupation.
However, The Dalai Lama is sometimes criticized for modifying his message to be as acceptable as possible to his audience, sometimes changing viewpoints according to the situation (for instance about the war in Iraq -- he admitted some hesitations, but after the invasion he refused to condemn it). He is also sometimes reproached for taking one side of an issue at the time and changing it later on, usually in response to criticism. Despite that, most of the contributions he has made to society are positive ones.
So to conclude, I feel that His Holiness is a positive role model because of his involvement in this huge battle for peace (not only for Tibet, but also for all the countries at war), and for his human qualities (his strong will, faith, hope in human beings and his humility). In my opinion, if we could follow his example in life, we would maybe succeed in decreasing violence and war in the world.
Page created on 6/22/2006 12:00:00 AM
Last edited 6/22/2006 12:00:00 AM