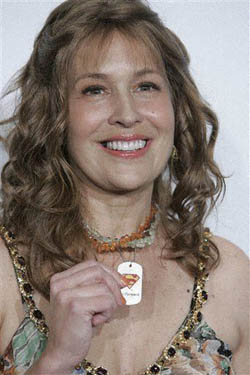 Dana Reeve's most widely known role was as the wife of Superman, the character played by her husband, Christopher Reeve; but her resilience, optimism, and compassion made her a hero in her own right. If you believe in bad luck, you might say that the Reeve family had a running streak of it, but it is impossible to even imagine the family as anything but happy, loving, and perhaps, even, blessed. Dana—and her husband—had an outlook on life that welcomed optimism and set an example on how to move on and flourish in spite of terrible events. When Dana confronted challenges and adversity, she was sure to take action to overcome them. She did so after a riding accident left Christopher Reeve immobile, and yet again we he died from complications of the paralysis, and even when she learned that she had lung cancer. Sadly, Dana Reeve's most recent struggle with lung cancer could not be overcome, even by someone as strong and heroic as herself. On March 6, 2006, Dana died of the disease at the age of 44. Despite her shortened life, Reeve managed to pack in more accomplishments, and more good done for others, than many do in a full lifetime.

Born Dana Morosini, Dana grew up in a loving and tight-knit home in Scarsdale, NY. There were a few things that remained constant in Dana's life—her loving, close relationships with her parents and two sisters, and her passion for performing arts. Dana was a talented actress and singer. In fact, that was how she and Chris first met. They were acting at the Williamstown Theater Festival, a summertime run of productions that attracted some of the very best—and most famous—actors, actresses, and directors. She acted in soap operas and in the Broadway play More to Love, appeared on the hit television series Law and Order, made TV commercials, and sang. After Chris' accident, Dana collaborated with the creators of the children's book series Dewey Doo-it, to publish a book that delivers a message on the importance of compassion and helping others with disabilities. She also lent her voice to a computer-animated movie that Christopher Reeve began directing before he died. The movie, Yankee Irving, is about a father and his son, a baseball player, and is slated to be in theaters in August 2006.
She and Chris, and their son, Will, led the active lifestyle of a young family until Christopher incurred his life-changing injury in 1995. While riding in an equestrian competition, Chris fell off of his horse and broke his neck. After the accident, the couple, only married three years at the time, had to change their lifestyle; however, they didn't slow down. In fact they just added more to their plate as they began searching for treatments—and a cure—for paralysis. They initiated the motto "Go Forward," and they did exactly that. Navigating life with a wheelchair, and all the other issues that the near-total paralysis brought with it, wasn't easy, but they made adjustments and accommodations to keep as many of the things that they loved in their life. Then they helped others who were dealing with similar challenges do the same.
Dana stood by Chris because, for her, there was no other option but to continue being his companion and joining him on the journey toward finding a cure for spinal cord injuries. She put her acting career on hold for more than a year as she helped her entire family adjust to their new life, throwing her remarkable talents, compassion, and endurance into finding a positive outcome for the family and for others dealing with similar adversities. The couple partnered with the American Paralysis Association to form the Christopher Reeve Foundation and continue funding innovative research to find treatments for those living with spinal cord injuries. In an interview on National Public Radio's program "All Things Considered," Susan Howely, of the Christopher Reeve Foundation, described how Dana Reeve handled her role as caretaker, "She lived those years as Chris' wife after his injury with such grace and compassion, and with an unfailingly good sense of humor, and with a wonderful perspective … She's an extraordinary role model for all of us."
When Christopher died, Dana picked up where he left off, assuming the role as Chair of the Christopher Reeve Foundation and continuing to advocate for stem cell research, an issue for which Chris had lobbied for the past nine years. In addition, she also continued to pursue the other goals that she had envisioned for the organization. Dana Reeve was very concerned about the quality of life for people living with spinal cord injuries. She created the Quality of Life Grant program within the foundation, distributing 8 million dollars for projects that enhanced the day-to-day lives of people affected by paralysis. One of the projects included funding a tree house accessible to all kids, even those riding in wheelchairs.
When Dana publicly announced that she had lung cancer, it had been less than a year since Christopher Reeve's death, and just four months after her mother had died of ovarian cancer. Although lung cancer is a disease normally associated with smokers, the American Cancer Society notes that roughly 10% of the people who are diagnosed never smoked. Dana was one of those people. So as quickly and unexpectedly as it was for Christopher Reeve to fall off his horse, Dana found herself in a fight for her own health and life. The prognosis for lung cancer can be grim, but Dana was optimistic. Dana didn't see dying as one of the options; she was looking for the treatments that would bring about a cure to her cancer. In fact, it wouldn't have been characteristic of Mrs. Superman to do anything but turn the situation around, at the same time she continued reaching out to others through the Christopher Reeve Foundation.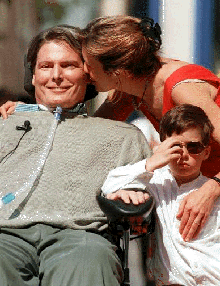 In 2005, the American Cancer Society presented Reeve with a Mother of the Year award for her role in raising awareness about the need for more funding for medical research, while juggling life as an attentive mother to her son, Will. In a statement that would be echoed by all who knew Dana personally, Dr. Michael Thun, VP of the American Cancer Society, said that Reeve "has shown strength and courage in the face of tremendous adversity." Indeed, anyone looking in from the outside would see all of the challenges heaped upon Dana Reeve as terribly tragic, but those who knew her, and Dana herself, saw things differently. What they saw was a woman who gracefully took strides to overcome her own challenges and find ways in she could help millions of others: in other words, a hero.
Page created on 4/15/2007 7:17:47 PM
Last edited 3/14/2020 2:21:00 AM
Related Links
The Christopher Reeve Foundation
- The Christopher Reeve foundation strives to find treatments--and a cure--for spinal cord injuries through funding innovative research.
Extra Info
LISTEN! Audio Links
Listen to these audio files to hear others talk about Dana's amazing character and strength.
ON THE BOOKS...
Dana Reeve is also featured in the book, My Hero as she writes about her hero and husband, Christopher Reeve.