The athlete-adventurer co-founded a relay run called One Run for Boston that started in Los Angeles and ended at the marathon finish line to raise funds for victims.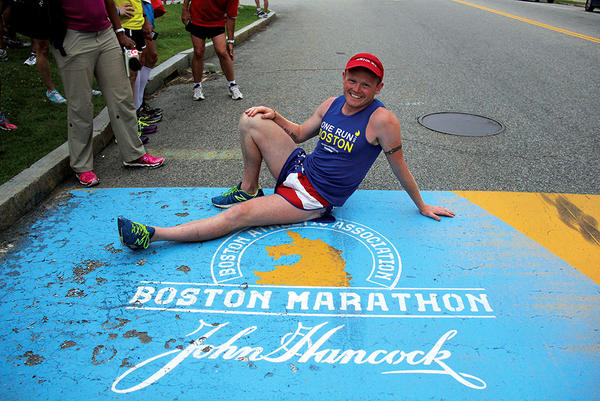 Courtesy of Danny Bent/One Run for Boston
BOSTON

Moments after he tumbled more than 30 feet down the side of a mountain in 2009, Danny Bent opened his eyes, regained use of his limbs, found his bike, and climbed back up to the road to rejoin his friends for the last 60 miles of their cycling trip.
He was a little banged up, but filled with gratitude to be alive. He also had a realization: If he was going to make a difference in this world, it was time to start.

So he did.

The young man from Devon, England, traded in his high-paying job in finance for a profession that he thought would have the most influence: elementary school teacher.

"I just felt like you could make a difference as a teacher," he says. "That's what it's all about, making a difference."

Since then, Mr. Bent has made it his life's purpose to get his heart and soul behind the causes he believes in, forgoing sleep, comfort, and financial success to inspire people to take even small steps to bridge self-imposed or societal divides and show their compassion for others.

His caring threads through every encounter and adventure he has taken on, from inspiring classrooms of 8-year-olds to raising $50,000 for children living with HIV and more than $500,000 for victims of the Boston Marathon bombings – all accompanied by hugs and smiles.

As a teacher he incorporated tree-climbing and paint-throwing activities in his classes. His childlike enthusiasm and alacrity not only kept children's attention, say his colleagues and students, it resulted in a room full of children who learned to believe in themselves.

"Mr. Bent was like no other," says Gus Branston, who had Bent as his teacher for a year. "He captivated my imagination and did the impossible." Gus's brother Tatty, who was also in Bent's class, adds: "He made me believe anything was possible. His dreams - inspired me, but they helped me, too. He taught me to always work for your dreams and that all was possible."

But that wasn't enough for Bent. After getting blank stares from his students one day when he was teaching them about India, he looked for a way to connect his students with people outside their school – and outside England. He settled on a plan to become a teacher in a remote village in India; meanwhile, his students back in England would follow his activities.

He had taught his students about the ill effects that burning fossil fuels has on the environment, so he decided to make his journey in an eco-friendly way – by riding to India on a bicycle.

Biking 9,000 miles from England to India led him to write a bestselling book about his experiences, which in turn led to raising $50,000 for children living with HIV/AIDS – something he had seen up close on his six-month journey.

He also began to give motivational talks around the world.

"After I wrote my book about my travels," Bent says, "people were writing me and saying " 'I really want to do something. What can I do to help the world?' And I thought, 'Oh, this is so great. We could build a little army here to help.' "

Bent's efforts have taught him a thing or two. "There are more good people in this world than there are bad people," he says. "And if you work really hard, you can achieve anything you like in this life."

He's also learned that showing you care enough to cross a divide, any divide, can sometimes mean more than giving away money. At an individual level, it can mean giving a stranger a hug – an approach Danny is passionate about.

"A handshake is so impersonal," he says, stressing that a personal connection and compassion can have a healing effect.

Perhaps it's no surprise, then, that when Bent heard the news of the Boston Marathon bombings in 2013, the athlete-adventurer, together with a friend, devised a plan to show solidarity with the people who had been affected. Within a month's time, he and Kate Treleaven convinced another friend to set up a website. Then they traveled to Los Angeles and began planning a relay run across America.

Participants would take turns running with a baton shaped like a torch from Los Angeles to the Boston Marathon finish line. Bent and Ms. Treleaven hoped that at least a few runners would show up. They planned to donate the funds they raised to One Fund Boston, the organization that gives money to the victims of the April 15, 2013, blast. (The One Fund has handed out about $62 million to more than 200 people, but for many the medical costs of rehabilitation and prosthetic limbs are an ongoing expense.)

Bent and Treleaven volunteered their time and used their own savings to fly to the United States to organize the relay, sleeping in their rental car along the route. They were prepared to run multiple legs of the relay if needed.

But as word got out, more than 1,000 people from across the country showed up to run the 300 sections of the relay, including people who had relatives who had been injured or who themselves had been injured when the blasts went off near the finish line in downtown Boston.

By the end of the 23-day relay, the One Run for Boston had collected much more than what Bent had hoped to raise, some $91,000. But the most important aspect was the solidarity and connection the relay represented: The hugs and the feeling of "we will not be stopped made the whole experience epitomize the 'Boston Strong' attitude," he says.

John Odem, from Redondo Beach, Calif., was standing with his wife near the finish line last year waiting for his daughter to cross when the blasts went off. His daughter was fine, as were the other seven members of his family watching the marathon. But his legs were hit by shrapnel; he was so badly injured that doctors thought he might die.

Two months later, Mr. Odem's daughter, who didn't get to finish the marathon because of the blast, ran the last leg of the One Run for Boston relay toward the yellow-and-blue painted finish line. Odem and his wife were able to park themselves at the sideline to cheer her on, floored that strangers – from another country, no less – would go to so much trouble to show they cared.

When his daughter saw him in his wheelchair along the sideline, she went over, grabbed him, and pushed him a mile and a half to the finish line. "It was a heartwarming feeling, a very emotional time," Odem says. "I can tell you it sure made a difference to me when [Bent] came to Boston and let my daughter finish the marathon."

This year, Odem was at the starting line in Santa Monica, Calif., holding the baton for the second annual One Run for Boston as it got under way in mid-March. The event has already raised more than double what it did last year. Participating in the One Run for Boston "symbolizes the hope of being able to overcome," he says. "It's 'Hey, we're not going to let the bad guys beat us.' "

There certainly have been challenges for Bent along the way, including times during his trek to India when he considered giving up. The road was not an easy one for a man riding a bicycle alone and camping alongside the road. He had been hoping to raise $1 million for the HIV/AIDS cause, but collected only a fraction of that amount.

In setting up the second One Run For Boston relay across America, his hardest challenge has been unraveling red tape, especially in using the finish line in Boston, since this year's relay concluded only two days before the anniversary of the marathon bombings.

But he says that every step has led him to touch the lives of others in bigger and more effective ways.

The greatest effect of the compassion Bent exudes, says Odem, the injured marathon spectator, "is the spirit it inspires in others....

"I think someone like that makes you say, 'Hey, I want to do that, what he's doing.' "

- For more on the One Run For Boston relay, visit www.onerunforboston.org.
Page created on 4/23/2014 12:19:42 AM
Last edited 8/5/2018 12:11:05 AM
Extra Info
How to take action
UniversalGiving helps people give to and volunteer for top-performing charitable organizations around the world. Projects are vetted by Universal Giving; 100 percent of each donation goes directly to the listed cause.
Below are groups selected by UniversalGiving that help those in need worldwide:
•Uganda Village Project promotes community health and well-being in rural Uganda. Take action: Combat HIV/AIDS.
•Volunteers for Peace organizes and supports volunteer opportunities in the US and abroad as an effective means of intercultural education and community development. Take action: Volunteer for service projects worldwide.
•Miracles in Action helps Guatemalans in extreme poverty help themselves through educational and other projects. Take action: Provide a backpack and school supplies to a student.