To me a hero is someone who stands out in your mind. Not only could they be a role model, but also excel beyond what we can do. A hero shows all the greatest characteristics one can have, and uses these in the best intentions. Whether your hero is an athlete or a politician, they are the best they can be to others with them, and others surrounding them. When I think of my hero, I think of common interests. I think of sports, and love of a game. I think of making a difference, being the best, and leading a community to achieve a rank. Not only these qualities, but being nice to fans and family, supporting others who don't have the option. That is what I see my hero as, someone that shines at all times.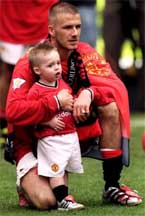 David Joseph Robert Beckham was born on May 2, 1975 in Leytonstone, England. David is considered to be the best and most well know professional soccer players of his time. He sets a great example for the level of soccer that can be played. He is by far a role model, and has grown to become more than that. Being one of the most famous soccer players, he has the skill, the looks, and the life. David's love of soccer started when he was very young, he played all through his youth and continues with the sport today. He has made a difference to England, helping them to become even greater at the game. They have become well known for their soccer, and he is one of the biggest contributors. David isn't only a contributor to England, but to anyone who watches and enjoys the game. He gives the crowd what they want to see, and supports his family as well. In March 1992, he became a father to a son named Brooklyn, a few months later he married Victoria Adams. The soon to be Victoria Beckham was a Spice Girl nicknamed Posh.
Beckham receives mail all the time, most of these are from supporters. For the ones that are ill, or not doing so great, he and his wife give them a call. They arrange to see them and try to raise their spirits. Sometimes they will give them tickets to a game, too. It is things like this that makes David Beckham my hero. He follows what I explain one to be. He is nice to people, does more than just play his sport, and makes a difference in people's lives. By watching him on TV, it makes me want to go out and play soccer, and become as good as he is...maybe even try to play professional and go to the World Cup. That is why I chose him for my hero.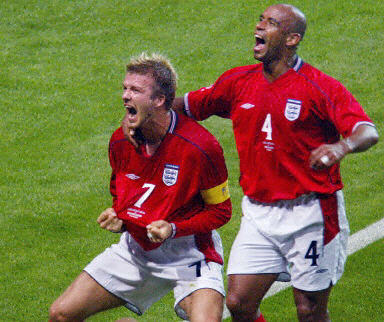 David plays on Manchester United in Manchester, England, which is also a very respected team whom he has made appearances with 387 times. Through these games he has scored a total of 81 goals. Playing as a midfielder, he was voted to be player of the year, and second for player of the year of the overall year poll. David has also had 8 appearances at World Cup playing for England. Of these 8 games, he has scored 9 goals. As you can see he stands out for his team with ranks and points. But not only for his team, but for the country of England as well. He was a captain most recently for England as they headed into the World Cup. David came just short of a few awards in 1999/2000. He was second for best player in Europe, as well as second best player in the World. Not only is he one of the greatest players, but also has been wanted by many to be knighted in England. By his grace he has earned the chance, but the question is whether or not they will actually knight him.
As you can see, David is one of the best soccer players in the world. He shows honor and victory in the game, and out of it. Supporting people with needs, he cares for his surrounding environment. David is one of the greatest examples of a professional soccer player I have ever seen. His skills go beyond others, and his attitudes are set to an excellent role model's. Although he is more than a role model, hopefully from his actions we will have more people to follow that will try to do the same. David Beckham is a hero, he is my hero.
Page created on 4/7/2003 12:00:00 AM
Last edited 4/7/2003 12:00:00 AM