Dawn Criscitiello
by
Collette from Los Angeles
My hero isn't an athlete or a celebrity, she's not a mayor or a governor, she's not even a character from a novel, she's my mom. My mom's name is Dawn Criscitiello. She currently in Los Angeles, California. Her hobbies include hiking, biking, reading, skiing, and cooking. She has light skin, brown eyes, and dark hair.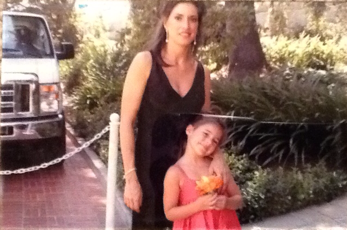 My mother was born in Newark, New Jersey and is alive today. My mom is a hero because she is living with Crohn's Disease. Although Crohn's Disease isn't usually life-threatening, it can be very painful. This disease mostly affects your stomach, and can limit the foods you eat. Not only does my mom live with this disease, but she is in tip-top shape and accepts the fact that she has this disease. At twelve years of age, Dawn was diagnosed. At first she was unhealthy and unhappy but that didn't stop her. She kept going and learned to become strong, brave, healthy and courageous. Even though this terrible disease caused her to stop working, she still has (and has showed how to have) hope. On top of that, she already has the most challenging career of all, being a mom. Over time, I've learned to be tough, determined, and to always be the best person I can be because of her. My mother has taught me many life lessons and is a big inspiration in my life for overcoming Crohn's disease. My mom has made a difference in my life because she taught me that no matter what obstacles come your way, you always need to be happy, try your best, and accept that nothing is perfect.
Page created on 2/21/2015 12:00:00 AM
Last edited 2/21/2015 12:00:00 AM
The beliefs, viewpoints and opinions expressed in this hero submission on the website are those of the author and do not necessarily reflect the beliefs, viewpoints and opinions of The MY HERO Project and its staff.