"Music was my refuge. I could crawl into the space between the notes and curl my back to loneliness." Maya Angelou, Gather Together in My Name
Most of the time, Derrick Tabb knows what instrument a kid will choose before they choose it. "I try to meet the kids, get to know 'em a little bit before we talk about what instrument they're going to play- usually I can tell the instrument by their personality." Some would say anyone with a talent like that must know their instruments. Derrick Tabb? He knows his kids.
Derrick is the founder of the "Roots of Music" program, an after school project forged by principles he learned from his hero, his Uncle Patrick Joseph, who he says, "- taught me to be a man. That family's first." In this case, Derrick's family has grown beyond his own four children to include more than 100 children of New Orleans, all of them affected by Hurricane Katrina.
"Everyone was hurt by Katrina. Kids lost parents- they lost their clothes and their house. Now you think about it for an adult- I lost my home- my clothes. I cried. It hurt me to my heart. And then you think about that for a kid. It hurts."
When we think of the casualties of Hurricane Katrina, our hearts go first to the many people killed and injured by the storm and the family members left in their wake. We remember the devastating sites of the countless buildings and homes submerged in the Gulf of Mexico, but there's another loss, one that Derrick Tabb works every day to remedy- it's a loss that strikes at the very soul of this city; it's the music.
With schools and teaching staffs being rebuilt, art and music programs were suddenly a luxury New Orleans couldn't afford. Many of the band leaders and street musicians who for so long were the heart and soul and face of this musical city, are now gone, and with them some things that don't show up in statistics: inspiration, joy, pride.
"When I was growing up, you got to see a lot of musicians on a daily basis," Derrick explains, "That gives a lot of inspiration to teens. They see musicians having fun making a living… doing what they want to do. I want to bring that back."
Enter Allison Reinhardt. "It was me and Allison. We started it together. She's actually the backbone of this project. She's the one who inspired me… told me, 'If you're not part of the solution, you're part of the problem.'"
The solution offered by Derrick and Allison is "Roots of Music" and it looks like this: a free program that gives kids from ages 9 to 14 a place to go for three hours after school every day, a place where they're taught to play an instrument, helped with their school work and sent home after a hot meal. The program didn't take long to catch on. "I started off with two kids, next week was 65 and the next week was over 100."
Currently, there's a waiting list of over 400 kids and a work-week that never really ends before it starts back up again. Even with help from brass instructors Edward Lee and Lawrence Rawlins, percussion instructor Shoan Ruffin and an award-winning curriculum instructor in Alen Dejan, one wonders how Derrick keeps it all going. "I'm driven… all the time when it comes to my kids. I call 'em 'my kids'. I love 'em. When a kid shows off something that you taught 'em, something they love… it makes you feel so good. It's a special kind of feeling that only a parent or a teacher understands." And just maybe, it's a feeling that's passed on from one generation to the next. Spending time with kids, one-on-one, teaching them the joy of music is something that Derrick benefited from when he was little. Derrick's musical mentor and "HERO," Donald Richardson was his Jr. High band director and an inspiration for Roots of Music. "He showed a special interest in a kid and he didn't have to… he had an established program and was already successful, he didn't have to show any interest in me, but he did… and now music is my whole career." Now Derrick's the one taking special interest in kids and the list of benefactors keeps growing. "I graduated (around) 20 kids last year – and every one of them is either a section leader or an assistant section leader in their high school band." Accomplishments like this do more than build bands. They build pride. Pride that was knocked out of New Orleans like stuffing from a pillow, pride that Derrick Tabb is hard at work replacing, one feather at a time. You can see it on the faces of the Roots of Music marching band, high-stepping down a New Orleans boulevard in crisp, matching uniforms. But instruments and uniforms, drum-sticks, reeds and hot meals don't come cheap.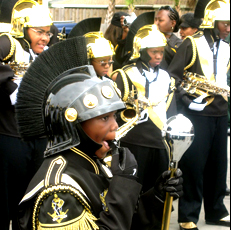 Normally, Derrick Tabb speaks like a man with a calling. He speaks with hope in his voice, a light chuckle over the phone to let the caller know that the work isn't THAT hard, the hours aren't THAT long, and the results aren't THAT hard to see, but the funding… that's when Derrick's voice lowers a bit. "The hardest part is the funding… it's always the funding."
Still, somehow he manages to keep the program going and keep it going for free. "After Katrina they don't have a lot for kids that's going on for free… kids want to get involved in something they like and if you don't give it to them…"
If you don't give it to them, they end up spending idle hours on the street. And for kids just heading into high school, that's an opportunity lost. "You have to catch 'em at this age… they're making decisions about how they're going to get on with their lives… if you don't get 'em at that age, you're gonna lose 'em." So Derrick goes about the Herculean task of "catching 'em," somewhere between 3 and 24 hours a day, six days a week, just about every week… New Orleans kids of every kind…
"A trombone player is more laid back," Derrick tells me, "trumpet players are more aggressive, they want to be seen… saxophone players? They're smart. And the drummer is usually the cat that wants to clown around… he's a joker."
And what instrument does Derrick play? He answers with a laugh. "I play drums… I love to clown around… I was the kind to irritate the teachers."
Only it's not the teachers handing out the grades anymore. It's the students, like young Aysja Mallery who had this to say, "It changed my life working hard and learning. I think I'll be in the high school band." I asked Aysja to describe my hero, Derrick Tabb and you know what she said? "Graceful."
Graceful.
Spoken like a mellophone player.
Page created on 3/1/2015 4:25:20 PM
Last edited 1/6/2017 7:10:55 PM
Extra Info
Derrick Tabb is currently up for the CNN Hero of the Year Award. The financial reward that comes with winning would greatly help the Roots of Music program with instruments, uniforms, hot meals and tutoring programs, as well as expanding to accommodate some 400 kids on its waiting list. Check out their website
(rootsofmusic.com)
to see how you can help.