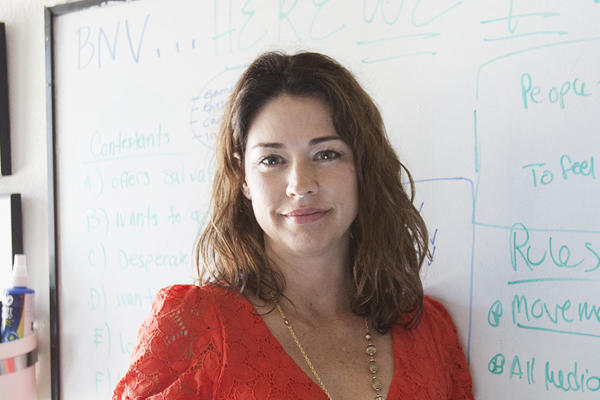 Stephanie Diani/Special to the Christian Science Monitor
Like many of her high school peers, Diane Luby Lane had hungrily read novelists like Danielle Steel and Norma Klein and thought poetry had very little to do with her life.
"Who were these dead white male poets with long beards? Why did they always look so miserable? And what were they talking about?" she asked of poets, whom she happily left to the honors students down the hall.

Then, when she was 20, she saw actress Viveca Lindfors perform Walt Whitman's poem "Has anyone supposed it lucky to be born?" For her, it became one of those light bulb moments that change a life. And, in turn, she now dramatically changes the lives of 15,000 youths each year in some 45 Los Angeles County high schools.

Ms. Lane joined Ms. Lindfors' Guerilla Poetry Troupe and began memorizing poems by the masters – William Butler Yeats, Whitman, D.H. Lawrence, e.e. cummings, and others – and performing them all over New York City.

What she learned from that she has distilled and massaged into a program that uses poetry to give highly challenged youths a reason to be excited about themselves, and perhaps even learn to love school instead of dropping out. In 2006, she founded the nonprofit Get Lit – Words Ignite with the mission of using poetry to increase teen literacy.

Last May, students from 22 high schools competed in Get Lit's annual Classic Slam, the largest poetry event ever held for teens in Los Angeles. Next up is an international poetry competition in Chicago Aug. 7-10, with participants from around the globe, including India, Guam, and Britain.

Lane had written a how-to book for aspiring actresses on how to deliver a monologue, and had been told by Lindfors to memorize and perform two monologues by someone else for every one of her own. That experience helped her come up with her unique approach with Get Lit: Teens perform one classic poem followed by one of their own.

"There is something about having someone else's words inside of you, especially when that someone is a master who expresses things you feel and think but don't yet have the words to say," Lane says.

By memorizing a classic poem, teens undertake a dialogue with that poet. "Someone has written words that will move an audience to tears, or make them laugh," she says. "When you recite those words you feel a power you never knew was possible.

"And by ingesting someone else's words, someone else's viewpoint, you grow larger. You become someone other than who you've always been – a man, a woman, young, old, black, white, gay, straight, rich, poor, angry, empowered, or in love.

"You find friends in the writers whose work you memorize, and there you find a more expansive version of yourself. This is what happened to me, and I felt sad for all the years ... I'd wasted thinking these words were for 'the kids down the hall.' "

Interviewed at a small building in Hollywood, Calif., where she administers the program, Lane explains her motivation.

"I see the beauty in these young people, and it breaks my heart that no one says to them, 'You have immense talent and value.' So they languish in school on the verge of dropping out," she says.

The high school dropout rate in Los Angeles is among the worst in the nation at 50 percent, Lane says. At many schools the rate is 60 to 70 percent. "There should be a feature on the nightly news every night: 'ALERT, ALERT, the light is about to go out for this 16-year-old in Compton, [Calif.,]' and everyone should have to rush in and save that child before they get pregnant or go to jail."

In the past seven years, Get Lit has been featured on two specials on HBO and one on PBS, and youths from the program have visited the White House as the guests of Michelle Obama.

"My parents are so proud of me for doing this," says Raul Herrera, a 20-year-old who is now too old to compete but still performs on stage locally. "They've seen what it's done for me. It's given me order and structure and goals, so that I have direction I didn't have before."

Downstairs from Lane's computer loft, eight students sit in a circle, working on poems for this month's competition. On the walls are posters of Whitman, the Beatles, and writers Jack Kerouac and Allen Ginsberg, among others.

Taking a break, Adrian Kljuek explains how Get Lit saved his life. "I was always interested in poetry and the arts but never pursued it," he says. Someone took him to a poetry slam and he was hooked. "This is what I wanted to do. I love it. It has helped me understand emotions I couldn't understand before," he says.

In May, Get Lit sponsored the largest poetry event for teens in Los Angeles history: 3,000 people watched the finals. On July 4, four students performed outside on stage in Grand Park in downtown Los Angeles for about 5,000 people. The crowd, unruly at first, came to quick attention once they started.

Maia Mayor, 19, performed "My Swag," receiving cheers all the way through:

Life is the sigh of relief I breathe

knowing paper beats crack rock every time.

Knowing my rhymes

my swag

can make a pen look more threatening

than the barrel of a gun.

Spilling ink instead of blood to let you

know that my swag can outrun your

gangsta-leaning facade

before this poem is even done.

Leaving you tired and out of breath,

your heart beating like a drum,

trying desperately to finish the race.

But my swag has already won.

The performances are delivered with rapid-fire confidence and include hand and body gestures that punctuate and augment the delivery.

After 15-year-old Rhiannon McGavi performed "Kudzu," she received this comment from a man in Rastafarian dreadlocks: "That's the first time I ever cried when I heard poetry."

A wide group of teachers, scholars, and established poets endorse what Lane is doing.

"The Get Lit curriculum was one of the most powerful things I have encountered as an educator. It changed the entire culture of our school by getting students to appreciate poetry and improving their self-confidence," says Kelly Grace Thomas, who teaches 10th-grade English at Triumph Charter High School in Sun Valley, Calif. "The Get Lit program is ... transforming the lives of many of my students."

Poems "are dreams on paper, and the way Diane dreams is infectious. It shows in the loyalty others have for her; she's been able to assemble a cast of experts to support her mission," says Jose Moreno, an English teacher at William Workman High School in La Puente, Calif., who is also a trainer of Teach for America teachers. "Tapping into the oldest form of literature, the spoken word, brings something primeval, a guttural howl, a barbaric yelp that is deep in the human psyche," he says. "Maybe that's why it's so powerful: It is our voice.... It is difficult to describe, but it is irresistible."

Lane "has an uncanny ability to see through someone's hurt and pain and to empower and inspire with a tremendous sense of purpose, tenacity, and power," adds Brad Koepenick, a speech teacher at CHAMPS Charter High School of the Arts in Van Nuys, Calif., and the Charter School Teacher of the Year in 2011.

James Catterall, professor emeritus at the UCLA Graduate School of Education & Information Studies, sums her up – tersely and poetically: "Diane Luby Lane is Pied Piper meets cruise missile," he says.

Adds poet Luis Rodriguez: "When young people 'own' a classic poem and then ... create their own poetic responses, this is the bridge between generations, of the old and the new, of the traditional and the yet-to-be traditional. Get Lit makes this happen, and we as a city, a country, and a world are better off for it."
- To learn more, visit http://getlit.org.