Thanks to a thriving career as a screen actor and producer, Don Cheadle is primarily known as a thespian, with a Golden Globe award and an Academy Award nomination already under his belt.
While his initial roles encompassed a wide gamut of subjects -- from a gangster in the movie Colors, to a district attorney on the television series Picket Fences, to a role in the Rat Pack remake Ocean's Eleven, amongst numerous others – his more recent roles have taken on an even greater depth of character, pegging him as a champion for equality and peace for the African continent, in particular.
This new-found trajectory of work began, at least in the general public's perception, with his portrayal of Paul Rusesabagina in Hotel Rwanda, a moving story about the hotel manager in Rwanda, who, in 1994, sheltered hundreds of refugees from lethal militias during the Rwandan genocide. Some feel his role in the film Rosewood, a violently graphic depiction of a massacre of African Americans in the 1920s, was an initial indication of where his career path would ultimately direct him.
Cheadle's latest project is Darfur Now (Six Stories, one hope), a powerful documentary film released in November 2007, which further exposes the atrocities of the ongoing genocide in Darfur, Sudan. Darfur, once a democratic nation, forcibly shifted into a military dictatorship and, in turn, has since been flooded with violence, abject poverty, and genocidal warfare, which has left hundreds of thousands dead, and over 2.5 million displaced.
Serving as a call to action against this unfathomable crisis, Cheadle's narrative talents bring Ted Braun's film to greater life, and help bring further light to the plight of those in the war-ravaged African nation.
The film profiles six brave activists desperately striving to stop the violence. They are: Hejewa Adam, a woman whose young son was beaten to death by the Janjaweed while he was strapped to her back, and who, in turn, has joined an opposing rebel militia; Ahmed Mohammed Abakar, a Darfurian refugee who serves as a leader in a displacement camp hosting nearly fifty thousand refugees; Luis Moreno-Ocampo, a chief prosecutor at the International Criminal Court; UCLA graduate Adam Sterling and Don Cheadle, who are fighting against the genocide in Darfur with passionate voices; and Pablo Recalde, who left his life and family in Ecuador to head up the World Food Program in Darfur, helping to guide supply trucks to remote, desperately impoverished areas.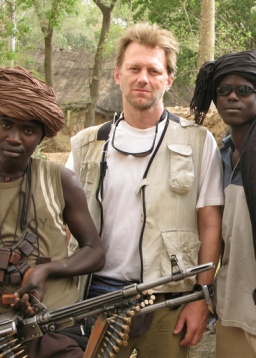 Braun's access to the lives of Sudanese refugees makes this film visually and emotionally powerful, and the film has been touted, in particular, for portraying the heroic potential of everyday citizens, those in positions of power, and even those who were not long ago, and in many cases are still considered, the victims of the violence they are bravely standing up against.
Cheadle's desire to help Africa shows no sign of slowing. At the 2007 World Series of Poker, he and fellow poker player Annie Duke organized "Ante Up for Africa," a charity poker tournament in which numerous Hollywood actors are anticipated to participate. Through the tournament he is promoting The Enough Project, a nonprofit working to "stop and prevent genocide and mass atrocities by promoting Peace, providing Protection, and Punishing the perpetrators," and the International Rescue Committee which helps people fleeing ethnic, racial, and religious persecution, and those uprooted by war and violence.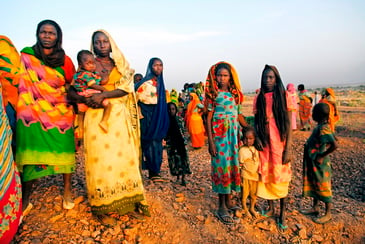 Darfur Now serves to remind us of the strength of the human spirit, and of the potential to overcome even the greatest and most unimaginable of atrocities. The film promotes change through action, and likewise, it is no wonder Cheadle, who himself is so active in helping end the plight many African nations face, was chosen as not only a key subject, but also as its narrator. Like the film, Cheadle leaves no doubt in anyone's mind that the power of a strong voice, talented hands, and a willing heart can, in fact, move mountains.
Page created on 1/31/2008 2:00:49 PM
Last edited 1/6/2017 5:57:32 PM
Related Links
The Enough Project
- works to stop and prevent genocide and mass atrocities by promoting Peace, providing Protection, and Punishing the perpetrators. They use field and policy analysis and strong policy advocacy to empower a growing activist movement for change.
International Rescue Committee
- is a global leader in emergency relief, rehabilitation, protection of human rights, post-conflict development, resettlement services and advocacy for those uprooted or affected by violent conflict and oppression.
The Save Darfur Coalition's
- mission is to raise public awareness about the ongoing genocide in Darfur and to mobilize a unified response to the atrocities that threaten the lives of two million people in the Darfur region.