Engineers Without Borders
Engineers Without Borders was honored for their innovative use of technology at the TECHNOLOGY MUSEUM in San Jose, California in November of 2004. Parker Mitchell co-founder of Engineers without Borders spoke to MY HERO at the prestigious Tech Laureates event. Mitchell explained the purpose of this award winning project.
Our organization basically taps into the engineering profession to contribute to international development. So our volunteers, we send 110 of them overseas. They work with local partners and they try to find sustainable solutions to the problems facing these communities. Our organization is based in Canada and as Parker said, the volunteers go overseas to work in developing communities, but we also have a second side to the organization which is back in Canada where we are really trying to engage the entire engineering professionals into thinking about these problems. We have about 9600 members of the organization in Canada doing that right now.
MY HERO asked Parker Mitchell to provide an example of how Engineers without Borders had made a significant difference to a community.
There are countless examples of how our engineers have helped a community, but the one I'll pick is a gentleman by the name of Mike Quinn. He is an engineer from the University of British Columbia in Vancouver, Canada, and he went overseas to work with a local partner for an entire year. He worked on a program to reduce the number of hungry people in Ghana. Basically, a lot of the people of Ghana's food was spoiling. They needed to process their food faster (so that it would not spoil) so Mike Quinn worked on a machine that would help process food so that it wouldn't spoil. He spent a year in Ghana working with farmers and rolled out a pilot project creating five multi-functional platform machines that could help to process the food. If this pilot is successful, they are going to have hundreds of these machines available to small communities in Northern Ghana.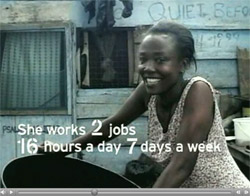 Parker Mitchell went on to speak about the impact one person can make in this world. He spoke more about Mike Quinn and how his work has gained international attention...
I think what makes Mike Quinn an extra special hero is that he was able to communicate his work back home, and so in one of his letters from the field, he talked about working with this woman named Christy Yaw and how hard she was working two jobs a day to send her kids to school. Sara McLaughlin who is a famous musician, whom I am sure you know, came across our Web site...she read Mike's letters from the field and wanted to put our project and Mike Quinn's work and Christy Yaw in her video for her new song, "World on Fire." So you can see that video on the Web. This is the third most popular video on MTV today called "World on Fire."
George Roter the other co-founder of Engineer without Borders explained more about the project and its important mission.
If we look at some of the major, major problems that are out there in the developing world, we have 1.2 billion people without access to clean water, we have a couple of billion of people who are living on less than $1 or less than $2 a day just barely making enough to really buy enough food, to buy education, to have healthcare and if we take a look further at these problems and where technology can integrate, it's quite astounding how small technologies like an irrigation pump that a small farmer can use to increase the number of crops they can grow or the quality of crops, it is amazing how much technology can make a difference. What we see is that by sending Canadian engineers overseas to work on these technologies and make sure these technologies spread, we can really change people's lives and that is extremely exciting.
Page created on 8/27/2011 12:00:00 AM
Last edited 1/4/2017 11:50:57 PM
The beliefs, viewpoints and opinions expressed in this hero submission on the website are those of the author and do not necessarily reflect the beliefs, viewpoints and opinions of The MY HERO Project and its staff.
Extra Info
Mike Quinn in his journal entries from Ghana talks about a woman who inspired him. Her name is Christy Yaa.
I visit a woman with a stunning smile every night to buy oranges. Her name is Christy Yaa and she never lets me pay for my oranges because she wants me to take them as a gift. She works everyday from 6am until 2pm as a cleaner, and then from 4pm until midnight selling oranges. She does this seven days a week. She is a single mother and every penny she earns goes towards putting her 20-year-old son through secondary school near her home village, far from Accra. When she saves enough money for a bus ticket, she'll travel to see him.
As an engineer in Canada I would have made more in a day than she does in a year.

And still, she does not let me pay for my oranges.

While I have realized, that I cannot save the world, I can make it better. Engineers Without Borders gave me the opportunity to pursue a career using my engineering background to help others. Christy gives me the drive to wake up each morning and work a little bit harder.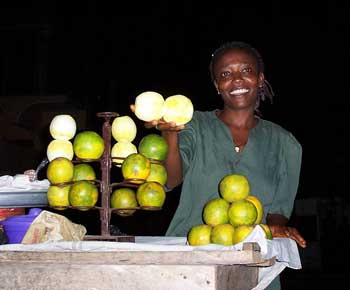 Christy Yaa shares her apples