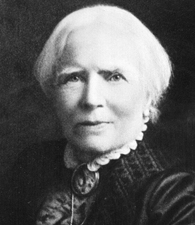 "If society will not admit of woman's free development, then society must be remodeled" (Blackwell). The quote explains the mindset Elizabeth Blackwell had when she overcame the obstacles and barriers in her life. She was born on February 3, 1821, in Bristol, England. Her family moved to New York when she was 12. Around the same time, her father became involved in the abolitionist movement. When her father died five years later, Blackwell and her sisters opened a boarding school. She first became interested in medicine when she talked to a friend who persuaded her to study gynecology and became a doctor, so girls and women wouldn't go through embarrassment with male doctors ("Elizabeth Blackwell"). Later, Blackwell graduated from medical school; but after learning surgery, she became blind in one eye. She possessed the trait of never giving up; she kept going no matter what. As a result, in the end she was able to help other women achieve their dreams and not limit themselves. Elizabeth Blackwell was an inspirational hero who persevered to reach her goal, stood for women's rights in education, and advocated for women's rights in the medical field.
Blackwell persevered to reach her goal of attending medical school and faced many obstacles. Blackwell had grown up thinking she could do anything a man could do: "Through the resources of physician acquaintances, she was able to self-study and work till she had enough for the tuition to apply to medical colleges in New York and Philadelphia" (Iwuchukwu). She took initiative to make sure she could achieve her goal. Knowing it would take hard work to become a doctor, she put in the effort needed to match her male classmates who had more education than her. Upon getting into medical school, she faced a school filled with only boys; "Blackwell took the hostility and cold welcoming inside and outside of the classroom in stride" (Iwuchukwu). Once she was able to get accepted into a medical school, Blackwell found another obstacle, and turned into a motivation. She showed that she was capable of attending college, and even more capable of attending medical school during her stay there. Blackwell's uprising led to her believing that she could do the same as any man, which led to her to reaching her goal and earning the respect of others.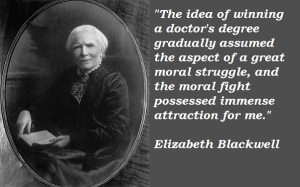 When Blackwell was accepted into medical school, she started pushing and advocating for women's rights in education. While she was in school, she had to prove to the students and teachers that women were able to handle the school and its courses: "The professor, James Webster, felt that the topic would be too 'unrefined' for a woman's 'delicate sensibilities' and asked her to step out of the lecture hall. An impassioned Blackwell disagreed and somehow convinced Webster to let her stay, much to the support of her fellow students" (Markel). Elizabeth, very passionate about this field, convinced the professor that women should be allowed in school and in the medical field. As a result, the teachers and students became more accepting to women being in medical school. After opening opportunities for women in America, Blackwell went to her home country to give them the same: "Dr. Blackwell traveled widely across Europe and became increasingly interested in social reform movements dedicated to women's rights, family planning, hygiene, eugenics, medical education, sexual purity and Christian socialism" (Markel). Blackwell also went to Europe to help spread women's rights like she did in America. Her success in America inspired women in Europe to do the same, and it was easier for them because women in America had already done so. Blackwell helped women show their true potential in America, and then, did the same in Europe.

Now done with her education, Blackwell found many obstacles and struggles with being able to practice in America, but she helped women be able to practice what they wanted. Blackwell and her sisters gave women an opportunity that was acceptable: being nurses; "During the Civil War, the Blackwell sisters helped to organize the Women's Central Association of Relief, selecting and training nurses for service in the war. This venture helped to inspire the creation of the United States Sanitary Commission, and the Blackwells worked with this organization as well" (Johnson Lewis). Blackwell and her sister created an organization that helped women learn and practice medicine for the war, and showed that women were definitely capable. Blackwell needed a place where women could learn and practice without an overwhelmingly male staff: "she opened the New York Infirmary for Indigent Women and Children in 1857, which allowed women to practice and further their training while providing care for the poor" (Iwuchukwu). Once Blackwell reached her goal, she faced many obstacles so she could make it possible for other women to have a good opportunity to be in the medical field. Blackwell set up organizations and schools so women could be successful in the medical field.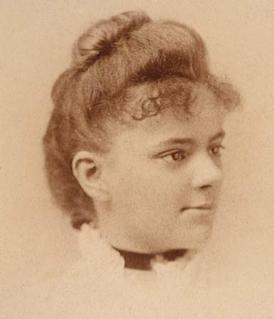 Elizabeth Blackwell was an inspirational hero who persevered to reach her goal, stood for women's rights in education, and advocated for women's rights in the medical field. Blackwell showed that women could handle the medical courses and practice medicine in America and Europe. Elizabeth Blackwell was a hero to me, because she never gave up and she showed how she turned her obstacles into her motivation for her goal. After reaching her initial goal, she went even further, to allow first women in America, and then in Europe to have the same opportunities as she did, but with fewer obstacles. In the end, Elizabeth Blackwell changed society and the idea of gender roles.
Works Cited
Blackwell, Elizabeth. "Elizabeth Blackwell Quotes." BrainyQuote. BrainyQuote, n.d. Web. 04 Feb. 2016.
Elizabeth Blackwell." Encyclopedia of World Biography. Detroit: Gale, 1998. Biography in Context. Web. 29 Jan. 2016.
Iwuchukwu, Nicole. "Elizabeth Blackwell: First Female Physician of the Modern Era." UT Health Science Center Library RSS. UTHSC Libraries, 8 Oct. 2015. Web. 03 Feb. 2016.
Johnson Lewis, Jone. "Elizabeth Blackwell: First Woman Physician."About.com Education. About.com, 31 July 2015. Web. 04 Feb. 2016.
Markel, Howard, Dr. "How Elizabeth Blackwell Became the First Female Doctor in the U.S." PBS. PBS, 23 Jan. 2014. Web. 04 Feb. 2016.

Page created on 2/12/2016 12:00:00 AM
Last edited 2/12/2016 12:00:00 AM