Ernie Davis
by
Dani from Riley
Ernie Davis is very inspiring for not only the things he did on the football field day after day, but also for everything he accomplished in school and life, before he passed away at the young age of 23. Ernie grew up in New Salem, Pennsylvania, a town just outside of New York. Davis first showed off his excellence in athletics at Elmira High school where he was nicknamed The Elmira Express. Before tragically passing away from leukemia, Ernie made his mark becoming the first ever African American to win the Heisman Trophy.
Ernie's story is especially inspiring because he had to overcome so much. When you think about all of the racial problems going on in the 50's and 60's you realize the strength and courage it would have taken to be as successful as Ernie was in a sport that was played mainly by whites. Through youth football, high school football, into college and even going into the NFL he received death threats and hate letters nearly every day, all of which were racially based. In high school and youth football, Ernie was often denied a team jersey. In college, every stadium or town he walked into threw trash and other things at him and his African American teammates. Often the team would go out to dinner as a celebration or gathering but, when they got to the restaurants and hotels, he was told he could not eat or stay with the team for that was for whites only. Ernie ignored the racism for the most part and never let it get to him, as he accepted that it was just the way things were at that time. He preferred to let his skill on the field do the talking.
Ernie was known to have a very kind, generous heart. His personality was once described as "a paintbrush of generosity, humanity and dignity". Although on the field he had the will to win and go hard every second of every play, he never let that take away from his kind nature. He would often knock over a player of smaller size on the field, then when the play was over run back and help him up. "He was always up for helping others when they were in need". This is something that many people loved about him. Although he had been unappreciated and hated his whole life because his skin color, he never treated others the same way. He treated others the way he would have liked to be treated.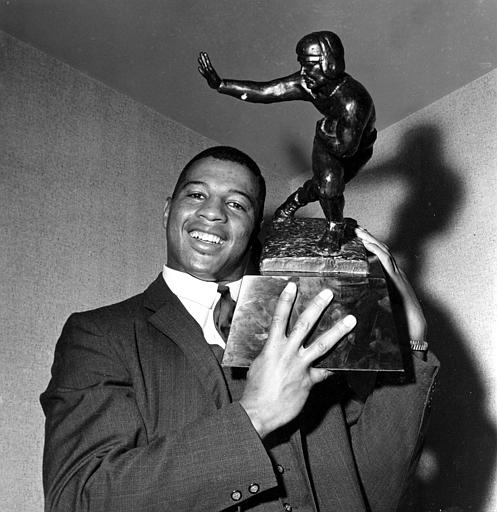 Ernie Davis attended high school at Elmira Free Academy in New York. After graduating, he went on to play football and get an education at Syracuse University. In 1961, after a very successful college career, he became the first ever African American to win the prestigious Heisman Award, which is given each year to the best college football player. He was then drafted by the Cleveland Browns as the first pick in the first round of the NFL draft. Unfortunately, after all of the dedication, hard work, blood, sweat and tears, Ernie never even got the chance to play a down of football for the Cleveland Browns, or any other NFL organization. At the age of 23 Davis was diagnosed with Acute Monocytic Leukemia, which not only cut his career short but also his life. He passed away later that year in a Cleveland Hospital.
Although Davis's career was cut short, many people still remember him or they've at least heard stories about him. His story was so inspiring it was made into a movie, The Express, named after his high school nickname. The movie tells all about the way he grew up, and how much it took to get where he got in the short time he lived. Ernie Davis is especially inspiring for everything he accomplished and overcame, on and off the field, before passing away at such a young age. In 23 years he accomplished so much, many people still wonder how much he could have accomplished if he had not been diagnosed with leukemia. Although his life and time in the NFL had been cut short, his legend still lives on to inspire everyday people like you and me.
Page created on 5/3/2017 3:46:36 PM
Last edited 8/1/2018 5:20:41 PM
The beliefs, viewpoints and opinions expressed in this hero submission on the website are those of the author and do not necessarily reflect the beliefs, viewpoints and opinions of The MY HERO Project and its staff.
Related Links
Youtube
- Ernie Davis''s inspirational story from the movie ''The Express"