Ellen DeGeneres
by Brooke from DuBois
For me, it's that I contributed, ... That I'm on this planet doing some good and making people happy. That's to me the most important thing.
Not only is Ellen DeGeneres the host of one the most popular talk shows, she is also a huge advocate for lending a helping hand. She is a huge supporter to numerous charities and foundations including; The Gentle Barn, Clothes Off Our Backs, The Humane Society, Stand Up to Cancer, ONE Foundation, Save the Music, Feeding America, Children's Health Fund, and countless others. Ellen uses her show to help raise money for certain organizations, like the celebrity dunk tank, which helps benefit research for breast cancer. Her show also includes segments which help out her viewers who are suffering due to economic and other crises. Ellen's Big Stimulus Package and Cash Clunker are popular ones.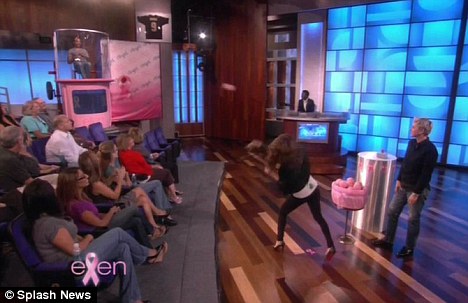 Ellen is also an enormous activist for gay rights. She was one of the first women in show biz to come out as being openly gay and even after all the grief she received, DeGeneres kept pushing forward. She and her partner, Portia de Rossi, were wed in May of 2008, causing quite a buzz. Ellen's life and all of her hard work towards eliminating prejudice has been an inspiration to millions.
Ellen's list of good deeds is seemingly endless. She helps out her fellow human kind immensely, along with the animals. In 2010 she served as a campaign ambassador to Farm Sanctuary's Adopt a Turkey project. Also, DeGeneres co-owns Halo Pet Food, a line of natural foods for animals, which is partnered with The Humane Society of the United States to donate a million pet meals to 100 shelters in America.
Ellen DeGeneres is an amazing women who strives to take care of everyone, human and animal kingdom alike, and to make this earth a better place. Ellen DeGeneres is truly generous.
Page created on 7/6/2011 12:00:00 AM
Last edited 7/6/2011 12:00:00 AM