Eleanor Roosevelt once said, "The purpose of life is to live it, to taste experience to the utmost, to reach out eagerly and without fear for newer and richer experience" (Flores). This quote explains what Erin Gruwell tried to engrave into her students' minds at Woodrow Wilson High. Gruwell was born on August 15, 1969, in California as the daughter of Steve Gruwell. Erin's father was her biggest inspiration to help her become a teacher. He was a civil rights activist in the U.S. and later became affiliated with the Anaheim Angels.
Throughout Erin's childhood, her father would often talk about equality and fighting for the underdog. Later Erin turned out to be one the most influential teachers in the U.S. for believing in the underdogs of Woodrow Wilson High School. She did more than just publish a book about her student's lives; she changed their lives for the better so they could all make a difference. Before Erin took on these students, nobody believed in them. This was a time when gang violence and war was at every corner. Nothing could have prepared Gruwell for her first day in room 203 and still she refused to give up on them. Gruwell utilized her determination to become stronger and sacrificed her personal relationships to become closer to her students and show them that she does believe in them even if no one else would. She possessed the trait of courage for not being afraid to stand up for the kids she believed in, while being a new teacher in an unknown area full of discrimination. She put her students before everything and wanted them to do more with their lives than just being involved with gang violence and dying on the streets. She saw things in her students no one else could, and she fought for them as if they were her own children. As a determined and courageous hero, Gruwell used her students to show other teachers all around the U.S. that no student should be classified as un-teachable because they are capable of anything if you just believed in them.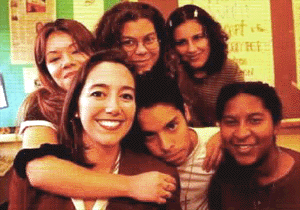 Erin Gruwell utilized her drive to keep moving forward by helping her students through school, even with her personal life crumbling apart. Erin believed, "Evil prevails when good people do nothing" (Gruwell). Although Erin's father was the reason she wanted to teach, he felt as if the job was not good for her. When Erin's father found out about her job at Woodrow Wilson High School, he scoffed at the thought of it. Although he didn't support her decision, Erin's husband, Scott, did. But there was one problem. The more she got into her teaching the less support she got from Scott. In the movie, "The Freedom Writers" the more Erin gets devoted to her teaching job the more Scott felt neglected by her. Scott claimed, "I'm living a life I didn't agree to"(Casey). Eventually he couldn't handle it anymore and the two filed for divorce. But Erin didn't let that get in the way of her drive to get her students into a better life. And the more Erin's father saw the passion she had for teaching, the more he tried to help. This part of the movie happens to be true. Erin and her husband did divorce in real life, and for similar reasons. All the pain from her personal life just pushed her more to help her students graduate. And the more her dad saw this, the more he began to support her.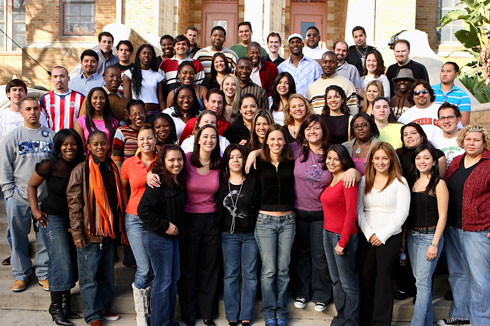 Although Gruwell gave up a lot for The Freedom Writers, she also gained a lot. Erin created a safe place off the streets, where, to her students, it felt like home. In room 203 everyone began to forget about the racism they had toward each other and they all stopped wanting to kill each other; they became a family. Since Erin's first day teaching at Woodrow Wilson High School she has changed more than 150 lives, and has touched more than a thousand hearts. When Erin came up with the idea to write The Freedom Writers Diary it was only supposed to be a diary for her students, a personal diary, for no one to ever really read. But in 1999 the book was published and The Freedom Writers expanded through the U.S. After reading the book, The Freedom Writers Diary, Gruwell's friend, Keneally, was convinced she absolutely had to meet his friend Steven. "Keneally went on to say that Steven and I should meet. But as far as I was concerned, people like me didn't meet people like him. People like me read about people like him in magazines" (Teach with your Heart Ch8). She was in shock that she even had the opportunity to meet the famous Steven Spielberg. Little did she know that was only the beginning to her multi- award winning movie, "The Freedom Writers."
Today Gruwell devotes her life to the Freedom Writers Foundation and its Freedom Writers Institute. The Freedom Writers Foundation is a non-profit organization that lowers the rates of students dropping out every year using the Freedom Writer method. Erin has touched more peoples' lives through these programs than if she stayed a single voice in room 203. The Freedom Writers Institute is a 5-day seminar helping language art teachers, teaching grade 6-12, to lead their students into a better life just like Gruwell did for her own students. It's ironic that she became a teacher of teachers considering the fact that she had no help when the teachers at Woodrow Wilson High School were resistant to her ideas of change, but Erin believes that by using this institute she is helping empower the teachers so the teachers can acquire the ability to empower their students. But when Erin is not taking care of these programs, she is traveling across the globe to share her story with whoever will listen. Because of Gruwell's ability to never give up on what she believes in, despite what gets in her way, she is the true meaning of a hero.
Page created on 4/29/2011 12:00:00 AM
Last edited 4/29/2011 12:00:00 AM