Efren Penaflorida
by
Carlos from Toronto

A hero is someone who does anything to help others through their rough times, that is what I consider a hero to be. My hero is Efren Penaflorida due to all the dedication he puts into his pushcart school for all the poor children. Efren buys and takes time away from his weekend to help the struggling people in his community. He does his best and takes time away from his weekend to help the struggling people in his community. He does his best and goes a long way because he loves helping his community, he wants them to be educated and have a good life. Efren shows many qualities that have to be put into a hero, one is courage for the people in their community with the kids being sick and being involved with crime and he always helps them regardless. I personally would not help a gang member or someone who is sick because I would be scared of getting hurt or sick. Another quality Efren has is that he is a hard worker, he never stops, even if he is sick. A true hero, someone to learn to live by, Efren Penaflorida.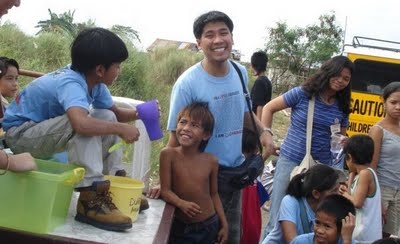 A trait that I believe that a hero should be is to be truly dedicated to his or her cause. In this case Efren is more then dedicated, he lends support to his cause, he puts in time, money and effort. Efren shows dedication for many reasons and he puts most of his weekend into teaching children how to read, write and also subjects such as mathematics. Many children in the Philippians, where Efren teaches, are learning many things and are getting their lives on a good path. Efren is truly to thank for all the time and work he puts into his cause therefore I believe he is a true hero to his society and his community.

Another quality I believe that a hero should have is courage. I have never seen a hero not be courageous so that's a quality they need to have. Many children that are part of the push cart schools are involved with gangs and they can be sick and have infectious diseases. Efren does not leave any of these children behind, sick or not, he will try his best to teach them how to read, write, and teach them mathematics and nothing can take him away from teaching them. Efren is also courageous because he goes to the worst part of the city and teaches the worst kids that live in city, the poorest and sickest. Efren is a determined man who is courageous and will stop at nothing to help the poor. Efren is a true hero to the society and to the community.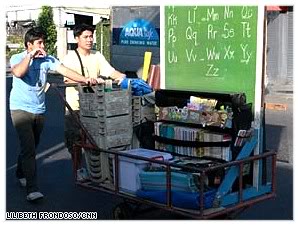 Efren is a really hard worker as you can tell from all the work he does to help the unfortunate ones. He is a true and a hard worker, because if he was not a hard worker he would not use his weekend to go and teach people who need it. The push cart schools must weigh a lot, but Efren is still determined to help everyone, regardless of the situation. To be a hero you have to work hard and stop at nothing until you have succeeded at your goals and Efren will not stop until everyone in the poor society is literate and can have a good life ahead of them. To be a hard worker you have to work hard always and Efren does this by going every weekend with his family and friends and brings supplies and does everything for these children and work until everything is done and everyone has been helped. Efren is a true hero, he is someone who works hard in all situations and all circumstances to help his town and society.
Page created on 4/14/2010 12:00:00 AM
Last edited 4/14/2010 12:00:00 AM
The beliefs, viewpoints and opinions expressed in this hero submission on the website are those of the author and do not necessarily reflect the beliefs, viewpoints and opinions of The MY HERO Project and its staff.