Edgar Allan Poe
by
Ryan from Fredericksburg
"Words have no power to impress the mind without the exquisite horror of their reality."
Edgar Allan Poe is the poet who redefined the psychological thriller and created the detective story. Everyone who has read a piece of his work shivered in horror or wept from sorrow by the end. But why is that so heroic?
In order to understand Poe, you must know where he came from. Born January 19, 1809 in Boston, Massachusetts, Poe never knew his parents, Elizabeth Hopkins and David Poe, both dying before he was three. Poe was adopted by John Allan and moved to Richmond, grew up and went to University of Virginia in 1826. Eventually kicked out of John Allan's house and the college for owing gambling debts, Poe enlisted in the US Army under the assumed name of Edgar A. Perry, possibly in the hope of following in his father's footsteps who served as the "Assistant Deputy Quartermaster" during the Revolutionary War and even assisted Lafayette in the Virginia campaigns. During those two years of the service Poe wrote his first book Tamerlane and Other Poems in the Baltimore magazine North American. For having such an awful life, Poe's view on almost everything was distorted. He became inspired by these events to write about his tragedy and pain, and wanted to inform the rest of the world about the horror of suffering.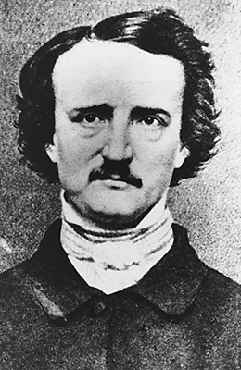 With the death of his foster-mother and his honorable discharge from service in 1829, Poe made a second book, Al Aaraaf, Tamerlane and Minor Poems. He married his thirteen-year-old cousin, Virginia Eliza Clemm, and moved to New York City to become a respected critic and essayist, working for Burton's Gentleman's Magazine, Graham's Magazine, Evening Magazine, and Godey's Lady's Book. By this time Poe had experienced enough tragedy to be considered, for lack of a better term, an expert on tragedy. He could then use this terrible knowledge to make the world know the meaning of sorrow. This would help him in 1840 with the publication of a collection of his contributions to various magazines called Tales of the Grotesque and Arabesque, which included the first detective story "The Murders in the Rue Morgue." Finally The Raven and Other Poems was published in 1845 and granted Poe international fame, particularly in France, England, and America. But shortly after, Poe died of mysterious circumstances on October 7, 1849.
There have been several studies that have concluded the most important life lessons we learn are the most emotional, such as the death of a close friend or spending time around loved ones. Poe's life was full of tragedy, and he really did nothing but write of his own pain. Battling against all forms of depression, from the death of literally all of his close relatives, alcoholism, drugs, insanity, and loneliness, he wrote these stories of murder and horror and pain to teach us what to value in life. Poe teaches us to not wallow in misery, but to live life to its fullest. An example from his work, Alone, is a short poem of someone who could not live his childhood because he was too afraid to face other people's criticism. Poe used examples of sorrow and misery to explain his point of view, such as he once said, "Words have no power to impress the mind without the exquisite horror of their reality." Poe also influenced people by writing such tragic works of art that people could feel his pain and realized they should enjoy life.
Page created on 9/9/2007 12:00:00 AM
Last edited 9/9/2007 12:00:00 AM
The beliefs, viewpoints and opinions expressed in this hero submission on the website are those of the author and do not necessarily reflect the beliefs, viewpoints and opinions of The MY HERO Project and its staff.

Related Links