Anna Eleanor Roosevelt, born in New York City to Anna Hall and Eliott Roosevelt on October 11, 1884. As a child, Eleanor lost her mother at the age of eight and her father remained frequently absent as he entered into a drinking stage. A year after her mother's death, Eleanor learned the devastating news of her father's death. At the age of fifteen, Eleanor enrolled into a young women's school in England as she submitted under the authority of French headmistress Marie Souvestre. Souvestre helped Eleanor to increase her self confidence and taught her to serve people who are in need.
Eleanor Roosevelt, a well known philanthropist and wife to the thirty-second president of the United States of America, has achieved so much as she drafted the Universal Declaration of Human Rights, wrote columns, radio broadcasted, speaking out for women and African American rights, joined multiple organizations to support causes, and traveled around the world to places such as Japan, Hong Kong, Soviet Union, Arab countries, and several others in support of humanitarian reasons. In 1912, Eleanor joined the Red Cross and often visited injured World War I veterans in American hospitals, something Eleanor would continue to do throughout the rest of her life. In the 1920's, Eleanor engaged in an active speaking agenda, generating new ideas and making wise decisions for women rights. She also joined many groups and supported causes such as the League of Women Voters, an organization that protected women's involvement in Washington D.C. Eleanor Roosevelt, a well known and admired humanitarian, lived to help people gain their rights.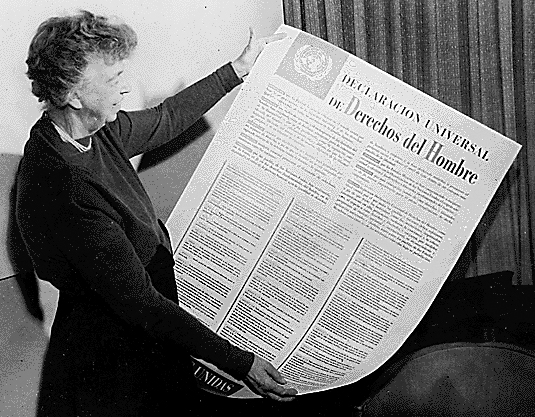 Eleanor Roosevelt became a voice for those in need including working women, African Americas, youth, and tenant farmers. "Eleanor was a strong supporter of improving and developing an education for African Americans" (Anderson, Amy). Roosevelt had a heart for those who suffered unequal treatments. "Eleanor focused her attention in the 1930's to create fair opportunities for women and others who work in all types of working fields including writers, artists, musicians, and theater workers. She spoke out in favor of labor union, racial equality, and women rights" (UXL Encyclopedia). Eleanor Roosevelt has a passion to do everything she could to protect the rights of citizens. She spoke out against racism and helped African Americans gain their spot to be U.S. citizens.
Eleanor Roosevelt devoted her life to gaining rights for others, which at that time was considered an unusual role to do, especially for a woman. Eleanor spent most of her life fighting for the rights and equality among citizens of U.S. "She joined the Women's Trade Union League and Women's Division of Democratic State Committee" (My Hero Project). Roosevelt joined these organizations in order to raise money in support of its goals, including a 48-hour workweek. Eleanor's stand with the Democratic Committee helped her husband achieve their support and triumph the governor's race in New York. "Roosevelt spoke and worked for the League of Women Voters, and Women's division of New York State Democratic Committee" (UXL Encyclopedia). Eleanor transfigured towards more of a public figure, speaking and working tirelessly as she progressed to support active government involvement and better working conditions for women. Her efforts in these organizations show Eleanor's integrity and that she would do anything to ensure that women are being treated no differently than men.
Eleanor Roosevelt stood for what she considered to be right and demonstrated her humanitarian efforts and kindness as she helped those who desperately needed equality and civil rights. "She made numerous trips overseas to boost the spirits of troops during World War II" (UXL Encyclopedia). During the time of World War II, Eleanor took the time off to support and encourage the troops. Eleanor cares for the men who risked their lives to defend their country and visited them frequently. Throughout Eleanor's childhood, she lost both her parents at a young age and received little love from her family yet she pushed on to love and fight for others who are less fortunate then herself (My Hero Project). Although Eleanor endured a sad and lonely childhood, she still had a heart that went on to press for the rights of every human being. She became the only woman at that time that would perform a rare role as a woman to gain rights for humans. Eleanor Roosevelt never stopped from being involved in civil rights. Throughout the efforts of Eleanor's hard work, she was recognized as she achieved 35 honorary degrees that changed the way people viewed her, a strong and political woman who would stand up for anything she thinks is wrong and unfair. She received honors with the Human Rights Prize where she contributed much of her time to protect human rights. Eleanor Roosevelt, a woman like no other, lived her life loving others and battling for human rights and she is one of America's admired figures in history.
Page created on 2/13/2010 12:00:00 AM
Last edited 2/13/2010 12:00:00 AM
Bibliography
Anderson, Amy. "Eleanor Roosevelt: A Woman of Firsts." [Online] Available

Beth from Fredericks. "Freedom Hero: Eleanor Roosevelt." [Online] Available . 2007.

McNeil, Allison. "Roosevelt, Eleanor." [Online] Available http://go.galegroup.com/ps/i.do?action=interpret&id=GALE%7CCX3425600059&v=2.1&u=powa9245&it=r&p=GVRL. 2006.

Tyle, Laura B.. "Roosevelt, Eleanor." [Online] Available http://go.galegroup.com/ps/retrieve.do?sgHitCountType=None&sort=RELEVANCE&inPS=true&prodId=GVRL&user. 2003.