Earl Antoine Boykins
by
Justin from San Diego
Unfamiliar Champion
The standard size of a NBA basketball player is approximately six foot six, but that statistic doesn't apply to Earl Boykins, who stands at five foot five. Since he was a kid, he possessed a motivation and determination to achieve the improbable. Earl Boykins is the second shortest player in NBA history. With his circumstances, he consistently plays on a high level with others having low expectations of him. He puts forth all his effort in everything he does because teams tend to shift him to other locations often. Earl Boykins is a hero that continuously bypasses obstacles, brawls with the odds, and inspires people to accomplish immense goals.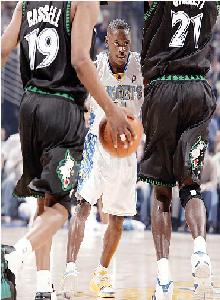 His path towards success wasn't effortless, but gradually, he is recognized by everything he has accomplished. The genes his parents possessed signaled to him that he wouldn't be large. He began playing basketball at a young age against bigger challengers. Commonly, challenges thrown at Earl Boykins are doubted to be surpassed by him. Entering college he became one of the top scorers in the league, but didn't receive enough recognition to be drafted in the NBA until years later. When teams gave him a chance, it didn't last long, as he played on several different teams briefly in ten seasons. He also played in Euro league when no team sought to sign him until he recently signed with the Washington Wizards in a desperate need of a proven veteran. Slowly over his career belief in his ability was growing and that is what he strove for. With all of Earl Boykins' unique traits, he would be labeled as a special kind of hero no one would imagine.
Since childhood, Earl Boykins has overcome obstacles by putting forth additional effort because of his discrepancy. Various scenarios have faced Boykins throughout his career such as, "A scene that 5 foot 5 Earl Boykins has lived through dozens of times, upon arriving at an arena he's stopped by a security guard asking to see I.D."(Martin Howard 36). Events that are similar to this aren't surprises to him because he's put up with many obstructions in his life. The obstacles in his life attempt to prevent him from attaining his full potential. The will to not give in to frustration has told others a lot about the character within him. While preparing for a high school basketball game; "at Central Catholic High an Eastern Michigan recruiter thought Boykins was a ball boy" (Chris Mannix 52). The unbelievable possibilities of a petite person achieving feats advise people that things aren't impossible. The completion of Earl's duties is possible because he ignores the assumption of his ability from nonbelievers. For Earl Boykins to surpass each obstacle without surrendering has earned the title of a hero.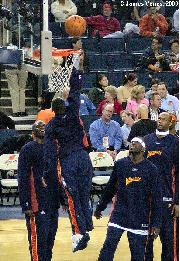 Although many doubters continuously harass Earl, he constantly proves them wrong with his ability. Being interviewed, Boykins said that, "'Being big at basketball is a great advantage,' Boykins says.' For a small player to make it, he has to work twice as hard'" ("Big Time Players"36). Commentators around the world know that sometimes, talent isn't enough, but the quantity of effort will accompany the road to achieve success. The thought of a player with the physical description of Earl Boykins have made people declare that it's impossible to achieve anything in such a prejudiced association. The exceptional motivation he has showed since the time he made his presence in the NBA is felt. A coach of Earl Boykins says that, "'He's strong- -he can bench 315 pounds- - and quick, and he surprises opponents'" (Chris Mannix 52). Entering the league, people already began making judgments on a short individual playing against six foot tall players. Opponents also seem to be affected by his abilities that consideration shouldn't be convincing enough to compete. Peoples mind sets have changed in a committed effort to prove his worth while being questioned on a daily basis. The fact that Earl Boykins has justified his arguments to people and approached challenges without backing down is a characteristic of a hero.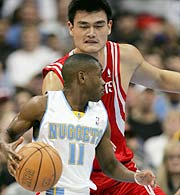 Boykins inspires people to accomplish hefty goals and to never stop trying, because he believes triumph will eventually emerge. Earl Boykins announces that, "'I don't look at my height as a disadvantage" ("Don't Overlook Boykins" 16). He believes he's special and has the capability to accomplish his jobs differently. This emphasizes his ability to complete things no matter the condition. Others may look up to him because they may also have differences amongst their peers, so they search for other solutions for the problems. When he is asked about the difficulty of guarding taller people, he responds, "'I think people just use that as an excuse'" ("Don't Overlook Boykins" 16). Players within the league use excuses, but Earl Boykins has a no tolerance policy for excuses. He supposedly has the biggest disadvantage on the court but his determination to prevail controls his mindset. Individuals in a tough situation look towards a person to be a role model and assist them with their goals; that person would be Earl Boykins, a hero that acknowledges that everything is possible.
Page created on 5/26/2010 12:00:00 AM
Last edited 1/6/2017 11:46:00 PM
The beliefs, viewpoints and opinions expressed in this hero submission on the website are those of the author and do not necessarily reflect the beliefs, viewpoints and opinions of The MY HERO Project and its staff.