Eric Heiden
by
Danielle from Minnesota
"In general, I enjoy athletes who have a strong character who let their abilities speak for themselves."
Eric Heiden was easily one of the greatest speedskaters of all time. In the 1980 Winter Olympics in Lake Placid, New York, he won a gold medal in every distance. Not only has he won Olympic medals, but he's also won many World Championship competitions. It's easy to see why I, a speedskater myself, could consider Eric my hero, but it wasn't only his talent on the ice that made him great.
Eric Heiden was born on June 15th, 1958 in Madison, Wisconsin. When he was younger he loved hockey, but at the age of 14 he committed himself full-time to long track speedskating. He started in on an intense training program made by Dianne Holum, who was the 1968 and 1972 Olympic Speedskating Champion. His training quickly paid off. At the age of 19 he became the first American to win the World Speedskating Championship. From then on, he succeeded in one competition after another.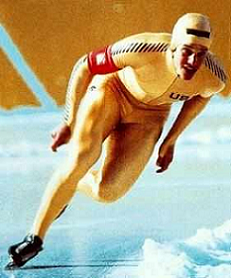 On Heiden's journey to the 1980 Olympics in Lake Placid, New York, he had managed to win many big competitions, which included three World All-around Championships, and four World Sprint Championships. Not only had he won numerous World titles, but he had also managed to set and break 15 world records. At the 1980 Olympics, he was the man to beat. Many of the skaters there had already admitted to defeat. One skater, Frode Roenning, said, "Heiden is the biggest, greatest skater there has ever been. The rest of us are waiting for the next Olympics." During the 1980 Olympics, Eric won a gold medal in every distance (500 meters, 1000 meters, 1500 meters, 5000 meters, and 10,000 meters). He was the first and only speedskater to ever do this, becoming an instant speedskating legend, and an inspiration to many Americans.
During the time that Eric had gone to the Olympics, the U.S. was in the middle of the Cold War. Americans were upset about what was going on and looked to the Olympics as a place to find a hero. They found exactly that in Eric. He was eventually inducted into the Speedskating Hall of Fame. Not only was Eric Heiden an instant American hero, but he also became an instant speedskating legend. Winning five gold medals in the Olympics in a lifetime is no easy feat, but winning five gold medals in one Olympic games is in a league of its own.
After Eric's successful career as a speedskater he decided to take up Cycling. He was one of the founding members of the 7-Eleven Professional Cycling Team. In 1985 Eric won the first U.S. National Road Race Championships. Then, in 1986, he raced in the Tour de France. Unfortunately, five days before the finish Eric was involved in a crash and couldn't finish the tour. In 1999 Eric was inducted into the U.S. Bicycling Hall of Fame.
Eric Heiden is a speedskating legend, an amazing cyclist, and an American hero. Eric's accomplishments on and off the ice are the dreams of many young people today. I can only hope to be half as successful as Eric was, and maybe in my wildest dreams, be just as incredible a skater.
Page created on 7/28/2010 10:36:02 AM
Last edited 2/26/2019 1:47:44 AM
The beliefs, viewpoints and opinions expressed in this hero submission on the website are those of the author and do not necessarily reflect the beliefs, viewpoints and opinions of The MY HERO Project and its staff.

Related Links
Wikipedia
- For more about Danielle's hero.
Heiden Orthopaedics
- Eric Heiden is now a practising orthopaedic surgeon.
Wisconsin Historical Society
- Read more about Olympic medalist Eric Heiden.
US Speedskating
- is a nonprofit organization recognized by the US Olympic Committee and International Skating Union as the governing body for the sport of speedskating in the US.