Amelia Earhart
by
Julia B.
Amelia Earhart has been a great inspiration to many female pilots ever since she disappeared in 1937. She broke many records and was very determined to accomplish her goals. Even though she was born a normal, average, girl she eventually turned into a motivational female pilot.
Amelia was born on July 24, 1897. Her mother and father were Edwin and Amy Otis Earhart. Amelia also had a younger sister named Muriel. Amy was a kind-hearted and caring mother, and though Edwin was most likely a loving father, he was not the best role model for his daughters. Edwin had a very serious addiction to alcohol. Because the addiction was getting worse and Edwin was not able to stop, Amy left him, taking the girls with her, to Chicago, Illinois. With the help of some friends, Amy was able to start a new job and a new life. From then on, Amelia was against alcohol and drugs.
In 1921(a year after Amelia started taking her flying lessons) she received her license to fly from the National Aeronautics Association (NAA). Her career didn't stop there; she continued flying throughout her whole life, setting many world records along the way. Some of her records were: in 1932 she was the first woman to fly solo across the Atlantic, in 1935 she was the first woman to fly 2,400 miles across the Pacific Ocean (Hawaii to California), and also in 1935 Amelia flew solo from the Gulf of Mexico to Newark, New Jersey. Though these records were very big, Amelia made the biggest one of all. On June 1, 1937 she began her attempt to fly around the world, though unfortunately, she never completed her goal. Amelia Earhart and Fred Noonan (co-pilot) disappeared somewhere near Howland Island, in the Pacific Ocean.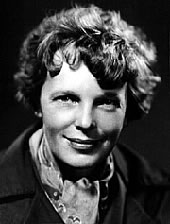 Amelia Earhart is very well known and famous for being an amazing female pilot. Amelia also had other things that made her a hero to me. Of course, she was determined and brave. She was determined because she never stopped going towards her goals. She was a brave woman because she knew that the things that she had accomplished were very risky and she could have been injured very badly or even died. Amelia was also kind and fairly modest, but the thing that really makes her one of my heroes is that she fought to become a woman pilot at a time when women just didn't do the same thing that men did. There were many people back then who thought that men were the more daring people and that they could, supposedly "do it all." The truth is that men aren't the only humans in the world and just because they might look stronger and braver does not mean that women shouldn't look strong or brave either. This is why Amelia Earhart is my hero; because she stood up for women's rights and did what supposedly only men could do back then; pilot an airplane.
Page created on 6/21/2005 12:00:00 AM
Last edited 6/21/2005 12:00:00 AM
The beliefs, viewpoints and opinions expressed in this hero submission on the website are those of the author and do not necessarily reflect the beliefs, viewpoints and opinions of The MY HERO Project and its staff.
Extra Info
Bibliography


Encyclopedias:
"Amelia Mary Earhart." Encyclopedia of World Biography. Copyright 1998

"Earhart, Amelia Mary." The Riverside Dictionary of Biography. Copyright 2005

Books:
Luaber, Patricia. "Lost Star." New York: Scholastic Inc, Copyright 1988


Images:
www.acepilots.com/earhart.html

www.iun.edu/.../images/ Amerlia_Earhart.jpg