"Study hard and take advantage of every opportunity that you receive that will allow you to grow."
Dr. Edward Holland helps people see the light…literally. He is an internationally recognized ophthalmologist (eye doctor) who specializes in the cornea and ocular surface. Dr. Holland's accomplishments are many; medical degrees and awards too numerous to list, but what really matters to him is that he has the skill and expertise to give people their sight back, if it is at all possible. Serving as Director of Cornea Services at the Cincinnati Eye Institute and as Professor of Ophthalmology at the University of Cincinnati has allowed Dr. Holland to help thousands of patients, while teaching others to do the same.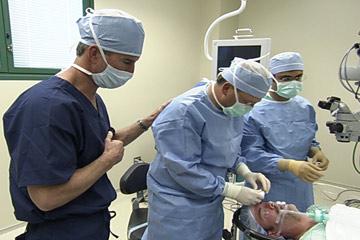 So when the ABC Television show Miracle Workers needed a doctor who could perform one, they knew just who to call…Dr. Holland. His segment showed how he was presented with a patient, Todd Heritage, 34 and father of 3, who had been blind since a childhood allergic reaction to penicillin. Dr. Holland told MY HERO that Todd was probably the best story of a life drastically changed after one of his surgeries; "due to the fact that he had lost vision for so many years and was able to get back his vision after the surgeries were performed. It was wonderful to play a part in allowing Todd to be able to see his wife and children for the first time." According to the show's website, this revolutionary two-part procedure, first pioneered by Dr. Richard Thoft in Pittsburgh, made use of stem cells from both a live donor and a cadaver. First the surgeon extracts stem cells from the membranes of the live donor's eye, and then those stem cells are combined with corneal surface stem cells from a cadaver's eye. Together these cells grow over the patient's damaged cornea.
Asked why corneal cells are needed from both a live donor and a cadaver, Dr. Holland explained, "When performing stem cell transplantation we can actually use either one or both. This depends on the patient's eye and how severe their ocular surface is damaged. Some patients do not have a relative that would be willing to donate or the relative is not a good candidate to donate. There is testing done to check on compatibility of the live donor. Most often it is easier to use cadaver tissue due to the factors listed above in regards to having a family member donate. Another reason for the ease of using cadaver tissue is the O.R. time for a patient is much less and the rejection rates are about the same whether you use a live donor or a cadaver."
Dr. Holland told me that Todd is doing extremely well postoperatively and that his experience participating in the ABC show was a good one. "Like anything that you do in life it can be a little nerve-wracking at times, but also enjoyable. The staff at ABC that was here to film for the show was easy to work with and very flexible in regards to my schedule and my clinic schedule."
Dr. Edward Holland always wanted to be a doctor. He told MY HERO: "My dad was an ophthalmologist and I worked for him while I was in college. So ophthalmology was the natural choice because of my exposure to it growing up." He believes that to be a good eye surgeon one has to be: "dedicated, compassionate and diligent and to always be striving to be better and look for innovative ways to improve science in the field of ophthalmology." His advice to kids wanting to go into medicine is, "Study hard and take advantage of every opportunity that you receive that will allow you to grow."
Dr. Holland attended the Loyola-Stritch School of Medicine in Chicago and trained in ophthalmology at the University of Minnesota. He completed a fellowship in cornea and external disease at the University of Iowa, and then completed a second fellowship in ocular immunology at the National Eye Institute, National Institutes of Health in Bethesda, Maryland. He is sought after to lecture around the world and is the author of more than 100 articles in peer review journals. He has edited Cornea, the most widely read textbook on corneal disease and surgery. Dr. Holland is currently the Chair-elect of the Eye Bank Association of America and has attracted worldwide referrals for medical and surgical corneal problems and for stem cell transplantation.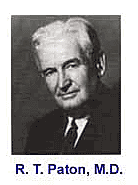 Asked if there was one award or honor that stood out for him, he replied: "That would most likely be the "Paton Award" because it allowed me to be able to share with others what I spent my life's work on. At the time I received the award I had been researching and working in ophthalmology on stem cell transplantation for approximately twenty years." Each year the Paton Society bestows the prestigious Paton Society Award upon an ophthalmologist and in 2002 it was given to Dr. Holland. This award is the EBAA's (Eye Bank Association of America) highest honor for corneal physicians. It recognizes outstanding contribution to the EBAA's development for exemplifying the precepts of R. Townley Paton, M.D., the father of modern eye banking and the founder of the first eye bank established in the United States.
I asked Dr. Holland to let us in on how to keep one's eyes healthy and here is his list:
WEAR EYE PROTECTION:
when using machinery,
playing sports,
working with any kind of chemicals.
Make sure to get eye exams at the appropriate times for you.
Dr. Holland loves spending time with his wife and kids and also enjoys golfing. His biggest goal in life is to, "make a significant contribution in medicine that will make patients' lives better. In addition, my other goal would be raising my children to be happy, successful, and compassionate adults."
His hero? "Daniel Douglas, M.D. He was my college roommate and he motivated me to go to medical school." And there are many thousands of people that are so glad you did!
Page created on 9/2/2006 8:00:54 AM
Last edited 1/9/2017 9:52:06 PM
Related Links
The My Hero Media Award
- Dr. Holland's amazing work became part of the first My Hero Media Award.
The Miracle Workers
- Check out excerpts from the ABC television show that featured Dr. Holland's amazing operation and restoration of sight to Todd Heritage, the 34 year old father of 3, who had been blind since childhood due to an allergic reaction to penicillin.
Cincinnati Eye Institute
- For over 50 years, Cincinnati Eye Institute (CEI) has been committed to the vision of compassionately providing the highest level of medical and surgical eye care to enhance the quality of our patients lives. Today, CEI is the largest ophthalmology practi
Seeing, Hearing and Smelling the World
- This well-designed site from the Howard Hughes Medical Institute guides you on a journey into the world of the senses and the nervous system. This site uses JavaScript animations and other advanced features, so a recent browser version works best.
The Eye Bank for Sight Restoration
- The Eye-Bank is a private, not-for-profit organization, founded in 1944 as the world's first eye bank to collect, process and distribute donor eye tissue for sight saving cornea transplants, medical education and research into cures for other eye diseases