Contact: Jeanne Meyers- FOR IMMEDIATE RELEASE

Co-founder and Director
The MY HERO Project
[email protected]

LOS ANGELES, CA- (Dec 17, 2012) – The MY HERO Project, a non-profit devoted to connecting and inspiring children across the world through interactive media, is pleased to announce the winner of the 2012 MY HERO International Film Festival's Dan Eldon Activist Award: Robert Rippberger's A Ride With Matt, a documentary film chronicling a young man with Huntington's disease as he raises awareness about his illness while bicycling across America.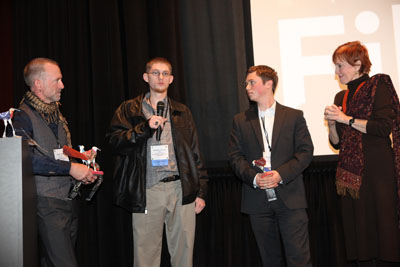 Dan Eldon was a passionate activist and photojournalist, killed on assignment while covering the 1993 conflict in Somalia. Each year, in his honor, Dan's mother Kathy Eldon (founder of Creative Visions) presents this award and its accompanying $500 prize to the project that best exemplifies positive social activism through film. Eldon presented this year's award after Rippberger's film screened inside The USC School of Cinematic Arts on December 15th, at The MY HERO Festival Awards Ceremony.

An emotional Eldon addressed the crowd of filmmakers and supporters by saying "I always cry whenever I speak here, because I feel more strongly here than anywhere else in the world, that you are all my heroes." Speaking to Rippberger and his film's subjects, Adam and Matt Austin, she expressed her gratitude for their "indomitable human spirit" as well as "for supporting this extraordinary organization [MY HERO]" with their work.

A Ride with Matt is a documentary short that Rippberger is now developing into a feature film. It documents a journey across the United States by Adam Austin and his 21-year-old nephew, Matt Austin. Matt has Huntington's disease, a genetic brain disorder that affects muscle coordination and, eventually, leads to dementia.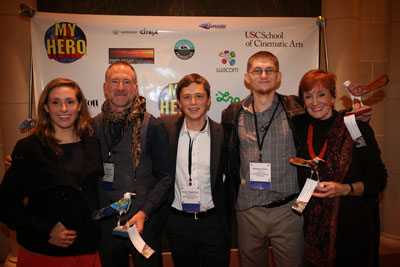 Adam and Matt have been biking all over the country, raising awareness about Huntington's, sharing their stories and listening to stories of others who suffer from the disease. An estimated 250,000 Americans have Huntington's. "When you have Huntington's, you lose your motor skills, and eventually you lose your voice," said Adam Austin, while addressing the crowd inside USC's Ray Stark Theater. "Matt, while he has time, and he still has his voice, has decided to make a difference."

Adam also views the project as an opportunity to share stories of Matt's father, who passed away when Matt was just three years old. "This would be something he would have been so gung ho to do," said Adam. "The thought of actually showing his son Colorado the way he inspired me to see Colorado-it's the trip he should have taken with Matt, not me. So that's my goal as my brother's keeper, is to make sure his kids get to see what he loved."

Proceeds from the documentary will benefit the Huntington's Disease Society of America. At the Awards Ceremony, Rippberger expressed his gratitude to The MY HERO Film Fest for recognizing the project, and Matt himself echoed the sentiment, stating, "It's really an honor to be receiving this award, and to be seeing so many like-minded, good-hearted people."

To view A Ride With Matt and other winners from The 2012 MY HERO International Film Festival, please visit http://myhero.com/winners

To learn more about The Dan Eldon Activist Award, visit http://myhero.com/eldon

To learn more about A Ride With Matt, visit their website at http://www.aridewithmatt.com/
Page created on 12/17/2012 12:00:00 AM
Last edited 7/7/2017 10:48:57 PM