A hero is someone who inspires others to strive for high goals and become a better person. Someone who I think of as a hero is Ella Fitzgerald. Ella Fitzgerald is daring, determined, and hardworking. Ella Fitzgerald overcame many obstacles to achieve what she has achieved. She is one of the first jazz singers in the 1930s. Ella has inspired many people to strive for high goals.
Ella Fitzgerald was an accomplished jazz singer. She was born in Newport News, Virginia, in 1917. Ella's family life was anything but normal at the time. Ella's father abandoned her with her mother at an early age. Later, when her mother got remarried, she gave birth to Ella's new baby sister named Frances. In the 1920s Ella's family moved to Yonkers, New York. Growing up, Ella and her family didn't have a lot of money; truly, they struggled to get by. Ella had a hard childhood growing up but overcame this obstacle to achieve great things.
Ella Fitzgerald made a difference in so many people's lives. She won 13 Grammy awards for many of her musical works, and she was given the National Medal of Arts by Ronald Reagan. She also overcame discrimination and racism from people trying to keep her from reaching her goals.
Ella Fitzgerald, at one time, was part of Chick Web's orchestra, and she was their lead singer. She recorded with many of the greats such as Duke Ellington, Billie Holiday, and Sarah Vaughan. She was named best female singer 18 years in a row in the 1900s. She struggled at first, but made a great name for herself in life.
Ella Fitzgerald is what I believe a hero should be like; she is fearless, strong, and ambitious. Ella proved that through hard times, like her mother's death and her adopted father's death, you can use that frustration and those feelings to do great things. That's why Ella Fitzgerald inspires me personally. It's not her accomplishments that impress me, but it's what it took to get to those accomplishments that matters! Ella's life inspires people to dream big and just give everything you do your all.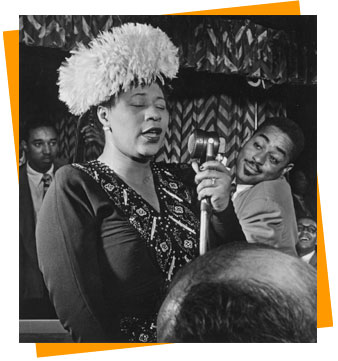 Ella Fitzgerald believed she could do anything she set her mind to. She inspired me to join Selden Middle School's jazz choir, "The Long Island Sound." In jazz choir we learn about jazz and the history behind it all. I chose to do Ella Fitzgerald, because when you listen to her music she sings about something she truly believes and means. I wanted to find out more about Ella and her life and what she accomplished. She helped me discover that I love to sing and learn jazz all the time. She made me so interested in jazz that I just had to know what it is and, now that I know, I can't stop listening to it!
Ella Fitzgerald made something out of her life and will be remembered for her amazing life forever. My hero, Ella Fitzgerald, has not just inspired me, but many other people. She has inspired jazz artists and regular musicians. Ella set the grounds for jazz and blues all over the world. She sang a form of jazz called scat (this was notes thrown together using nonsense syllables put together right on the spot). She was famous for her scat singing, which was like a powerful horn that filled the room with music. Ella Fitzgerald worked hard and patiently to reach her goals.
My wonderful hero, Ella Fitzgerald, is a huge inspiration to many musicians, artists and even regular people. My hero overcame many troubles and was confident she would get where she wanted to go. Although Ella is no longer alive, her music is still alive in many people's hearts.
Page created on 3/1/2008 12:00:00 AM
Last edited 3/1/2008 12:00:00 AM