Chile may have one of the most stable economies in South America, however it also is plagued by one of the largest class divides. Students whose parents can afford to send them to private schools are receiving a much higher level of education than those in public schools. Therefore perpetuating the problem of the haves and have-nots.
In an effort to help close the gap, Ellen Dizzia and Rodrigo Castro came together to form Access Ingles-a program working with public schools to improve their English foreign language departments. Access Ingles could have made an extraordinary profit by partnering with charter or private schools, though Dizzia believes whole-heartedly that public schools are the future of education in Chile.
Dizzia, originally from the U.S., started off tutoring English while living in the Caribbean and quickly realized she had found a new calling in life. She moved to Costa Rica and got certified to teach English. After a few years in classrooms she followed up with a Master's Degree in International Education.
Access Ingles is in its first semester in 5 public elementary and high schools. Dizzia and Castro have assembled an impressive team consisting of native English speaking collaborators and volunteers that are extraordinarily dedicated to education in their chosen fields. Access Ingles is at the moment financed by crowdfunding and is, "In its pilot time as an organization," Dizzia said.
The hope is down the road to get backing from Chilean companies and municipalities. Castro spiritedly exclaimed that he would like Access Ingles to be in every school in Chile. Dizzia desires to have the program available in as many places as possible and is in the process of putting up free resources on the website for teachers across the globe to utilize.
Dizzia said with a smile and a gracious glimmer in her eyes that she is happy to just "give away" the information and resources. She said that teaching "just makes me feel alive. I think that the human interaction, that's kind of our essence. The passing of knowledge and skills along, it's kind of what we're here for.learning from each other. I learn so much from my students!"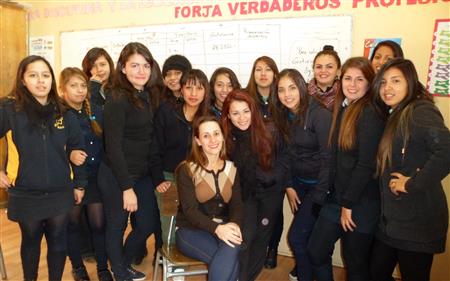 As president of Access Ingles, Dizzia is energetic and hopeful. The methodology she developed while working as administrator and coordinator of the English Department in a network of charter schools in Santiago from 2010-2013 came together through a series of in-class trials. And in 2013 Dizzia was awarded an Advancing Leaders Fellowship from the U.S. organization World Learning, which helped get Access Ingles up and running.

Dizzia said emphatically, "When I got into the poorer schools the little revolutionary in me was just like, this is so unfair. How can I help this situation by what I am doing here? If this is my role here, how can I maybe help put in place some kind of framework that could be useful?"
She discovered that the English programs in some schools were so poorly lacking that sometimes the teachers themselves didn't even speak English. She devoted her career to change the system in place. Dizzia said speaking English opens doors for social and professional opportunities and, "will put your resume at the top of a stack."
When Dizzia first came to Chile, she was in awe and disheartened by the massive classist divides she encountered and said, "Coming from the U.S. we have racism and sexism and all of these other things. But, the whole country is built on this American dream that if you try hard and you work hard and you figure out what you're good at you can overcome these hurdles and you can make the best out of your life. Where I think here many people feel that they don't have that possibility, that's not part of the national psyche here."
She stated that long-term planning coinciding with short-term goals was an important factor into her lesson plan building. Dizzia and Access Ingles co-founder and vice president Castro both said that there is an underlying Chilean mentality that impedes progress. The general want is to accomplish everything, "rapido, gratis, todo facil" (fast, free and easy).
"The person who thinks a little understands that to make real change it's not something, fast, free and easy. You need time, patience, energy, and resources in order to make permanent change," Dizzia said.
Castro is a Chilean lawyer and met Dizzia as she was writing her thesis on how to create a better system for teaching English. He was inspired to get involved. He said that the middle classes are just now stepping up, but don't know exactly how go to about making reform. In Castro's opinion the class system is deep-rooted, stemming from colonial times, when a system was put in place for a few families to retain the most of wealth of the country, the same rich families that came over from Spain many years ago.
He considers education the key to positive change in his country. Castro said that by being Chilean, he's able to help Access Ingles navigate the complicated bureaucracies they face, and work with an understanding of the cultural climate.
Page created on 5/29/2015 9:08:43 PM
Last edited 1/6/2017 8:47:01 PM