Humans. Horses. Hope.
Some think of Equest as the first Therapeutic riding program in Texas, but volunteer Jeannie Wittington says, "It is my heart." Equest is a non-profit organization that uses horses to give special therapy to kids and adults with disabilities. With the goal to help riders achieve success, to help the kids become independent and to build self esteem, they can't fail. Now celebrating its 30th year Equest has 33 horses, 10 instructors and more than 400 volunteers. Equest is helping more than 125 kids and adults from ages 2 to 63 achieve their dreams every week.
Susan Schwartz is the woman who started it all. As a child she had a big challenge to overcome dyslexia. She grew up in a family who loved to read, so growing up she never felt as smart as the rest of her family. Susan always wanted a horse and finally in the eighth grade she got one! His name was Barney. "He wasn't judgmental—he didn't care if I could read or anything. He just made me feel more confident." Susan said.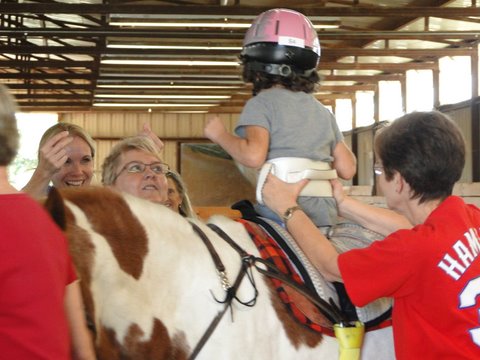 Once a year Susan volunteered to help a group of kids with Cerebral Palsy (CP) who annually got together to ride horses. When she saw what a difference the horses made with the kids she thought, "If riding once a year made this much of a difference, just think what it would be like riding once a week." That is how Equest began! With two riders, five volunteers and one horse, a miracle was made. The first Equestrians to ride for the organization were two adults who were blind and physically disabled. Horseback riding requires one to use all the body's muscles as if you were walking so by riding a horse the people could feel what it was like for their muscles to be loose. They said, "We've never felt this sense of freedom before. You should name it Freedom Ride." However, some people thought that it was a civil rights organization. "Freedom Ride" hired a public relations firm to rename themselves Equest. "I think people who come to Equest can see our riders and say I know what you can do, not I feel sorry for what you can't do," said Susan. And personally… I agree with her!
"Seeing people do things that they never otherwise would be able to experience if they weren't on the back of a horse…that's success." After her first two riding experiences, Susan knew she had found her passion. "Equest is like a second family, like raising a child. When you raise a child you have good days and you have hard days. You appreciate the good days more because of the hard days. You have growing pains... For me, Equest has been a family, a teacher, a place where miracles happen all the time."
This therapeutic riding program serves more than 100 different types of disabilities including cognitive, emotional or physical disorders and injuries. Head Riding Instructor Jen Donahue said, "When I was 14 I saw an article in a newspaper that was about kids and riding for the handicapped at our zoo. I kept that article and said one day I'm going to do that. To know that I'm taking part in helping to improve the quality of life for everyone we touch is incomprehensible. It makes me want to wake up every morning."
The horses are a very important component to the riding program. The horse mentally helps the children to articulate emotions and improve sequential thought process and spatial awareness. These wonder workers help build a bond between rider, instructor and the volunteers. When you work that hard you have the sense of being on a team, it gives a positive self image to yourself.
Penney Cotton, a volunteer who has been working at Equest for five years said, "There is no one person that makes a difference it is a team effort."
The horses at Equest are all breeds and sizes to help provide a necessary fit between the rider and the horse. Each child has a specific horse that they ride every time they go to Equest. The children become attached to the horse and the horse to them. Equest must provide all the things the horse needs from bridles, saddles, bits and helmets to blankets, grooming equipment, hay and grain, to veterinarian care and barn staff.
As Cindy Thomas one of the therapists at Equest said, "The horses are angels. They are angels on this earth for what they do and what their willing to do."
The staff at Equest is specifically trained to teach people with disabilities. The Therapists must have advanced training in hippotherapy therapy with help of the horse, so all of the therapists are certified by the North American Riding for the Handicapped Association and three of the nation's 33 master level teachers teach at Equest. The wonderful volunteers have special positions and are trained to know how to work in that position. Two volunteers are on each side of the horse and one volunteer steering it.
One of the volunteers I talked to was Jeannie Whittington, groom and track trainer. She said, "I feel that everyone who has an opportunity in their life to do something for others. It has become my heart; I don't function well if I am not out here." I asked her why she kept coming back, Jeanie answered with a big smile and said, "I come back for the horses, the students and I come back for the way I feel when I help someone else."
Equest has made a huge difference in people's lives. Susan Schwartz told me that one day there was a girl and her mom who had come to Equest for her daughter's first lesson. When her daughter finished the mother was sobbing and all she could say was "her shoes, her shoes!" The volunteers, the therapist and Susan were all so worried. Was she not happy that her daughter's shoes got dirty? Finally after the mother almost stopped crying she was barely able to speak "All of my friends complain about having to always wash their kids' shoes. I have always wanted to have the day where my daughter's shoes get dirty. Thank you! When I get home I am going to put her shoes in the washer!"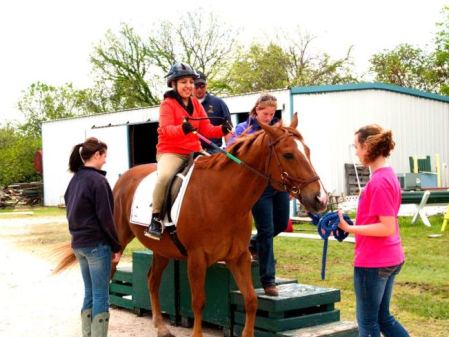 Another life Equest has changed is 17 year-old rider Nancy Appelman, "I am able to sit tall in a saddle; I have come a long way with care, understanding and love from a barn full of horses and people who believe in me. I know I walk differently than most, but some can see way beyond that. Take that horse standing over there, Max. He sees way beyond my disability—Max sees me. That's a gift, his and mine."
Equest inspires me and I hope by what I have written now Equest inspires you. I think Equest is a wonderful program that can help children no matter the case. One of the best accomplishments Cindy Thomas, one of the physical therapists, has seen in her 19 years at Equest is watching a child walk whose doctors said would never walk.
When I see how much fun kids have at Equest I feel so happy for them. I feel elated for the parents that they can see their children succeed in so much. As Susan Schwartz said "One of the secrets to therapeutic riding is its fun!"
Page created on 10/11/2013 7:25:59 PM
Last edited 1/4/2017 10:55:05 PM