Eragon Shadeslayer
by
Student from Campbell River, Canada
My hero is Eragon Shadeslayer; he has brown hair and eyes and is known to be reckless. Eragon is fifteen in the first book and is good at hunting with his bow made from wood from a Yew tree. He lives with his uncle Garrow and his cousin Roran on their farm on the outskirts of Carvahall.
Eragon has done a great many deeds and commands a great amount of respect from the Varden, a rebel group that opposes the empire and its king. For one of these heroic deeds, he saved Arya, the elf Princess of Elesmera, from the evil Shade Dursa (a shade is a person that is possessed by evil spirits), who is later slain in battle by Eragon's red blade Zar'oc (Zar'oc has the meaning misery).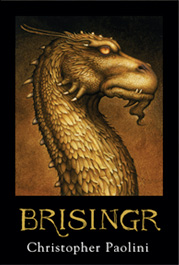 Eragon first lived on a farm near Carvahall, a small north western village near the Spine. The Spine is a mountain range that runs the whole length of the empire and part of Surda, a small part that seceded from the empire that lays to the south. After the farm was burned by the Ra'zac, he lived with horst and his family in town. When Eragon fled Carvahall he traveled through the empire and later stayed at the dwarf city of Trojheim inside the hollow mountain, Farthun-Dur located deep within the Beor Mountains. After his stay in Trojheim he left to complete his training in the forest-city of Elesmera, the Elven capital, in the heart of Du Weldenvarden. Du Weldenvarden is a gigantic forest to the north of the empire. Upon learning of the battle to be, Eragon then flew to the Varden's war camp on the southern bank of the Burning Plains.

Eragon actually is not a real person but a character in a series of books that I have read. Eragon lives in a time of unhappiness, for the land in which they live is ruled by an evil heartless man. As one of the undying Galbatorix will not die of natural causes like old age. Galbatorix will only be able to die from a deadly disease or he can be killed by a mortal flesh wound. Otherwise he will endure.
Eragon is important to me because he inspires me to try new things, to accept changes in my life and to look at things from all points of view. After reading about Eragon's adventures I have been able to brave things that before I could not muster the courage to attempt. My life has greatly improved as a result of reading these books.
Page created on 5/17/2015 12:00:00 AM
Last edited 1/6/2017 6:39:13 PM
The beliefs, viewpoints and opinions expressed in this hero submission on the website are those of the author and do not necessarily reflect the beliefs, viewpoints and opinions of The MY HERO Project and its staff.