Heroic aptitude comes from within. It's a divine voice that beckons strength and commands courage to change the environment around you. Heroes are among us, driven by an instinctual need to shine for the obtainment of a greater good.

Erin Gruwell is one.


From humble beginnings, Gruwell started her career as an English teacher at Wilson High School in Long Beach, California. As she walked into classroom 203 aspiring to make a change in a few students' lives she had no idea that 20 years later, she would be an international icon for education. Focusing on the importance of storytelling, compassion, and tolerance, she sowed seeds of hope in her students that have now grown deep roots and bear fruit of their own. Like a modern day Johnny Appleseed, she planted a thriving forest that keeps on growing.


In '94 Gruwell dove into her role as teacher with unconstrained devotion. She introduced the books, "Anne Frank: Diary of a Young Girl" and "Zlata's Diary: A Child's Life in Wartime Sarajevo" as tools to share with her students the writings of youths living in conflict zones that mirrored the violence of their neighborhoods. Gruwell had her students write about their own burdens, which they compiled into a collection titled, "The Freedom Writers Diary"–their name inspired by '60s civil rights activists, the Freedom Riders. "The Freedom Writers Diary" became a best seller on The New York Times list and has been translated into 12 languages.
In 2007, the Hollywood film "Freedom Writers," staring Oscar winner Hillary Swank as Gruwell, broadened the story's reach: how one teacher dared teens to break down barriers between them, harness their capabilities and strive to make a difference not only in their own lives, but of those around them.

Gruwell is now a motivational speaker and teaches teachers. Her non-profit organization, The Freedom Writers Foundation, holds teacher training seminars and empowerment symposiums. The "family" (as Gruwell refers to them) retains intimacy even at 400 Freedom Writer Teachers strong, with diverse representatives in every state across the nation and over a dozen countries worldwide.


One of Gruwell's original 150 students was Tiffony Jacobs. She was an avid pupil who sought refuge in her studies. Her home life was volatile, riddled with abuse, violence, and extreme poverty. Often Jacobs did not know where her next meal would come from. She joined Gruwell's class in her sophomore year and said, "It showed me a whole different way to live. She showed me that education granted you opportunities to make your life peaceful."


Jacobs went on to get a degree from Cal-State Long Beach and now works at the FWF with Gruwell as Freedom Writer Outreach Coordinator. She travels to schools as a motivational speaker, and was recently accredited for changing the culture and climate at Elizabeth Ann Johnson High School in Mount Morris, Michigan. Her presentation at the start of the 2014 school year helped staff understand the impact poverty can have on families.
Jacobs laughed as she exclaimed, "I wouldn't be the woman that I am today had I never met Erin Gruwell. As a kid I was so shy-I was so quiet and timid, and now I stand proud in all of my 5 feet 2 inches. I make sure my voice is heard, when there is injustice, when there is something that I see is wrong, I make sure that I use my voice. That's one thing that she has taught me. No one can take that away from you. You always have a voice."

Another of Gruwell's students from classroom 203 who flourished under her tutelage was Oscar Carrera. Coming from a Spanish speaking home he had continually been misplaced in ESL classes. By the time Carrera reached high school, he struggled with reading and writing in English. It was Gruwell's positive enthusiasm and encouragement that propelled Carrera to stay in school and get good grades.


He became passionate about education, first as a teacher and later as a principle at an elementary school in Bell Gardens, California. A few months ago Carrera moved to Las Vegas, Nevada, where he is now an educational consultant and mentor. He plans to return to administration so he can impact schools on a greater level. Gruwell's influence perpetually endures for Carrera. He revels in sharing the message of tolerance and the importance of storytelling he learned as Gruwell's student. He said, "Over the years she continues to be that token of hope. As an educator she's always been the one that I look up to as a model of a teacher that I try to be like. As I was an administrator, that was the same model that I would try to motivate a lot of my teachers to follow."


One of the many eye-opening experiences that Gruwell granted the students of 203 was a field trip to The Museum of Tolerance in Los Angeles. Elisabeth Mann was one of the Holocaust survivors introduced to Gruwell's students. Mann lost her entire family during WWII and has shared her story almost every Sunday for the past 35 years at the MOT. She has been an active participant in the Freedom Writers narrative, from starring in the feature film, to speaking with Freedom Writer Teachers year after year. She is a huge admirer of Gruwell. "She turned the whole world upside down!" Mann declared. "What Erin did, showed to the world that you are capable of loving another human being. You are capable to accept the differences between you and other people."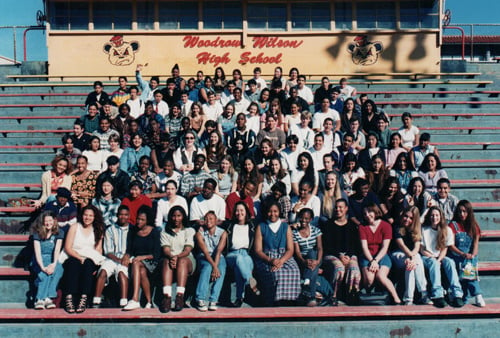 Mann placed her hand on her heart as she said, "I am a very idealistic person. I've always believed that the majority of people are good." Mann recalled as a child in Hungary she witnessed discrimination against Jews and would go to her attic and proclaim to the air, a prayer of sorts, for mankind to attempt to understand each other. Mann said Gruwell affected her on a fundamental level, "I was very happy to see a person in life who really proved what I what I was dreaming about."


Presently, Gruwell is gathering her troops and looking forward to 2015. The documentary "Freedom Writers: Stories From an Undeclared War," is embarking upon the film festival circuit and will be showcased in March at South By Southwest in Austin, Texas. Soon, she will be seeking a distributor to make the film available for Online streaming.


Freedom Writer Teachers are also showing the documentary in art house theaters across the nation as a kind of grassroots movement to spur a dialogue on how to help underprivileged students in their communities. In October 2014, Freedom Writer Teacher Laura Geiger held a screening of the documentary in Omaha, Nebraska. Gruwell attended and afterward held a Q&A and book signing. "She really motivated her students to believe in themselves and I think she does the same for us as teachers. She is always pushing us to do bigger and better things," Geiger said.


The event raised $4000 for the Omaha Freedom Writers Foundation, the funds will help send Freedom Writer Teachers from Nebraska to Washington D.C. and join forces with Gruwell and upwards of 200 other Freedom Writer Teachers on National Teacher Appreciation Day, May 5, 2015.


The Freedom Writers are travelling to D.C. to have an audience with U.S. Secretary of Education, Arne Duncan. Gruwell said, "We want to call to light how noble the profession is. We want to call to light how important it is to serve our kids, how our kids are more than test scores. And to really celebrate teachers and to pay homage to the original Freedom Writer students who took their story to Washington D.C. all those years ago."
Gruwell's love is infectious. She stated that by enlightening students academically they discover education as a way to transform themselves, to empower them to take the next step and "not stand idly by" when faced with injustice. Gruwell said it's teachers who are in the trenches, "It's the teachers that fight for their students every single day."


The MY HERO Project honored Gruwell at the International Day of Peace Celebration, in September 2014. Mohamed Sidibay, former child solider from Sierra Leone turned peace activist, hosted the event and regards Gruwell as a personal hero. The first book Sidibay read when he moved to the U.S. in 2007 was the "Freedom Writers Diary."


Sidibay is currently a senior at George Washington University and became a Freedom Writer Teacher this past summer. He said, "Erin has a light, it's like a candle, and like a candle she passes it around. I think that Erin is an example of hope, the way that she teaches it's apparent how much she cares."


Modest as they come, Gruwell who has spoken on TED Talks, been interviewed by Oprah, and has received numerous awards including the prestigious Spirit of Anne Frank Award says that out of her many accomplishments, "What makes me the happiest is when teachers don't give up and they get acknowledged for the amazing things that they do."


However, according to Tiffony Jacobs, "She [Gruwell] is a legend in her own era. If she was a saint, it would be for hope."