People say that overcoming the age old issues of race and religion are problems that cannot be conquered – mountains that cannot be climbed. We disagree. By having an international Climb for Peace of Mt. Everest with people from different faiths and cultures (including a Palestinian and Israelis), we wanted to show that the "Everest" we all face – our own personal mountain of fear, distrust, and intolerance can indeed be surmounted. By climbing the real Mt. Everest, our "Peace Climbers" showed the world that through compassion, peace, and teamwork, it is possible to overcome personal and cultural barriers no matter how difficult they may seem. This mountain can and was climbed; and together our multi-faith team gave an inspiring message of peace, tolerance, and friendship for people to witness across the earth.
Palestinian Ali Bushnaq and Israelis Dudu Yifrah and Micha Yaniv made world-history during their historic and heroic peace climb on Mt. Everest. This incredible journey was captured on film and is available for everyone to see now on DVD (to learn more, please go to www.EverestPeaceProject.org).
However, two years before on June 24th, 2004, Palestinian Ali Bushnaq and Israeli Dudu Yifrah met in Jordan to train for an event that would touch and change their lives, and in doing so, also touch and change the lives of many people across the world.
The following short journal is a testament to The Everest Peace Project's goal of making this message of peace become a reality. Written by Ali Bushnaq, it describes his meeting with new friend Dudu Yifrah in June 2004. It was the first time they would meet and both were not quite sure what to expect…
Training for Peace in Wadi Rum, Jordan
by Ali Bushnaq
It was an extremely hot Thursday afternoon in late June – I had flown from my home in Dubai to Amman, the capital of Jordan to meet and spend the weekend with someone that I was supposed to hate. After all, I am a Palestinian born Arab and he is a Jew from Israel. During the flight over, I was thinking that many people would be a little surprised that in just a matter of hours I would be roped together and climbing with an Israeli man, and that our lives would literally be joined together.
I was there to train for an event that will change our lives – and perhaps change the way people perceive Israelis and Palestinians. I was there to learn technical climbing skills and, hopefully, to become friends with a man I have only had contact through email. This would be our first of what would hopefully be many training events - for we will be climbing Everest together next spring and this is something that neither of us takes lightly.
Honestly, I was a little nervous and I had plenty of time to think about the various problems and awkward situations that could arise between us as I drove the 350 Kilometer journey south to the mountainous region famous for where the movie Lawrence of Arabia was filmed. It was now nighttime, although still plenty hot, and I had finally arrived in Wadi Rum, the place where we were supposed to meet and then climb the following day. I did not know what was going to happen next…but I was ready to meet the challenges that awaited me.
Midnight was approaching, and at any moment I was supposed to meet Dudu. And then, slowly off in the distance four climbers appeared - it was a little surreal as they walked towards me from behind the guesthouse in the dark for they all had their mountain climbing equipment with them. It was of course, Dudu, who had just arrived; he also brought along with him a few friends and some magazine and television people who came to document the event.
After we introduced ourselves to each other, we all slept in a Bedouin tent and I set my alarm for 5:00AM to get an early start for our first climb together. However, I awoke earlier than expected when I heard Dudu making some noise around 4:00AM. He was sitting in the dark with his headlight on, writing in a book; when I asked him what he was writing, he said he was working on the climbing plans for the day. I don't know why, but I felt comfort in this.
The morning started with Dudu's friends making coffee on a small stove - this surprised me as it was exactly the same as our Arabic coffee. We also had some fresh vegetables for breakfast as they told me it is best to eat fresh vegetables before a climb; and so I thought, well "when in Jordan…" – plus, they are much more experienced than I and have climbed in this area many times before.
Much to my happiness, Dudu and I got along great from the beginning, and we immediately started speaking with each other like we had been friends for many years. I think part of this was that we both knew that we had a common goal to climb Mt. Everest; and that we also have a more important and, in many ways, more difficult task at hand: to help bring about peace through our personal example of teamwork and friendship. The mission of our Climb for Peace is to inspire people across the world and to help change people's perception of what it means to be a Muslim, or a Jew, or a Christian…after all, although we have our differences, we all share a common core: our basic humanity.
I am very happy to say that while Dudu and I were climbing, I already felt that inspiration and the people around us felt it too!
Although I have been to Nepal several times and have climbed in the Himalaya – I do not possess a lot of technical skill. Training in Wadi Rum with Dudu gave me some of that much needed technical experience. During the first 800 meter technical climb, Dudu helped me overcome several difficult situations by devising a special rope system to lift me over some big sections of rock. And that is how the rest of the next two days went; we would climb together and help each other overcome any obstacles that got in our way. In a word: Teamwork!
Dudu and I – an Israeli and a Palestinian – climbed together and surmounted the difficulties in the mountains of Jordan that we faced. However, I was a little sad because I knew that the headlines of television and newspapers that weekend across the world would still show images of war and hatred. But there was none of that here. The images in our hearts and the pictures the cameras would capture would be that of peace and teamwork.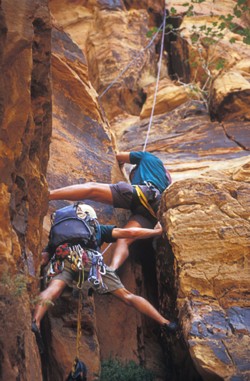 On the final day of climbing and after two days of being together and talking about every subject imaginable, including the political and social problems that face Israel and Palestine, Dudu and I walked back to camp. As we returned, Dudu put his arm on my shoulder and said, "Ali I am happy that it is you that will climb with us to Everest, we make a good team." I was very glad to hear these words, for in my heart I felt the same way, and I think that my smile said what my words failed to: I have made a new friend, a new brother - a person who I will trust my life with. It was a moving experience for me and I cannot wait to see him again in September when our team will unite for a training Peace Climb in California, and then once again for our main event: our Mt. Everest Climb for Peace in spring 2006. If this training event in Jordan is any indication, our Climb for Peace will make a positive difference in the world."
On a weekend in Jordan a Palestinian and an Israeli man who had never met before came together as friends and trusted each other with their lives.
…The only walls and barriers that were present were the ones that they both climbed together.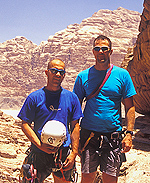 Page created on 10/17/2009 12:40:38 PM
Last edited 1/6/2017 10:28:06 PM
Extra Info
Narrated by Orlando Bloom and hailed as a "tremendous achievement" by the Dalai Lama. Everest: A Climb for Peace is not just a typical Everest film, but a socially relevant documentary about peace, war, and the human spirit - an inspirational film, which also has some of the most incredible Everest footage ever shot, including a dramatic rescue from near the summit of Everest.