Frank Serpico
by Devin from Windsor
There are many times in life when people see or know about things that are wrong but they just turn a blind eye. A man by the name of Frank Serpico joined the New York City police department and saw that many of his fellow police officers were taking bribes from killers and drug dealers and, for awhile, he kept quiet until...
Frank Serpico joined the New York City Police Department on September 11, 1959. Many of the so-called "loyal" policemen and women he worked with were taking bribes from killers and major drug dealers on the streets of Brooklyn. Once Frank got fed up with the fact that policemen, who are supposed to be protecting the public, were in fact just letting extremely dangerous people off the hook for a couple hundred dollars, told the head of the department... who really did nothing about it. Not too long after he told the head of the department, his fellow officers started to find out and began to call him names like back stabber and snitch.

Once Frank found out that the head of his Department didn't do anything about his officers accepting bribes from criminals, he again stepped it up and told The New York Times. Everybody in New York heard the news, even Mayor John Lindsay who was outraged at the fact that his policemen weren't doing their jobs correctly. Lindsay ordered the Knapp Commission to do a full-scale investigation on the problem.
After the names started flying, Frank switched to narcotics and was doing a routine "buy and bust" operation when a drug dealer offered him three hundred dollars. Frank refused the bribe and the drug dealer didn't want to get caught so he shot Frank in the face and nearly killed him but the bullet didn't reach Frank's brain. Frank's recuperation was long and slow. While in the hospital, Frank received a card that was supposed to say "recover soon" but the word "recover" was crossed out and the word "die" was in its place. Frank knew it was from an officer in his previous precinct because this officer had gotten in trouble from the Knapp Commission when they did their investigation.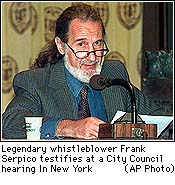 Serpico spent the next decade in Europe recovering from his injury and later returned to the quiet mountains of New York. "In 1997, he testified at the New York City Council regarding legislation to institute an Independent Audit Board to review incidences of police corruption and brutality in New York City in the hope of getting legislation passed that will make it easier for honest officers to come forward and tell the truth," (Frankserpico.com)
He is important to me because he was one person who did the right thing when everybody else wasn't. Frank showed a ton of courage to expose his close workers, just to do the right thing. Most people would not have even thought to do that in fear that something would happen to them but Frank overcame this and is now highly respected by many, including me.
Page created on 5/1/2008 12:00:00 AM
Last edited 1/5/2017 4:25:32 PM