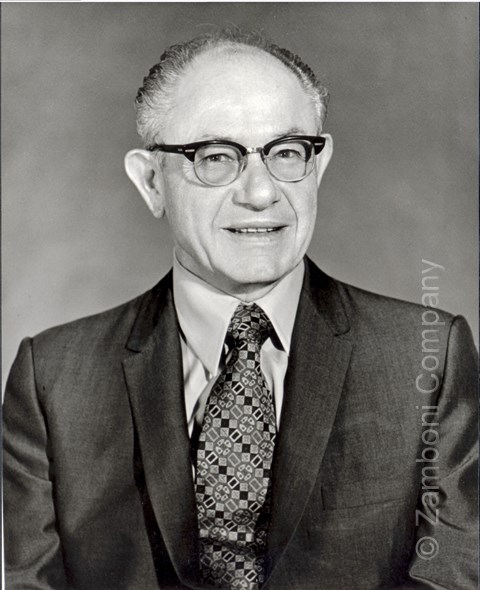 [Fair use] via Wikimedia Commons. Source: Zamboni Company, sourced from http://www.nmap2015.com/faces.html
Frank Zamboni is the inventor of a machine that has changed many lives. His invention is the ice resurfacer. Most people don't realize how important it is, and how different skating would be without it. Charlie Brown said, "There are three things in life people stare at: a flowing stream, a crackling fire, and a Zamboni clearing the ice."
Frank Joseph Zamboni was born in Eureka, Utah on January 16, 1901. When Frank was one year old his parents bought a farm. At the age of 15, Frank was taken out of school to help on the farm and help support his three siblings. He worked as a mechanic with his older brother till they moved to California in 1920 (Joseph Scafetta).
Frank and his brothers owned a business called Service Electric Co. which was later changed to Zamboni Bros. Co., where they drilled wells, installed water pumping equipment, and did electrical work. The company is right across the street from Ice Land.
Ice Land was opened in 1940, it was one of the largest ice skating rinks in the country (Mary Bellis). With 20,000 square feet of ice, the rink could hold many people (The Story of the Zamboni). Of course with a lot of people the ice gets ruined in a very short amount of time. Frank needed to find something that was faster and more efficient than a tractor pulling a scraper, with six other men shoveling off ice and snow and hosing the ice to get a smooth surface. That took too long, and took too much work.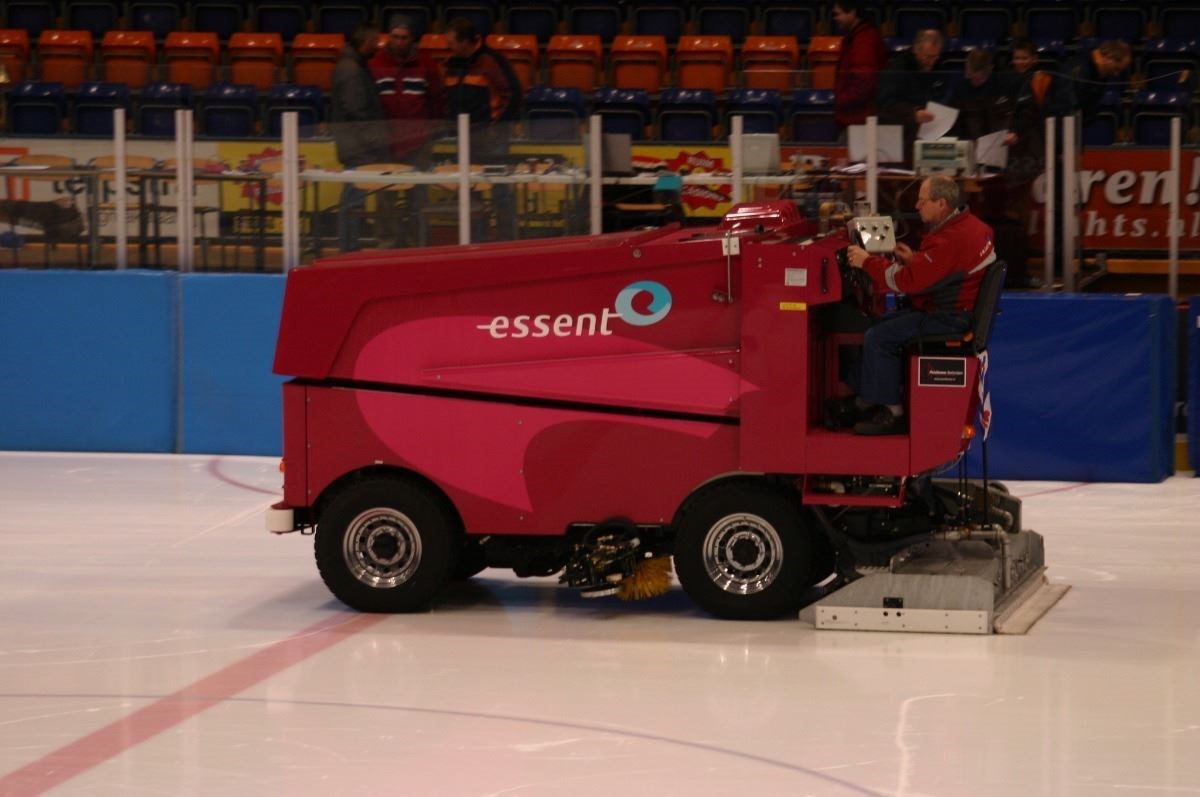 A Zamboni ice resurfacer in Thialf, HeereveenVincent Baas [CC BY-SA (http://creativecommons.org/licenses/by-sa/3.0/)]
Frank soon started building models. But it took a while to get them perfect; either the snow box didn't hold enough, water came out too fast, it took too long to freeze, the scraper wasn't straight, or the tires slid. Before it took experienced men one and a half hours to clean the ice. Frank's new resurfacer could finish within 15 minutes! His machine not only scraped off the snow, it laid down a thin layer of water that froze quickly. Frank's ice resurfacer got a patent in 1978. His patent number is 93,478 (The Zamboni Story).
His Zamboni is now seen at many skating rinks around the world. It is used at the Olympics, figure skating competitions, practices, shows, games, and tournaments. Around Ice Land they even see them driving on the road to be tested after being made. Frank's invention allows people to skate or play longer. With smooth clean ice, figure skaters can be more fluent, and they don't have to worry about hitting a rough spot and falling.
This year would have been Frank Zamboni's 112th birthday. Google celebrated his birthday with a game where you have to clean the ice up after skaters. He has changed the lives of many; people nowadays don't realize how fortunate they are to have the technology such as the Zamboni. Games, competitions, shows, and even the Olympics would be much different without this invention.
Page created on 3/1/2013 12:00:00 AM
Last edited 1/14/2021 7:02:11 AM
Related Links
The Zamboni Story
- Biography of Frank Zamboni and his invention from the Zamboni website.
Frank J Zamboni & Co., Inc. History
- The history on the Zamboni
The History of Zamboni
- Article on Zamboni from ThoughtCo, an educational site owned by Dotdash (formerly About.com)
The Man Behind The Machine
- FRANK J. ZAMBONI, JR. (1901-1988) THE MAN BEHIND THE MACHINE. Article by Joseph Scafetta, Jr. Reprinted with permission from the February 2001 issue of FRA NOI, a monthly Italian-American newspaper printed in Chicago, IL