by
Susan Drennan Gabriel Bunn from New York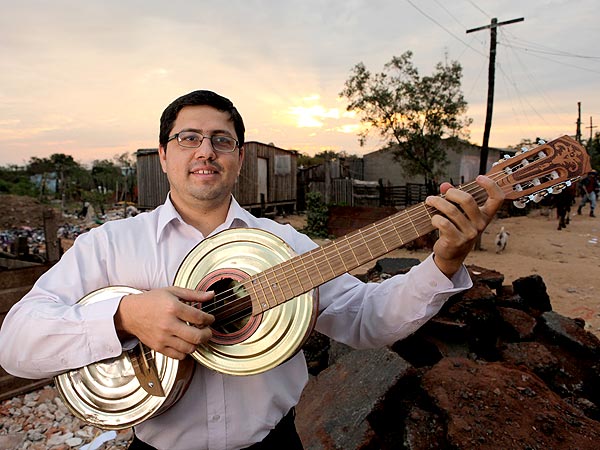 Food, Shelter & Music:
Landfill Orchestra Community Hero Favio Chavez
'Transforming Trash Into Tunes' - by Susan drennan Gabriel bunn
It's hard to imagine a child surrounded by garbage, living in the midst of it, among some 25 hundred families, amidst contaminated water and the odor of landfill, in total austerity.
In the slum called Cateura, Paraguay illiteracy is rampant and garbage heaps tons of solid waste on the landfill every single day.
Perhaps even more unimaginable and miraculous at the same time, in a sense, is envisioning that same child performing in an orchestra born out of that same garbage that contaminates their community. Well, that's the glory of this story thanks one noble man who ignited a recycling resurrection that has cause a symphony.
Thanks to Favio Chavez and Nicolas Gomez trash has been transformed into tunes, scrap heaps into symphonies, idle garbage made into instruments performed by the children who live there in the midst of the gigantic landfill.
Children who were reselling trash are now playing recycled instruments.
"One thing led to another," says Chavez who himself a thirty something year old musician attempted to start and expand a small music school in another in Paraguay. Later he went to work for an environmental group whose purpose was aimed at training trash pickers self-protection. The music school was born several years ago out of a hope Chavez had to keep youngster off the streets.
As a child Chavez played clarinet and guitar. However his music school couldn't at first supply enough instruments with only five to start with.

Enter the ingenuity of Gomez, a remarkably innovative trash picker.
"He found a drum and repaired it," says Chavez who initially approached Gomez to ask him to make instruments out of recycle trash. "Since he had been a carpenter," Chavez continues," I asked him to make me a guitar. And so we just kept at it."
"If you give me the precise instructions," Gomez exclaims, "Tomorrow I'll make you a helicopter!" The carpenter, 48 years old, had to leave school after the fifth grade to go work in the rock quarries before picking trash.
And so he has made numerous instruments from violins to flutes to fill this orchestra up from the land literally.
The related vimeo vid link will show you just literally how the full the landfill harmonic orchestra is with instruments played by
children in performance and the joy of the children whose lives have been transformed thanks to Favio Chavez.
"People realize that we shouldn't throw away trash carelessly," adding that goes for people too.
Some of the children's comments are as follows.
"My life would be worthless without music."
"I'm famous in my school thanks to being in the orchestra."
One student who plays a recycled cello made from red and white drum compared his instrument to more conventional ones claiming his has "no reason to envy those that are, apparently more proper. It comes out with an impeccable sound."
From local schoolyards to United States venues these children are playing music for all the world to see.
Out of the trashes, these children have been raised up into champions of a destiny altered by remaking nearly forgotten
neglected remnants of a waste culture indicating that music really lives and breathes everywhere.
If only it is tapped and recognized by such heroes as Favio Chavez.
Page created on 3/1/2015 4:19:43 PM
Last edited 1/6/2017 7:11:24 PM