LOS ANGELES, CA-(Marketwire - Dec 17, 2012) – Last Saturday, December 15, 2012 at the University of Southern California's School of Cinematic Arts, The MY HERO Project's International Film Festival brought together an impressive crowd to applaud the efforts of filmmakers and humanitarians around the world. The non-profit organization is dedicated to connecting and inspiring children across the world through interactive media. Amongst the many compelling projects at the festival, from animation to documentaries, top award recipients include: Right to Play from producer Frank Marshall (Back To The Future, Indiana Jones) which won "Best of the Fest," and the "Ron Kovic Peace Prize," and A Ride With Matt by Robert Rippberger, which won the Dan Eldon Activist Award, presented by Creative Visions founder Kathy Eldon.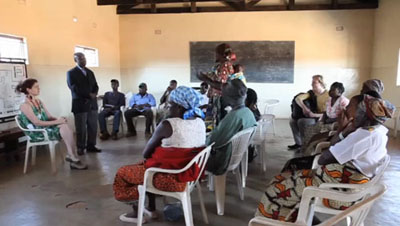 Winner of two awards at the festival, Right to Play, by Producer Frank Marshall (Back To The Future, Indiana Jones) captures the incredible achievements of athletes who change war-torn communities through sports and athletic play. "Right to Play is about much more than teaching kids to play; it's about giving them the tools they will need to lead successful and productive lives," said Marshall.
Later in the night, Creative Visions founder Kathy Eldon presented a special Dan Eldon Activist Award in honor of her son, an activist and photojournalist, killed on assignment while covering the 1993 conflict in Somalia. The award went to Robert Rippberger's A Ride With Matt, a documentary film chronicling a young man with Huntington's disease, as he raises awareness about his illness while bicycling across America. While presenting the award, an emotional Eldon addressed the festival audience by saying "I always cry whenever I speak here, because I feel more strongly here than anywhere else in the world, that you are all my heroes."
The festival also highlighted the film Hidden Blessings, which showcases the journey of Debra Messing (Will & Grace, Smash) through Zambia and her first-hand experience of the plight of AIDS-infected women and families. Community heroes such as Matthew Cohen, and Slater Jewell-Kemker, were also honored.
All of the 2012 winners of The MY HERO International Film Festival are available at http://myhero.com/winners.

For information on The MY HERO Project, contact [email protected]
Page created on 12/17/2012 12:00:00 AM
Last edited 7/7/2017 10:49:51 PM