Terry Fox
by
Melanie from Cornwall
'' If you have a dream, anything is possible if people try. ''
To be a great hero you need to be able to do anything that someone else would never do; like run across Canada. Terry Fox's goal was to run across Canada on one real leg and one amputated leg to raise money for cancer. He himself had cancer and the doctors were not able to save his leg. He did what he said he would do which was to raise money for people to overcome cancer without cutting their leg or arm off. One of Terry Fox's dreams was for every Canadian to donate a dollar to cancer research. " If you have a dream, anything is possible if people try." (Zola p.46 )
Fox was born July 28, 1958, in Winnipeg, Manitoba. His full name was Terrance Stanly Fox. Everybody called him Terry. In 1966, he moved to British Columbia with his family. Their home was in Port Coquitlam. Fox's mother, Betty, was manager at a card store. His father, Rolly, works for the Canadian Railway. Fox had an older brother, Fred, a younger brother, Darrell and a younger sister Judith. Fox loved to play basketball. Early in 1977, Fox was driving his car and he hit a truck. His right leg hit the dash and at first he ignored the pain. The doctor later discovered he had cancer in his right leg.
Terry Fox was diagnosed with steogenic sarcoma, a bone cancer. Fox had his leg amputated above the knee. Fox wanted to run across Canada. Fox started his run in Newfoundland, on April,12th 1980, to raise money for cancer. His friend Doug followed him with his car. When Fox was running he had to overcome many obstacles like blizzards and rain. He also had pain at the top of his bad leg because his artificial leg was rubbing onto his skin. His lungs also hurt when he got to Thunder Bay, Ontario, because the cancer had moved into his lungs. He then returned to Vancouver. Fox was very happy in what he had accomplished. He stated, "If I die now I die happy." (Zola p. 21) Terry's family was with him at his death on Sunday, June 28,1981. (Zola p.46)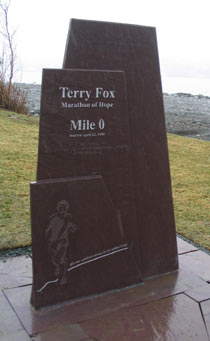 Fox has many great qualities. He was very determined to raise money for our sciences to find cures for cancer. He had a lot of determination. He tried his best to run the whole marathon. Fox was also very strong to run 40 kilometers a day. Fox was also very helpful. He wanted to help people who had cancer. Fox was also very friendly with others who wanted to talk to him about his run. He would never say "no" to go see kids who also had cancer.
Now because of Fox's money, cancer patients don't have to get their legs amputated. If patients have steogenic sarcoma, patients could run and play again on their real legs. Now doctors can put a robotic leg inside their skin. 340 million dollars have been raised from all over the world. There are over one million people who run a Terry Fox Marathon every September.
Fox has helped many people with cancer. Terry Fox is a great hero for me because he never gave up. He kept on running until he could not stand the pain. Not everybody would start running across Canada two years after having been diagnosed with cancer. Terry Fox is still raising money, even after his death, because a lot of people think Fox was a great hero and they realize that he did a lot for cancer. Now people want to do as Fox did and raise money for cancer. Thank you Terry Fox!!
Page created on 10/30/2005 12:00:00 AM
Last edited 10/30/2005 12:00:00 AM
The beliefs, viewpoints and opinions expressed in this hero submission on the website are those of the author and do not necessarily reflect the beliefs, viewpoints and opinions of The MY HERO Project and its staff.

Bibliography
Zola, Meguido & Melanie. TERRY FOX. Grolier Limited1984.
Thompson, Jerry Thompson. "Running on a dream, the legacy of Terry Fox . "For Terry's 25th anniversary: CGOH
Disher, Catherine. "Terry. "For Terry's 25th anniversary: CGOH