Terry Fox is a hero to us all. He was an inspiration to all people, regardless of their nationality. The only goal he had in life was one thing: to defeat cancer. What he did positively affected the lives of so many others. He gave his life to a cause that nobody else supported more than him. He hated to see people suffer the way that he did. He gave so much. The least we can do is honour him.
Terry Fox did his best to try and conquer something that had never been conquered before. He tried to cross Canada for cancer. Even though he didn't make it all the way, his beliefs echoed throughout Canada and he is a prominent hero for all today. Everyone, in some shape or form, has been touched by cancer and all Terry wanted to do was to end this horrible disease.
Through Terry's efforts, about $40 million has been raised in the name of cancer research. In 1999, he was voted The Greatest Canadian in a nation-wide poll. There is a 9-foot bronze statue of Terry that marks the place where his journey ended, overlooking Lake Superior. In 1990 he was named Athlete of the Decade by TSN, where he was among the ranks of Michael Jordan and Wayne Gretzky. Recently, Terry was featured on a special edition Canadian Loonie.
With the help of Canadians, we as a country can make Terry's dream come true. We can conquer this disease. Terry faced a lot of critics in his time, but he pushed through, which is a lesson to all of us. It is an honor to be from the same country as him. Together, we need to keep Terry's dream alive.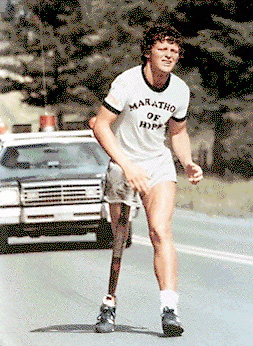 Quotes

"I don't feel that this is unfair. That's the thing about cancer. I'm not the only one, it happens all the time to people. I'm not special. This just intensifies what I did. It gives it more meaning. It'll inspire more people. I just wish people would realize that anything's possible if you try; dreams are made possible if you try."

"When I started this run, I said that if we all gave one dollar, we'd have $22 million for cancer research, and I don't care man, there's no reason that isn't possible. No reason!"

"I'm not doing the run to become rich or famous."

"Some people can't figure out what I'm doing. It's not a walk-hop, it's not a trot, it's running, or as close as I can get to running, and it's harder than doing it on two legs. It makes me mad when people call this a walk. If I was walking it wouldn't be anything."
"When I ran through that tiny little Sparks Street Mall, the road was so narrow, yet people were running behind me and all these other people were lined up, clapping for me. It was quite a long way down the road where all the people were and I was just sprinting. I was floating through the air and I didn't even feel a thing. I felt so great. That type of memory you can never take away."

"If you've given a dollar, you are part of the Marathon of Hope ."

"I'm running on one leg. It may not look like I'm running fast, but I'm going as hard as I can. It bothers me, people coming up beside me. I want to make those guys work. I can't stand making it easy for them. I'm really competitive. When they run with me, they're usually running for only two or three miles; for me it might be my twenty-sixth mile."

"Maybe that's why I've made it as far as I have – 2,521 miles. If I ran to a doctor every time I got a little cyst or abrasion I'd still be in Nova Scotia. Or else I'd never have started. I've seen people in so much pain. The little bit of pain I'm going through is nothing. They can't shut it off, and I can't shut down every time I feel a little sore."

"It's one thing to run across Canada, but now, people are really going to know what cancer is."

"People were still lining the road saying, 'Keep going, don't give up, you can do it, you can make it, we're all behind you.' There was a camera crew waiting to film me. I don't think they even realized that they had filmed my last mile… people were still saying, 'You can make it all the way Terry'. I started to think about those comments in that mile too. Yeah, I thought, this might be my last one."

"I'm not a dreamer, and I'm not saying this will initiate any kind of definitive answer or cure to cancer, but I believe in miracles. I have to."


Page created on 11/22/2005 12:00:00 AM
Last edited 11/22/2005 12:00:00 AM